Not Exactly "Bliss"
While the Bliss has many pleasant factors to its design and functionality, I feel it lacks in performance. There are many things I enjoy about this product, but the lower intensity level of this product was disappointing. For this price, I was expecting full-power VROOM. Average users may not have a problem with its intensity, but it sadly did not satisfy my expectations.
Published:
Pros:
* Rechargeable!
* Convenient design.
* Quiet.
* Multiple settings.
Cons:
* Vibrations are not as high as expected.
* Tip does not glide easily.
Product Overview
The Bliss is a small massager, measuring only 4.5" by 2" at its widest part. Its sleek design makes it easy to hold during use, and pinpoints its vibrations to a small general area. Shaped almost like a small computer mouse, it has a nice overall design.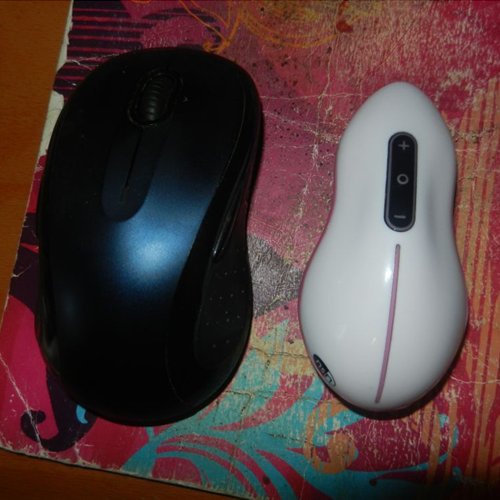 This product is recommended for clitoral stimulation, and has lots of settings touched upon in the "controls" section of this review. On top of being multi-functional, it is waterproof and rechargeable! Included with the Bliss is its white charger, which plugs into its charging port on the opposite side of the controls.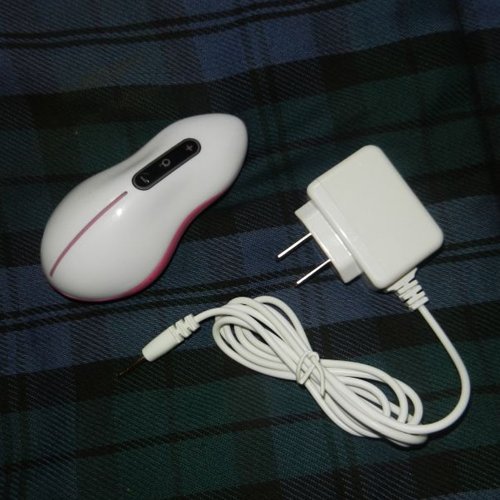 Material
The Bliss is made of plastic and silicone. In this color option, the white areas are made of plastic, while the pink is silicone.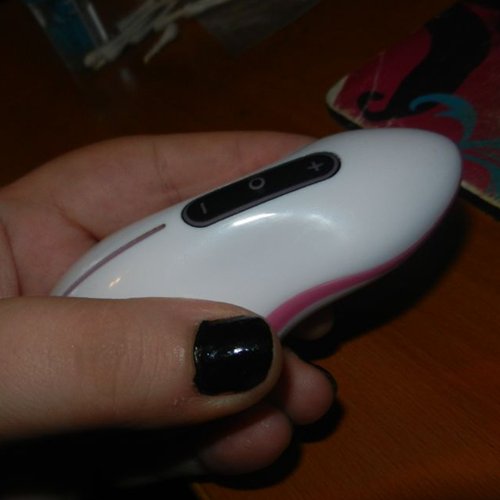 Plastic is an eight on the safety scale, compared to silicone, which is a ten. While this isn't a problem with cleaning, you need to note that this product cannot be boiled or put in the dishwasher due to the risk of high heat melting plastic.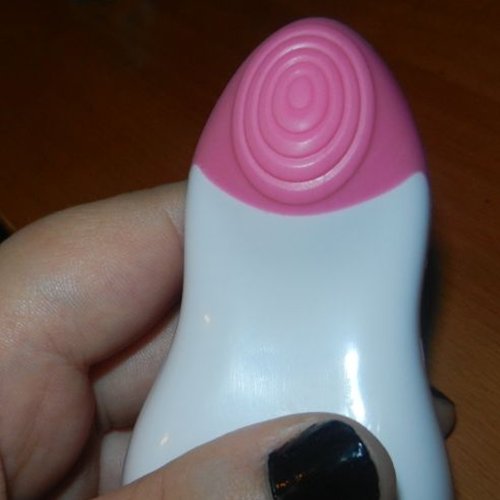 The tip of the Bliss is covered in silicone, which is non-porous and easy to clean. However, its fingerprint-like design has a lot of drag to it, and may feel uncomfortable on the clitoris. If desired, a tiny amount of water-based lubricant can be added to fix the drag-issue.
Do not use silicone lubricant with this product, as it will damage the material and cause a safety issue.
Controls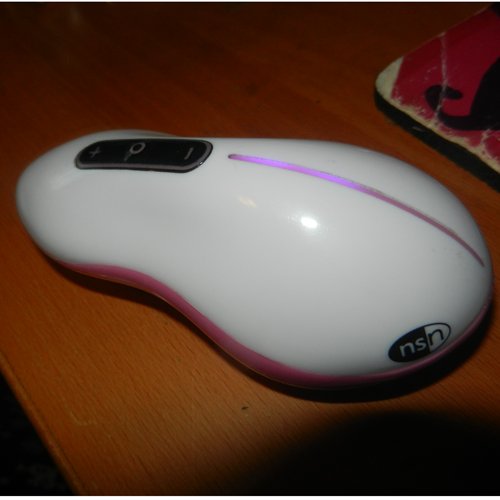 Press (+) to turn on to a low, constant vibration (purple light).
Press (+) up to three more times to increase intensity.
Press (O) for a pulsing vibration (flashing purple light).
Press (+) again for a faster pulsing (flashing orange light).
Press (+) again for a fast, increasing vibration (moving red light).
Press (+) again for a slower increasing vibration (moving light pink light).
Press (+) again for a quick vibration followed by five very quick vibrations (flashing yellow light).
Press (+) again for "roller-coastering" vibrations (moving/flashing dark pink light).
At any time, press (O) to go back to the steady vibrations and press (+) or (-) to increase or decrease intensity, then press (O) again and the intensity of the options will also change.
At any time while going through the settings, you can press (-) to go back to the previous option.
Press and hold (-) to turn off.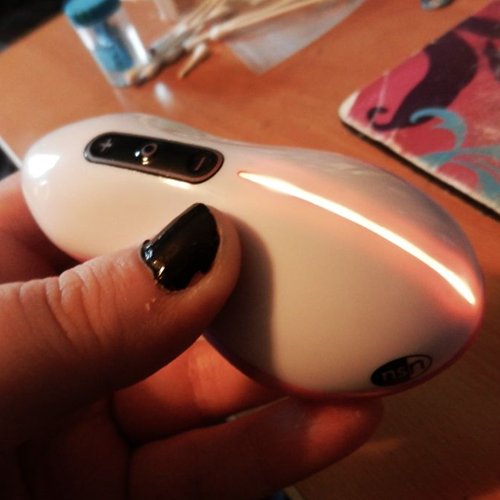 Packaging
The Bliss is shown on both sides of the packaging, which is a black box with foam padding inside to keep the product and its charger safety nestled in their cut-outs.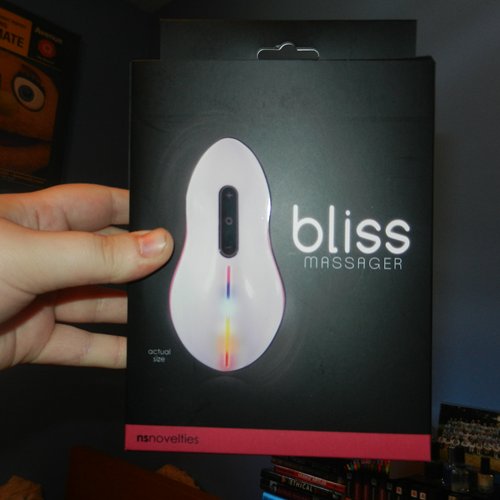 You may keep the packaging for storage, but it isn't much in terms of style or convenience. This was a bit disappointing, as I've seen many rechargeable products come with a nice silk-lined box or storage pouch. Alas, the Bliss has just a padded cardboard box.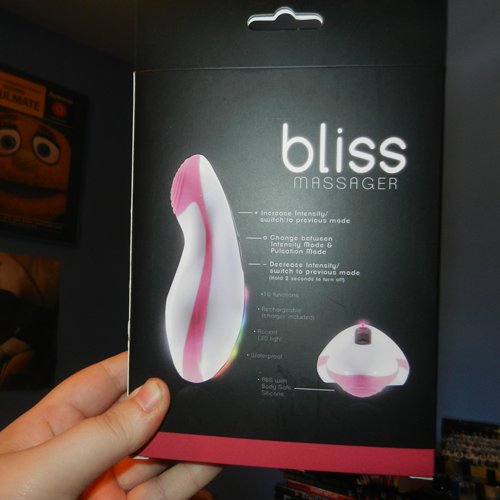 Maintenance and Storage
This product is small is easy to store anywhere clean and dry. You can easily keep it in a drawer, toy box, or bag for convenience. The box may be used for storage, but I personally do not use it for that.
Since this product is plastic, this product should not be boiled or put in the dishwasher. The Bliss is easily cleaned with soap and warm water, a toy wipe, or toy spray. Just be sure to get in the grooves of the fingerprint design to clean it thoroughly.
Experience
Overall, I like the design of this toy. Also, it's functions are simply amazing--there are so many variations! That being said, I was greatly disappointed with the vibration intensity of this product. Had it been stronger, this would possibly be my favorite toy. However, the lack of real strength made this out to be more of a simple tease.

I do consider myself a bit of a "power-queen," so my opinions on its vibration intensity might be more critical than the average users'. However, those accustomed to very powerful vibrations may not be excited by this product.
This content is the opinion of the submitting contributor and is not endorsed by EdenFantasys.com

Thank you for viewing
Bliss massager
– sex toy review page!