Not THE Sexiest Piece I Own, But Functional
If you're built like a model, you may find this 3in1 piece flattering, a staple to your lingerie closet. It's great when you're traveling light, and reduces visible lingerie lines to a bare minimum. However, if your thighs aren't stick or you're in the short-stems society, you'll have to do some altering to this 1-size-fits-some piece before you can flaunt it. All in all, a good quality piece that can add something to everyone's collection. If they're the right size.
Published:
Pros:
Soft material, great pairing of 2 or 3 pieces of lingerie into one, good quality
Cons:
Loose strings, thin leg bands, one size flatters the slim only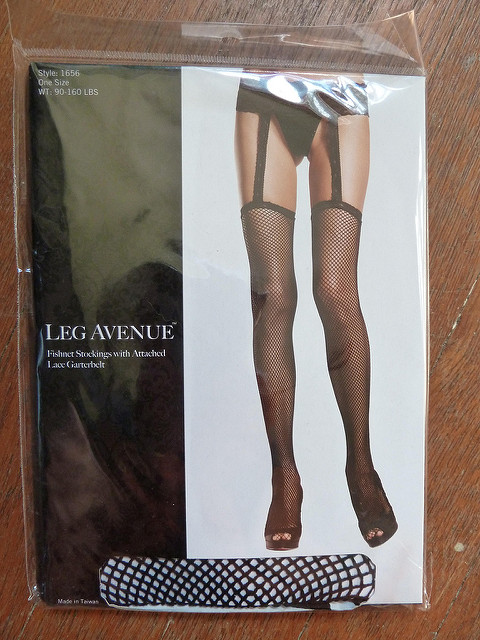 With fairly decent construction, soft material, and a conveniently ingenius design, Leg Avenue brings you the fishnet garterbelt stocking set. Gone away are the dreaded VLLs, visible lingerie lines, and no more searching in your lingerie drawer for matching garters and stockings. This one-size piece is a decent start to a budding lingerie collection, or could be the staple piece the avid stocking stuffer was looking for. Catch is, you just really need to have the body of a model to make it work. Or you can get out your sewing machine.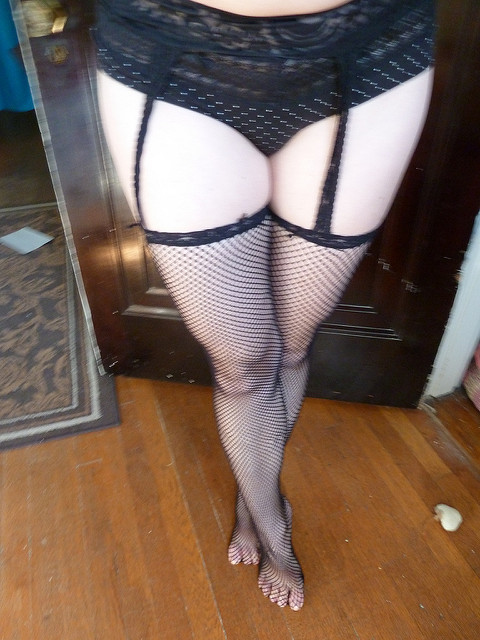 A showcase of my un-flattered lower half.
The stock photo of this piece personifies the old adage 'a picture tells a thousand words.' The model is long legged, with stick-thin stems and a tiny waist. My thicker thighs (19" around at mid-thigh) aren't too flattered by the stockings, and the 1" thin leg band accentuates the fact, making me feel... flabby. Never a good thing! A wider band around the thigh would've showcased the lace pattern and helped glorify the female flesh.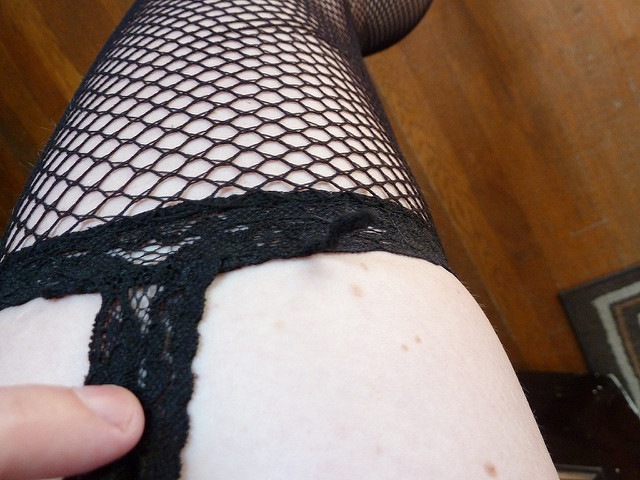 The similarly thin 1" garters seem a bit odd as they stretch and twist their way up the leg to meet the garterbelt. At 8" long, these were a perfect length for my 5'6" height, though shorter gals may require snipping and re-sewing of the garters into the belt. Taller ladies up to 6' will find this stretching just fine to suit their height. A hiking up of the stockings should prove successful.
The 3" wide belt band is pretty with a deep black scalloped lace edge. It stretches to a full 20" across, and fits rather snugly as it sits low on my 32" softening belly (I tell you, I must've been feeling unsexy the day I tried this out). The material slightly digs into my flesh, creating another unflattering bulge that wasn't there before.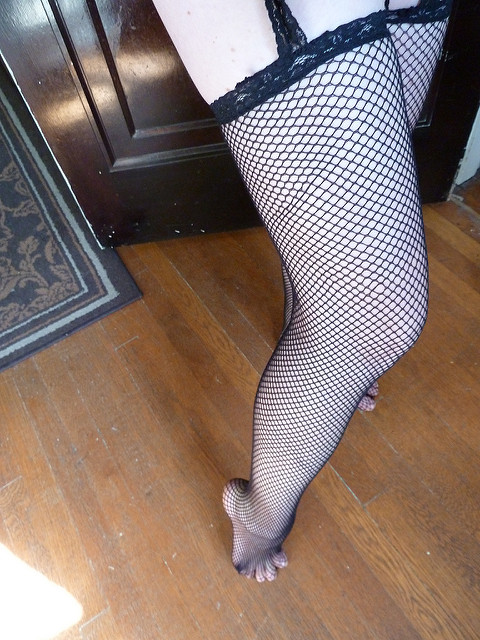 Medium fishnet stretches over the skin.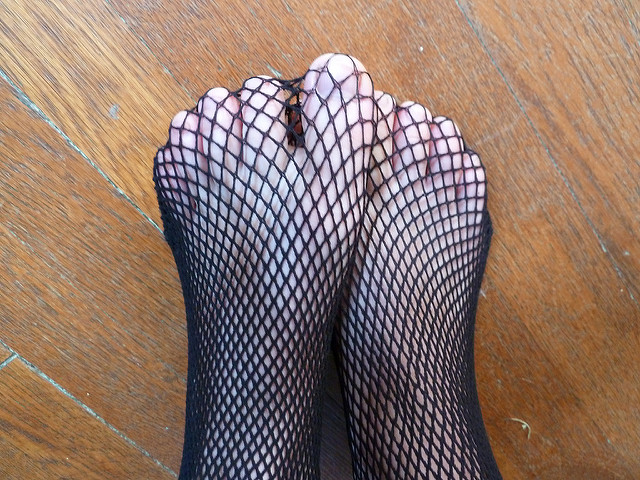 The pattern bunches a bit around the feet and is a little odd looking. Surprisingly enough, however, it is comfortable enough, and the threads do not dig grindingly into the toes as many fishnets can. This can be contributed to the smaller fishnet pattern.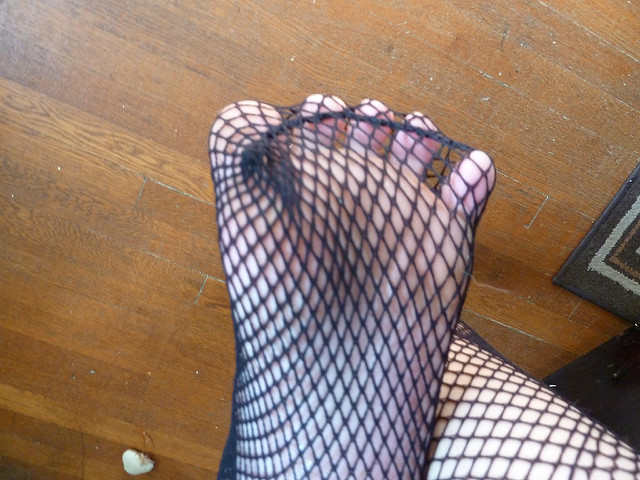 The seam is best placed under the foot and out of sight.
The relatively small fishnet pattern is sturdy yet surprisingly soft nylon. It is double layered, with the underlayer a mere thread or two, and the top layer a thicker band of threads. This creates a higher quality and more three dimensional look. I kind of like it, as the underlayer peeks out at times to create more depth.
The stocking is very stretchy and curves gracefully over every curve. Ladies with average to larger sized legs should fit in these, as long as their The pattern gathers at the toe and is not reinforced. The toe seam is reminiscent of gym socks, and is not so hot when displayed at the top of the foot, across the toes, as socks normally do. As there is no shaping to the stocking, tucking the seam underneath the toes as shown is preferred. The seam is not too thick or tough, and it won't create much of a disturbance in shoes, despite how it may look!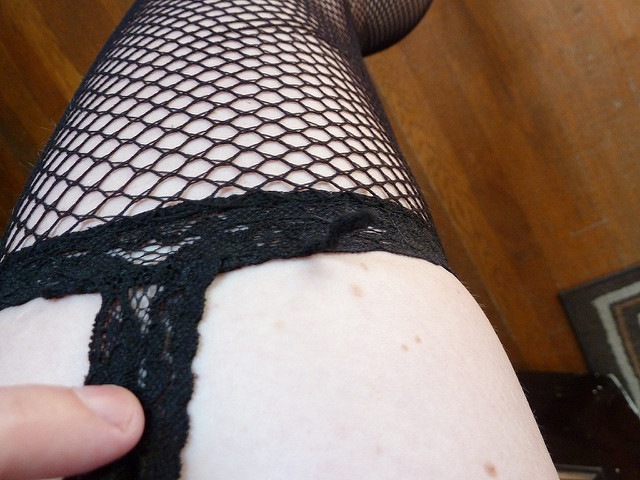 Runaway nylon thread!
Several loose goosey lacy ends fly this way and that across the leg band, garters and belt, but can easily be removed with a snip of the scissor sisters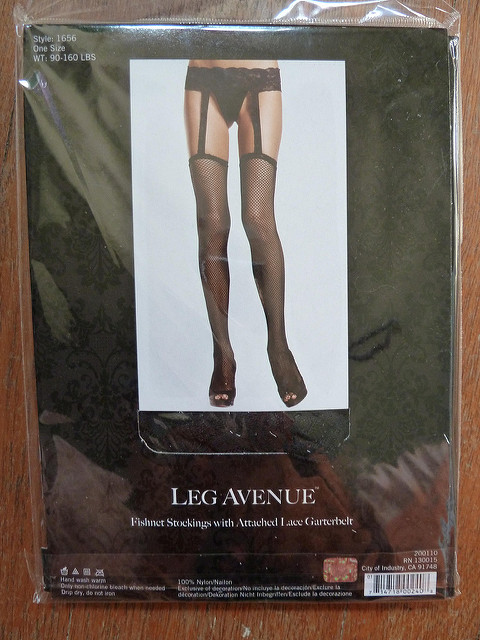 Back of package.
Experience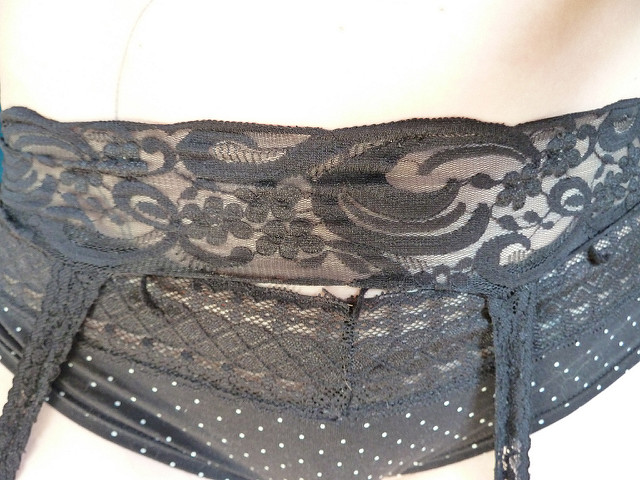 I certainly appreciate the beauty of the lace pattern. It's sexy and feminine, no doubt. This piece would pair great with a dress, halloween costume, or even lingerie for a night in.
Pulling these on may require a slight learning curve, as one has to first be sure they're right side out, then make sure the garters aren't twisted up. After a bit of fumbling, you can bunch up the stockings on your fingers and slide a leg through the waist belt and stockings, one at a time.
I recommend hand washing your fishnet garterbelt stockigns, or using a delicate machine cycle. Hang or lay flat to dry, and avoid the dryer if you can. You can store them in the package they came in for convenience, where you can see them displayed in photo, or roll them up sweetly and kiss them goodnight before tucking them away in your lingerie drawer. This is what I do, because I can.
In closing, I didn't feel so
very
sexy wearing this piece, mostly due to the odd bunching of the nylon around my ankles, creating a darker area there, as well as the thin leg bands and their unflattering ways. However, as this is my first pair of thigh highs in ages, I'll take what I can get.
For your viewing pleasure, or something, a shot of my ass in the thing. And yes it took me at least 7 shots before I could get my ass to look this good. It was just one of those days.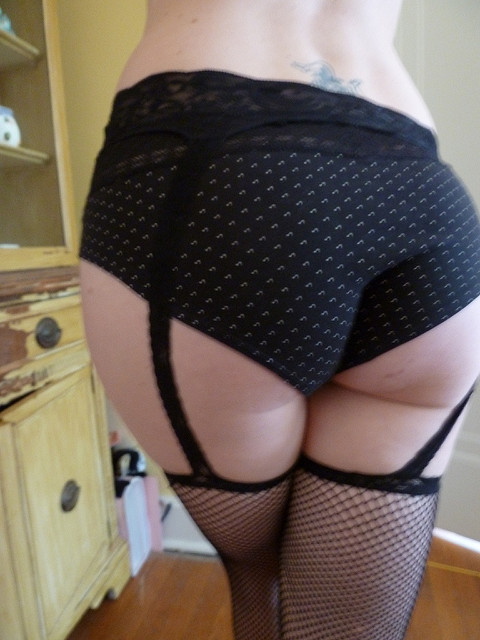 You're welcome.
Follow-up commentary
3 months after original review
Many wears later, these are still going strong. No snags, no sign of wear or tear. Though a bit tricky to get on straight, I've now passed the learning curve here and I thoroughly love these stockings. They're my go-to stockings for quick sexy thigh-highs without the fuss of attaching garters to my hose. I'm so glad I purchased these!
This product was provided at a discounted price in exchange for an unbiased review. This review is in compliance with the FTC guidelines.

Thank you for viewing
Black fishnet garterbelt stockings
– hosiery review page!