Houston, we have a problem.
These stockings are really sexy. They may be better on women with longer legs because the straps are a bit long, but that seems to be a common problem with buying one size fits most lingerie and garterbelts without adjustable straps. I think the overall quality of these is worth the small price.
Published:
Pros:
Comfortable, seamless, attached straps, super sexy.
Cons:
Straps are pretty long, lots of loose ends.
Summary
Tired of having your thigh highs fall down? Do you hate the seams that some garterbelts leave under clothing and how uncomfortable they are? Leg Avenue has a great solution in these fishnet garterbelt stocking. They are one piece, so there's no losing straps or having them come unhooked. They consist of a stretchy lace waistband, lace straps, and the thigh highs. They're very gorgeous and make a great alternative to the usual stocking and garterbelt combination. They're really comfortable, don't leave any seams under clothing, and will keep your stockings where they need to be.
Sizing
The suggested weight range for these is 90-160 lbs. Unstretched, the waist band is about 11 1/4" across and is about 3" wide. The waistband can stretch to about 20" across. My hips measure about 33" and these fit snugly, but not too tight. The super stretchy lace should be able to fit women with much larger hips pretty easily. The waist band gave me no problems. However, the straps and I had some issues. My leg length is about 28". At 5'4, I have short legs for my frame size and often run into issues with thigh-highs, as they become butt-highs. The straps are about 8" long, which made the stockings sit low on my thighs. Because of this, the band on the top of the stockings was really loose. The band is relatively loose as it is and has a good amount of stretch. It is about as tight as the bands on stockings meant to be worn with garters are. The fishnet material hugs my thin legs perfectly without being too loose (which I have had problems with in the past) When I pulled the stockings up so the bands would would fit, the garter straps had about three inches of slack. When I pulled the waistband up, it was literally a waist band. Rolling the waist band over seemed to fix this issue, but it's not as cute because it end up rolling in the back. These would be perfect for taller women with longer legs, but don't do much for us shorter-legged petite women.
I do plan on altering these by shortening the straps so they will work. As long as the straps are the right size, these would work very well for me.
Material/Design
These stockings are made of a nylon fishnet material. Overall, the quality is about mid-grade. Nothing too special, but a great value for the few dollars you pay for them. They don't seem to be the type that are easily snagged, either. The bands of them are made of the same, stretchy lace material that makes up the garterbelt and straps. They're not super restricting and don't leave you with dents in your legs.
The garterbelt and straps are made of a slightly shiny, very stretchy lace material. The lace has a pretty floral pattern on it. I think that's what gives these stockings a high-quality look. However, the stockings and garterbelt are full of loose ends that will need some trimming off. I usually take a nail clipper and snip them off. They're fairly common in cheaper fishnet stockings.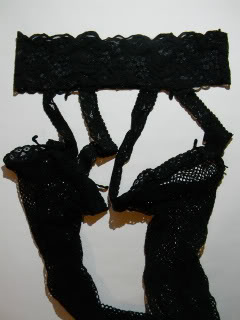 Wearability
I did not anticipate how tricky these stockings were going to be. When you go to put them on, you have to check to make sure that the band is right side out, or else the straps will be twisted around. There are seams on either side of the top band that will help you distinguish between the outside and inside. You also have to make sure the bands aren't twisted because of the stockings getting twisted up. It can take a few moments to figure out which way everything is supposed to go. When putting these on, it is best to be sitting down so you can put both stockings on at a time and pull them up together, because the straps make putting them on one at a time pretty difficult. Overall, they're pretty comfortable. After I fix the strap length issue, there should be no problems with them.
Follow-up commentary
1 month after original review
I finally decided to shorten the garters so that these would fit on my short, skinny legs. Now that I have, the garter belt works amazingly well. I can't believe how long they were in the first place. Shortening the garters was really easy. I think I had to cut them down to about 3-4" instead of 7". I also went through and cut off all of those little ends that were dangling everywhere. Now I have an awesome pair of stocking instead of a hot mess.
This product was provided at a discounted price in exchange for an unbiased review. This review is in compliance with the FTC guidelines.

Thank you for viewing
Black fishnet garterbelt stockings
review page!