Now I've got a pair of balls, too!
These balls are wonderful ben wa balls. They are very simple, but leave little to be desired. They do their job, and they do it well. They will definitely last a very long time because of their durability.
Published:
Pros:
Stainless steel
Heavy
Small
Cons:
May be too small for some people
Metal Worx ben wa balls are vaginal balls by Pipedream. They are made of stainless steel and the set I received were 0.75 inches in diameter. They weigh 1.6 ounces together according to my kitchen scale, but the packaging claims they are 0.7 ounces. Perhaps it meant each, in which case it's only 0.2 ounces off.

Ben wa balls are used to strengthen the pelvic floor muscles without an active exercise session. The balls are inserted and then you continue about your day. The vaginal muscles act on their own for the most part to keep the balls in. Many women claim that they feel pleasure from the balls and some can even orgasm.

Unfortunately, I'm not one of those women, so I just use them to keep myself tight. The size of the balls are good for someone who is training with progressively smaller balls or is already fairly tight. Take care not to get balls that are too small as they can be very difficult to keep in. I usually put them in before doing housework because I know I'll be moving around enough for them to be in action. It is personal preference that I don't use them outside of my house, because I would be mortified if they slipped out of my pant leg. I cannot hear them inside of my vagina, so they would be acceptable in public, noise-wise.

For removing the balls, I use my index finger in a sweeping motion (think CPR for a choking victim). Sometimes it helps to cough before doing that because coughing makes my pelvic muscles force anything out.

Because they are stainless steel, they are very easy to care for. These can be boiled, put in the dishwasher (in a mesh bag, of course), and cleaned with a bleach solution. I wash mine with soap and water before and after every use and boil them once a month. I cannot see any scratches in the finish, so they are very durable.

Any type of lubricant can be used to get these in, if you find lubricant necessary. I personally did not need any because the steel is very slick.

The packaging is nice, but bulky. They come in a clamshell case with styrofoam in the inside to keep the balls in place. It is very sturdy. I would love to use the case as storage for something else. I have tried to remove the styrofoam, but can't find a way to do it without removing the case. So for now, I must live with the space-unfriendly packaging.

Overall, I find these balls to be great for their intended purpose. They are very "no frills," but that's okay because I can't see them where they go anyway. They are definitely going to last a very long time because of their durability.
Experience
Packaging: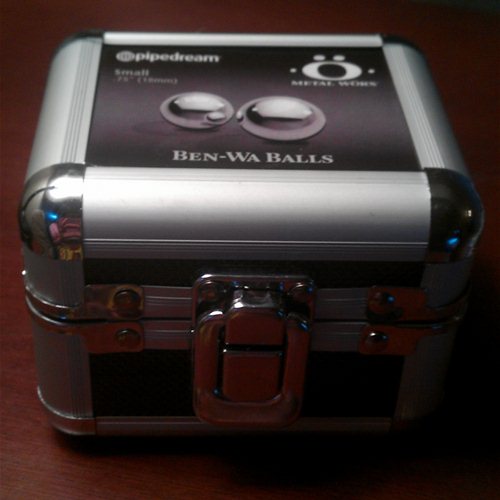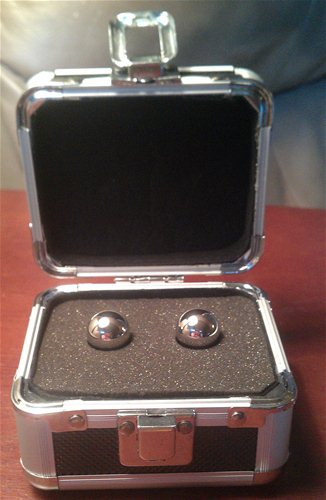 Size of balls: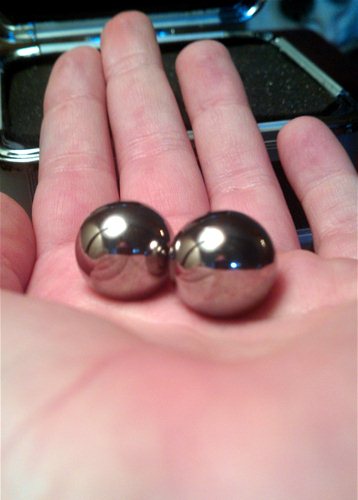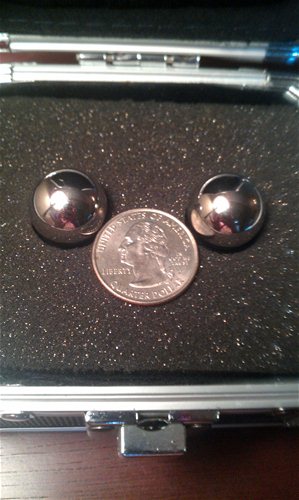 This product was provided free of charge to the reviewer. This review is in compliance with the FTC guidelines.

Thank you for viewing
Metal Worx ben wa balls
– exerciser for vaginal muscles review page!