Oh Yes, Impressed
This one is powerful and causes orgasms. It's textures can be felt and it is sure to please those who love them. It can be a pain to clean the grooves but it is so worth it. I would suggest for beginners and those who play with toys often. This one will be living on the night stand for easy access.
Published:
Pros:
Waterproof
Powerful
Silicone
Textures
Cons:
Battery Operated
Cleaning the textures
Ceres Lace Massager By Jopen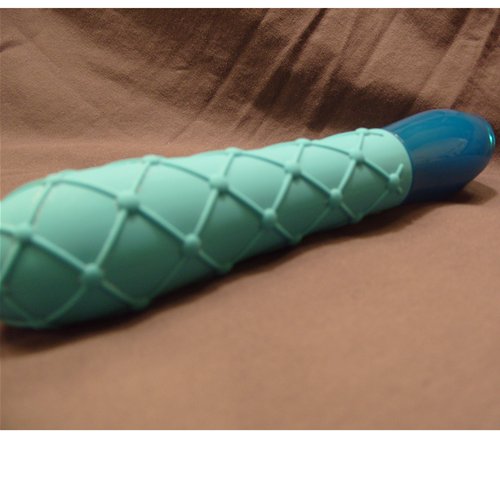 For a battery operated toy this one is impressive, yes, I know it would be better if t were rechargeable but that would just drive the cost up. A big warning: When you get this toy, do not remove the clear plastic insert and throw it aside and then place the batteries and turn it on. The noisy clanking sounds you hear will turn you off of the toy. Then when you wisen up, look at the instructions and grab the clear plastic sleeve and figure out that you are to place the batteries in it and slide it back in the toy. You will be impressed that it is so quiet. I speak from experience.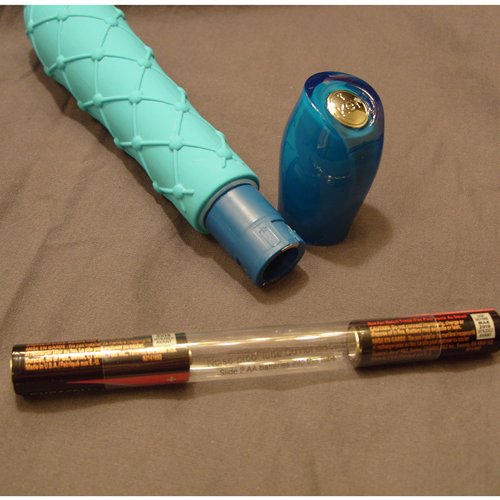 The Ceres is a traditional vibrator/massager. It can be used all over your body, on your partner's erogenous zones, on your husband's sore shoulder. It works to excite your clitoris, it works wonderfully when used for my purpose of insertion. Because it is flexible with the slightly larger head you can get some g spot action going on. This one is for vaginal use, if you use it anally it really could go missing as there is no base to this toy, and land you in the emergency room.
Material/Texture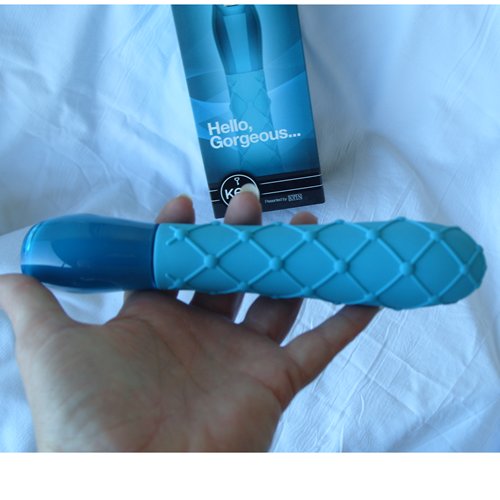 The ceres is made from a flexible silicone. It is soft and velvety and it really isn't a lint magnet. It has no tastes and no smells. The silicone rates a 10 on the Eden scale and the end portion is made from plastic which rates an 8 on the Eden scale. The power button is made from a stainless alloy. All the materials are hypoallergenic, non porous, latex and phthalates free. The motor area stops at 3 inches and the remaining area of 2 ¼ inches are flexible. The vibrations carry very well through the entire toy. The toy has the lace type of textures that are prominent and can be felt with use. They are firm but they have give to them. They are not as pronounced as say they would be on glass but I can tell that they are there and I love the textures. It is a concern with cleaning as the lines do collect your secretions so I actually used a q tip to clean some of the grooves. It comes in multiple colors.
Size/Shape
The ceres is a straight, non curved vibrator with a bulbous head to it. The head is not hugely bulbous but you can tell the difference. It is easy to handle with one hand and when gripping it you can give it a curve to hit your g-spot. The end portion where the button control is located has a nice curve to it where your finger or thumb sits in it. There is an O ring present and ceres's packaging states that it is waterproof. I didn't notice any water getting into the battery compartment when I washed it off.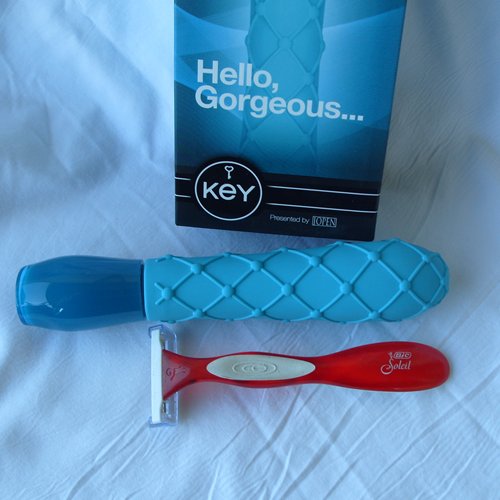 The ceres has a total length of 7 inches and an insertable length of 5 1/4 inches. It has a diameter of 1 1/2 inches with the shaft being only slightly smaller. The circumference is 4 3/4 inches. The cap area takes up 2 inches. With the end portion containing the power button.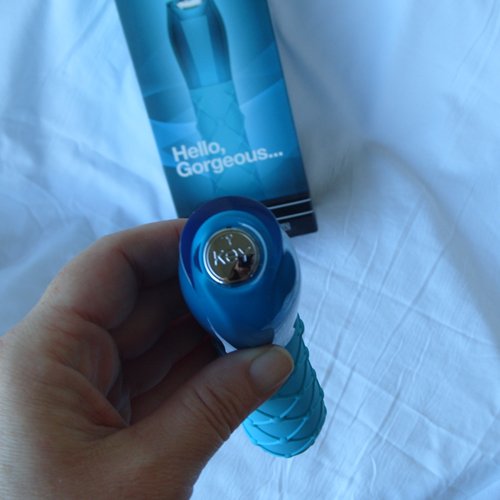 Power/Functions
I would definitely give this on a 4 on the vroom scale, It is powerful for a battery operated toy. It runs on 2 AA batteries and as I said you have to use the clear plastic sleeve or it will sound like a washing machine that is off kilter. With the sleeve in it cannot be heard over the covers. It turns on with a touch to the end button. I did find the button easy to push but it is also very easy to hit while you are using the toy and throwing you into another setting. It is easy to open the battery compartment with a twist to the right and the cap slides off and then to replace it you match up the grooves and twist to the left.
The ceres has no memory and you need to cycle through the settings to get to your favorite if you turn it off. It can make your hand get tingly if you hold it and play with it. The ceres turns on with a push and then turns off when you press and hold the button for 3 seconds.
The Ceres has 7 functions
1. Solid strong vibrations
2. High fast pulsation
3. Wave or escalating vibration
4. Strong fast pulsation
5. Strong Throbbing with 2 high pulses and 2 low pulses
6. High and Low vibration Flutter
7. A longer high and low vibration
Experience
This one is a winner, it has power, it is quiet, waterproof and for me it has
TEXTURES!!
Care/Maintenance
The ceres is made from silicone and the insert even says not to use silicone lubes, only water based so the finish isn't ruined. It cleans up easily with antibacterial soaps and water or your toys sprays. I did have to pay special attention to the grooves when cleaning. I love the textures so much that it doesn't bother me to have the cleaning issue. It comes with a nylon storage bag that I am using to store it in, away form my other silicone toys as when they are touching they can hurt each other's finishes. The insert states to store out of direct sunlight.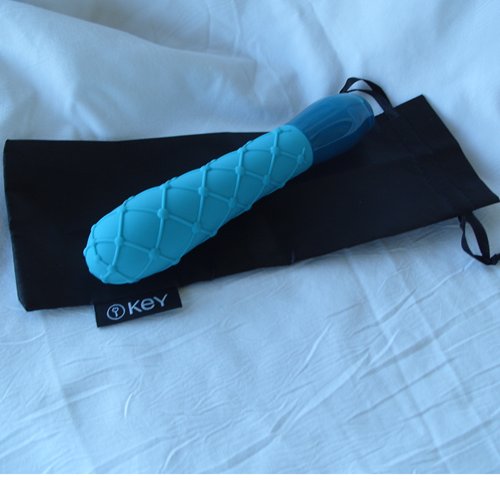 Packaging
The packaging for the new Key Line from Jopen is very nice. The cover states Hello Gorgeous… There is an outer sleeve that comes of the top to reveal the inner box, it opens flip top style with the toy nestled in it's own foam cut out. The storage bag comes with two package inserts. One insert explaining your new toy and one insert explaining the one year warranty. The packaging is actually nice. You could also keep your toys in the box as well as in it's pouch that is included. The pouch is actually a scratchy type of black nylon that appears to be waterproof.
Follow-up commentary
2 months after original review
This one is great with it's g spotting action and the textures are wonderful. I can inadvertently hit the controls with use and I really like to rock it more so than thrusting it.

This product was provided free of charge to the reviewer. This review is in compliance with the FTC guidelines.

Thank you for viewing
Key Ceres lace
review page!