Paint the Town Red
This dress is rocking! It is fantastic for a night out at the club or a lingerie type party, but it's *just* a tad tight/short for any other formal rendezvous. The material is gorgeous and durable, however the ruching is a bit picky and may not flatter the parts you want it to. If you like tight dresses then this is for you!
Published:
Pros:
Sexy! Tight fit, durable material.
Cons:
Ruching is touchy and might not flatter, some might find this too short for public use.
(All measurements are in inches!)
The Red cowl neck mini dress from Forplay Lingerie is a beautiful, form fitting piece that may highlight your curves and smooth out your rough spots. The fabric is ruched to conceal underwear lines or love handles, but your results could go either way as it is quite tight and the ruching needs to be in the right place.
*Material*
This dress is made of 2 of the friendliest materials:
Polyester
and
Spandex
. I have always found this to be a good combination; polyester stretches and flatters while the spandex smooths out your curves and fits your form.
As mentioned above, this dress can go either way in that it can make you look gorgeous or it can expose your curves and bumps. The ruching is picky and, if you can get it in the right spots, it will look good.
Below is an example of the difference it can make. The second picture is with the ruching adjusted to hide some curvature.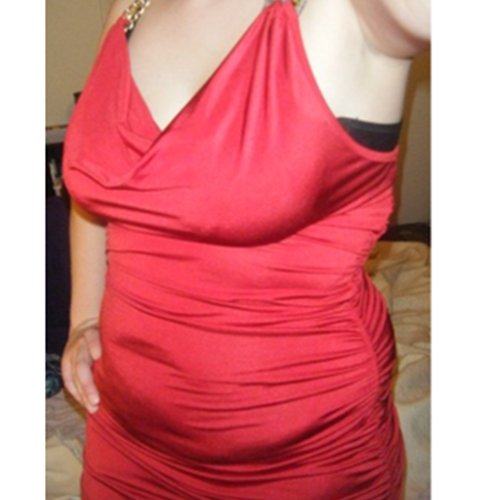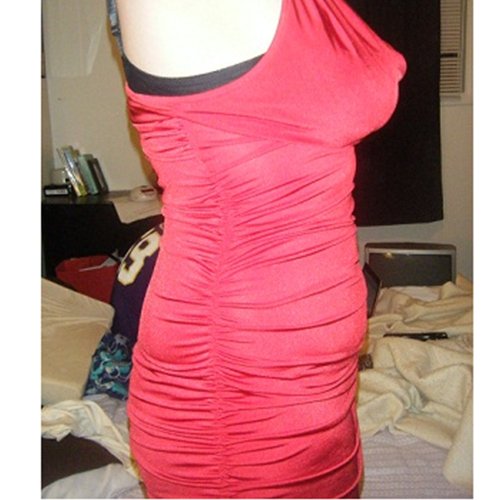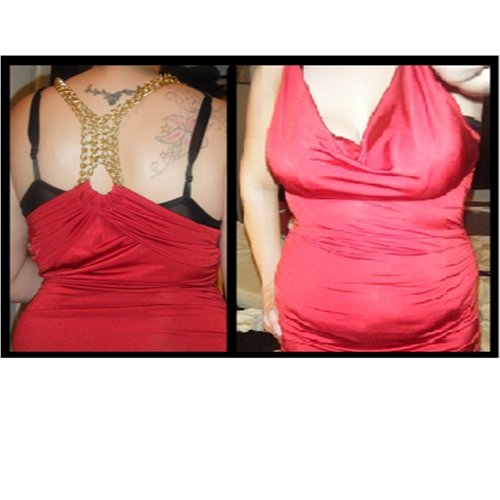 The racer back design consists of what seems to be metal chains painted gold. They are a bit bulky, but they add a nice touch to the outfit and have not had any signs of wear (scratched up) since I have had this. The necklace on the model is gorgeous but would probably be overkill seeing that it looks just like the back.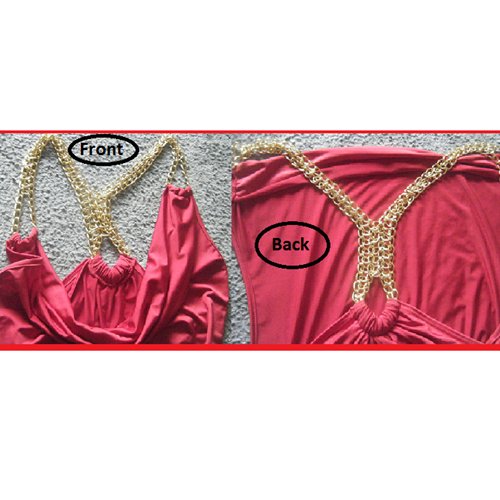 This lacks chest support (aside from the tightness of the dress) so a strapless bra is suggested!
*Measurements*
Forplay Lingerie's
measurements for the XL come in around a size 16- 18, 41-44 bust, 32 1/2 - 34 1/2 waist, and 44 1/2- 46 1/2 hips.
My measurements are quite different from this. I am size 38D in the chest, 36 in. waist and 40 in. hips and this fit me quite well. The stretchy material is much more forgiving, allowing many different body shapes to fit it.
To measure, I laid the piece flat on the ground. Double the measurements to find out the actual size around (12" stretches to 24", etc).
The dress measures 33" long from the armpit to the bottom. It can stretch to a good 40" comfortably, but was still a bit too short for my 5'5 figure.
The chest area measures 14" wide and stretches to about 17". It tapers a bit at the waist, measuring 13" and (stretching to about 16") for the rest of the piece.
*Care and Maintenance*
Polyester and spandex are 2 very easy materials to clean provided you don't use high temperature water. I wash this with my regular clothes on normal cycle with warm water and it works just fine. If you are uncomfortable washing it with normal laundry you can throw it in a mesh lingerie bag or with your delicates.
Dry on low/cool heat or let air dry to prevent the chain straps from getting too hot. It sucks when you get burned pulling something out of the dryer.
Experience
I absolutely LOVE this dress but it isn't as elegant as I thought it would be. I got it to go out for a fancy night but I couldn't bring myself to wear it out. Maybe it's because it is so tight on me, but I don't like to wear it in public. It's a bit too short for me.

The ruching is kind of picky and doesn't necessarily stay in place so it needs to be adjusted often if you are trying to smooth out any curves.
This content is the opinion of the submitting contributor and is not endorsed by EdenFantasys.com

Thank you for viewing
Red cowl neck mini dress
review page!