Formfitting and sexy...just a bit loose in the back.
This dress looks exactly as it does on the model. While it doesn't come with the extra golden necklaces, the design looks exactly the same and is very formfitting and generous if there is any extra tummy fat. It is extremely comfortable because of its stretchy, spandex properties, allowing you to adjust the length of the dress. I'm sure this dress will look good on a variety of people with a variety of body shapes. Wear this dress, and you'll be feeling sexy and confident.
Published:
Pros:
Comfortable, formfitting, generous (hides fat and underwear lines), wrinkle-free
Cons:
Pricey, has raw edges, thin material, bulgy back material
Product Information

Size: Small
Material: 92% polyester, 8% spandex
Care Instructions: Hand was cold water OR dry clean only
Measurements: Bust - 24"; Length (top of chains to bottom hem) - 37.5"; Waist - 21.2"; Bottom - 24" ***This is very stretchy, so these unstretched measurements are just rough guidelines of the dress size.
Description: A formfitting, thin, red, cowl-neck dress featuring gold, crisscross chains in the back. The dress is ruched and stretchy.
Packaging: Plastic hanger, plastic clothing bag

Initial Impressions

I thought this dress looked amazing on the model, so I was excited to try it. It looked exactly as I had imagined, albeit the material was a little thin for me for a $48 dress. Nevertheless, it seems that the design was correct and would look good on the body.

Pros

1. Good length: I'm 5'3", and this dress falls halfway down my thigh. I can stretch it to go over my knees since it's ruched. As it's tight fitting and snug, I'm not worried that it will ride up at all. Due to its ruching and extra fabric, this dress should fit a variety of heights.

2. Fits your body just like you want it to: It hugs yours curves, your butt, and your boobs. The ruched fabric hides your tummy fat. The fabric is stretchy and smooth enough to be incredibly comfortable.

3. Slight gleam to the polyester makes it opaque: As the dress reflects some light due to the nature of polyester, it prevents people from seeing behind the material. Like most other dresses on Eden Fantasys, this dress is only one layer thick. However, because of this reflective property, even though this dress is pretty thin, no one will be able to see your underwear.

4. No underwear lines: Ruching does wonders, such as disguising underwear lines. Wear whatever you want underneath, and it won't matter.

5. Craftsmanship looks great: All the seams are in place with no loose ends.

6. Wrinkle-free and small: Since this dress is polyester and spandex, it pretty much stays wrinkle free. Also, its thin material allows it to be pretty compact when folding, so you can definitely throw it in the suitcase when you travel.

Cons

1. Metal is cold: While your body will warm the gold-colored chain after a few minutes, when you first put it on, you may shutter a little because of the cold metal against the skin. For the sake of fashion and beauty, little discomforts will have to be tolerated. In any case, this isn't too much of a drawback.

2. Back flap of red cloth is weird and loose: Instead of the gold chains connecting directly to the back of the dress, it actually connects to another piece of rectangular red cloth that is stitched on top of the one layer thick dress. There is a little, extra, rectangular cloth, so it droops down, which may make it balloon out a little when you're actually wearing it. This extra cloth may be good for those who have broader backs because it will make sure that your bra is not seen even when the cloth is stretched, as there are two layers. However, because I don't like the ballooning effect, I am marking this as a con. Take a look at the below pictures, especially of the back, to get a better idea.

3. It has raw edges: The cowl neck portion seems to just be cut jersey - the edges are not serged. While it seems that the cloth will hold its weave, I feel that raw edges have a greater tendency and risk of starting to unravel sooner.

4. It's a bit pricey: At $48, I expected the dress to be something amazing. After all, it's one of the pricier dresses on Eden Fantasys. However, the quality and craftsmanship is very similar to the dresses priced lower. This begs the question of why this dress is so expensive - is it the metal, or is this arbitrary pricing? Offline, I would only buy this dress for a max of $20, so I am surprised it's more than double the price.

Conclusion

Taking everything into consideration, I think this dress is okay, but not spectacular. It looks just as it is on the model: it's formfitting, but forgiving, and the craftsmanship is good, but it's thin. One of the reasons I'm just not over the moon about this dress is because I don't know on what occasion to wear this. Now that I have it in my hands, I realize it's too formal for clubwear, but not exactly classy enough to wear at formal events (I'm conservative). Perhaps you guys are more daring and will wear it to other occasions. Nevertheless, this dress looks nice on a variety of bodies.
Experience
My sizes
Dress size:
XS/0/2 (for mainstream brands)
Height:
5'3"
Weight:
117lb - 120lb
Bust size:
32C/31"
Waist:
26"
Hip:
34"
Here are pictures of me wearing the dress. Take note of the extra flap of cloth in the back (it bulges a little, as you can see from the sides).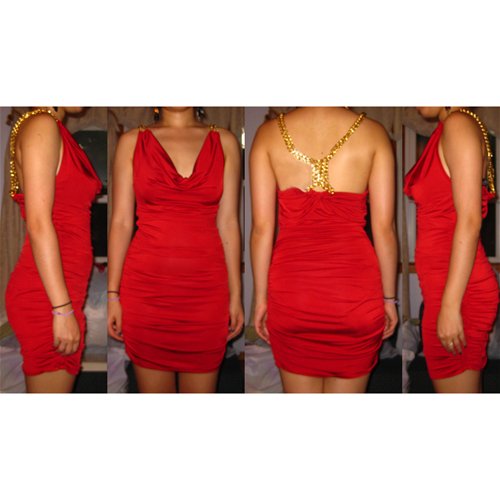 This content is the opinion of the submitting contributor and is not endorsed by EdenFantasys.com

Thank you for viewing
Red cowl neck mini dress
review page!