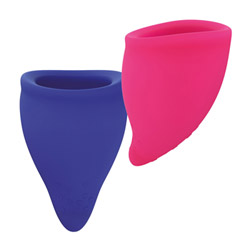 Fun cup explore kit
Miscellaneous
by Fun Factory
Period cups
The pros of these period cups are that they are cost-effective, good for the environment, easy to use, and travel well. They are low maintenance and easy to clean. The cons are that the first few periods you use them it takes some practice to feel comfortable with them. Also, everyone's bodies are different, and some folks just may not like these.
Published:
Pros:
Cost effective, good for the environment, easy to use
Cons:
Beginners may have difficulty when first using, but it just takes some practice.
I waited to review these until I had used them for a few periods to really assess how I felt about them. I have previously used the Diva Cup, which has a different shape and feel than these period cups do. The idea behind period cups is that you don't have to use tampons or pads each month. You instead insert the cup and can leave it in up to 8-12 hours before removing it and rinsing it out. You then re-insert the cup. At the end of each period you can boil the cup to clean it and then store it for the next month.

I like that this came with two different sizes to try out. The smaller cup or cup A measures 2.1 in long with a circumference of 1.56 in, and can hold about .68 oz. This size cup is usually best for lighter flow days or days when you can rinse the cup more frequently, for folks who have not had children, and based on what works for your body. The larger cup or cup B measures 2.29 in long, has a circumference of 1.7 in, and can hold about 1.01 oz. This cup is appropriate for folks who have had children, who have heavy periods, or if you aren't going to have time to rinse the cup out for several hours.

So these cups are easy to use and low maintenance. You simply squeeze the sides together at the top and insert the cup. Once it's inside it expands and then collects the blood. I will say that I have been using period cups for about 9 years now and am quite used to the process, but if you are new to this, it can be messy and frustrating for the first few menstrual cycles. It takes time to figure out how to insert and remove them easily and without making a mess. When you take the cup out, you want to make sure you don't spill the blood and then I dump it in the sink or toilet and wash it out at the sink. You cannot do this in multi-stall restrooms so you can wipe it out with toilet paper, but I am not a fan of that. I just try to avoid multi-stall restrooms while I'm on my period. Also, you are seeing the blood from your period in a different way, so this is not for the squeamish.

The upside of these cups is that you save a lot of money because you aren't buying tampons and pads each month. It works great for swimming, going to the beach, working out, and you can easily remove the cup to have sex before re-inserting it. It is easy to clean and comes with an antimicrobial bag for storage. It travels easily and discreetly on vacation. I also have found that it decreases the cramps that I have when menstruating. The only thing I did not like about these was that they did not have the stem at the bottom like the Diva Cup, which makes it easier to remove. Otherwise, both cups held up well to my past few periods and were easy to clean and store. Give these a try if you are curious to try something different for your menstrual needs.
Follow-up commentary
25 days after original review
I have gone back to using the diva cup, but am keeping these to use as backups for the gym or when I travel. I highly recommend these for people who are trying out period cups for the first time as they are easy to use and easy to care for.
This product was provided at a discounted price in exchange for an unbiased review. This review is in compliance with the FTC guidelines.
Thank you for viewing
Fun cup explore kit
– miscellaneous review page!