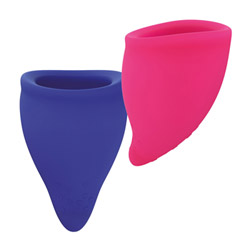 Fun cup explore kit
Miscellaneous
by Fun Factory
A fun period?
Fun Factory's take on menstrual cups is done with their usual flair and incredible quality. If you've used or have ever considered using cups, try the Explore Kit! It can't make all the annoyances of periods go away, but it can certainly bring some of the fun back. The rewards of using this product make putting in the work to get started well worth it.
Published:
Pros:
Earth-friendly, body-friendly alternative to pads/tampons
Fantastic design, detailed instructions
Cons:
Takes some adjustment; initial discomfort/leakage
Requires a hands-on approach to periods
I know what you're thinking—there is absolutely nothing on Planet Earth that can make a period "fun." And while I'm inclined to agree with you there, the new line of menstrual cups from the fantastic German company Fun Factory might at least make it more bearable.
There are many benefits to using menstrual cups over traditional period products like tampons and pads. Instead of using and discarding these landfill-destined items, menstrual cups can be safely reused, which saves you money and helps the environment. The Explore Kit is an excellent introduction to menstrual cups, for those who have never used them before or for those who want to try out Fun Factory's version. The Kit is designed with Fun Factory's whimsical yet high-quality sensibility in mind, and the packaging and products are lovely.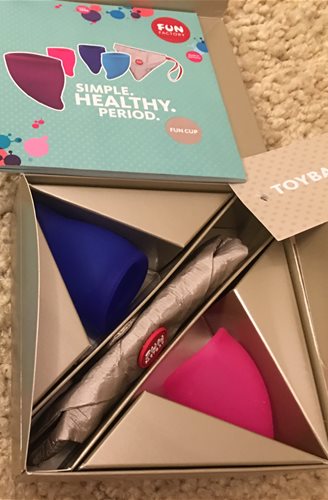 The Explore Kit includes:
1) One "A" cup (holds up to 20 ml)
2) One "B" cup (holds up to 30 ml)
3) Antimicrobial Tyvek bag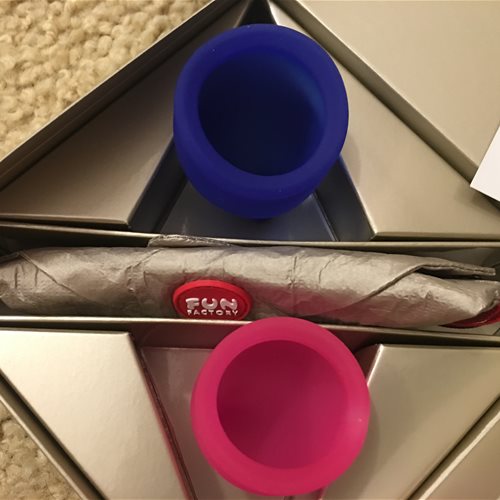 It's fantastic that the two offered sizes are included in this, as no two flows are the same and needs may vary. The "A" cup is typically recommended for new users of menstrual cups, people under 30, and those with small vaginal canals, while "B" is better for those over 30 or who have given birth. While I fall under the category of users better suited for "A", I tend to have a very heavy flow the first two days of my period, so I foresee both "A" and "B" getting a lot of use.
Cup A is a gorgeous pink color and Cup B is a deep blue.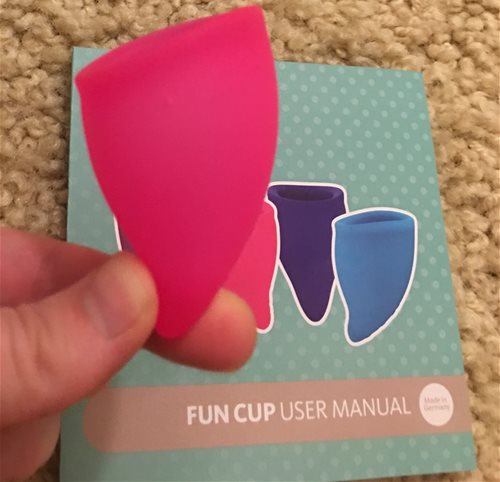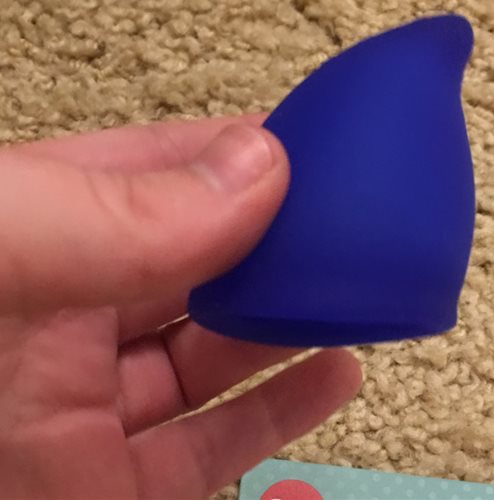 Both cups are made of body-safe, hypoallergenic, medical-grade silicone, which is a 10/10 on Eden's Safety Scale for toy materials. The cups are 100% waterproof and 100% vegan. The shape is designed for both comfort and security, with small holes around the rim of the cup to help create a seal and a curved tip at the end to aid with removal. The cups are lightly textured and very soft. Lines inside the cup indicate ml level so you can track how much you've bled.
Instructions are provided in several languages, with various tips and tricks to help you learn how to use or optimize your use of the cups. Using one of two recommended folding options, you insert the cup into your vagina (a water-based lube can be used to help with this—just make sure you don't use silicone or hybrid lube, as this can negatively impact the cups). The cup can be left in for up to 12 hours. Just empty the cup into the toilet when full and then clean and reinsert. Repeat until your period is over and then start again next month!
If you are very uncomfortable with the sight of your own blood, you may not want to have to go through the hassle of insertion/removal and emptying/cleaning. Consider the grossness factor before purchasing, but I think it's fair to say that if you are considering a product made for use during menstruation, you're used to a certain level of exposure to this stuff!
Before using for the first time, wash the cups with mild soap and warm water. To store, wash and dry cups and keep in the provided bag. They can also be boiled for three minutes to steralize.
The antimicrobial Tyvek bag keeps your cups safe and clean when not in use and is excellent for travel. Clean the storage bag with soap and water and let it air dry.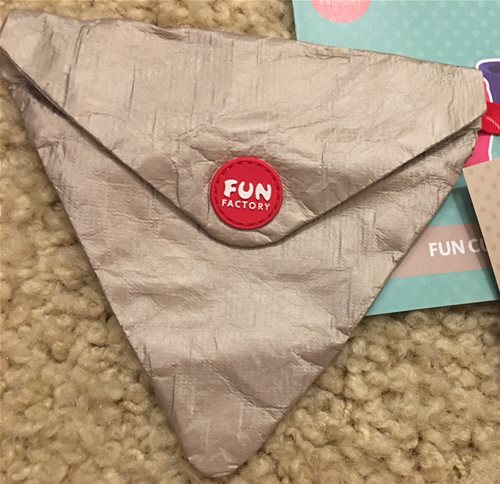 Experience
Friends have been recommending that I switch from pads to menstrual cups for years, and when I saw this Fun Factory offering here on Eden, I jumped at the chance to try them. I am so glad I did!

It took a bit of practicing for me to get comfortable with inserting and removing the cups, but it will definitely get easier with time. It's a big jump to go from not even using tampons to using a menstrual cup, so it's going to take a while to get used to the feeling of having something "up there" for extended periods (pun intended). While I was definitely aware of the cup, it was not truly uncomfortable and practiced cup users or tampon wearers will have no problems making the switch.

I didn't get quite a perfect seal the first few times, so I did have some issues with spotting. The instructions address this, and suggest just continuing to practice inserting and removing. While getting used to the cups, I'd recommend supplementing with a panty liner and avoiding fancy underwear or white linens. I also noticed an increase in lower back pain and cramping while wearing the cup, but this happened the last time I used tampons instead of pads as well, so I think it's just my body adjusting.

This wasn't an immediate, knock-it-out-of-the-park hit for me but that's just not a realistic expectation for a product like this. It's going to take some getting used to, but the product is fantastic quality and worth the effort involved in the long run. In a few months, I anticipate being a Fun Cup pro and I can't wait to say goodbye completely to the hassle of pads and be able to enjoy swimming while on my period or wearing any outfit I choose without fear!

I also want to give massive kudos to Fun Factory for their sensitivity in marketing these cups. They explicitly call out the product as gender neutral and emphasize it is compatible with packing; not excluding trans or other identified gender identity folks is a huge deal and it makes me happy to support this company. The instructions also discuss how this product can help with having sex while on your period, which is an excellent step towards combating period stigma. Go Fun Factory!
Follow-up commentary
3 months after original review
Two months later, the Fun Cups continue to be a period lifesaver. Not having to buy pads or tampons is such a joy!

I have had a few moments of panic where I thought the cup was "stuck" and I will admit that having to be so hands on with inserting and removing them is unpleasant at times, but I still think that the benefits far outweigh the negatives.
This product was provided free of charge to the reviewer. This review is in compliance with the FTC guidelines.
Thank you for viewing
Fun cup explore kit
– miscellaneous review page!