Pump It Up For a Little Something New
This Silicone Pussy Pump is a high quality toy that will safely and effectively engorge the labia and clitoris for extreme sensitivity and pleasure. It does its job, but does not go above and beyond in any way.
Published:
Pros:
Silicone, Powerful Suction
Cons:
No Versatility, Large
This was my first experience with pumps. While exploring Eden, I came across this toy and was struck by curiosity. There is very little more arousing to me than a new sexual experience. In the spirit of adventure, I tried it out.
When the toy arrived it was simply wrapped in a plastic bag with no real packaging. I'm a sucker for some good packaging so that was a bit of a disappointment to me. Mostly I was struck by the sheer size of the thing. Being new to pussy pumps, I had no idea what to expect. For some unknown reason I was expecting something quite a bit more compact. The cup of the toy is 3 inches long by 2 inches wide. It has a foot long tube that connects to the hand help portion of the pump which is 3.5 inches long by 2.5 wide.
Eager to try out my new toy, I did a preemptive rinse and learned some new things not clear in the online photos. The cup is made of a hard plastic shell with a silicone liner where it comes in contact with your body. The liner is quite simple to pop off and give a quick soap and water rinse. (If you're sharing the toy, the silicone liner should be removed and cleaned with a solution of bleach and water or boiled.) I thought that the silicone liner was really clever and made for easy cleaning. Below is an image of the pump with the silicone liner removed.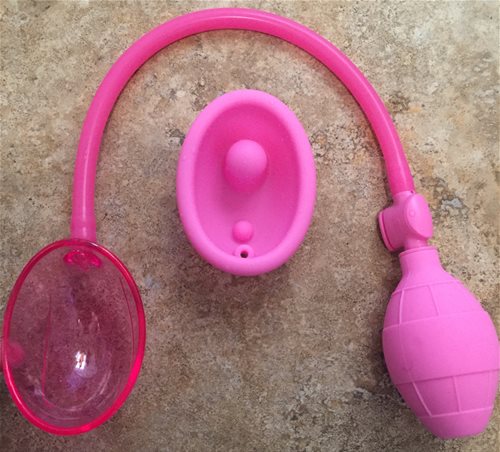 After the toy was all clean, I got to business. I found that this toy has some good, powerful suction. When researching pumps before purchasing this one, something that I kept coming across was people not having the right cup size for their genitalia. It seems that I got lucky because this cup fit me perfectly.
There are a couple of ways that one could increase the suction even more. Shaving the bikini line where the toy sits will help ensure that no air leaks in. Also, using lube is a great way to get a strong seal. Because the toy is silicone, be sure that the lube you're using is water based, as a silicone based lube could potentially react with the toy and degrade the materials.
The entire function of this toy is to really get the blood flowing in the genitals, causing them to swell and increase sensitivity. I achieved a plump, swollen look after about 10 minutes of play. Everything became quite sensitive to the touch and I found that my favorite vibrator was way too much in this state. It did make receiving oral sex a million times more pleasurable. (Is that even possible? Yes it is.) Also, gentle wet touches felt great. We're talking big sensitivity here.
Squeezing the hand held pump removes air from the cup, while pressing the release valve on the pump breaks the seal and lets air back in. It's a fairly simple toy to use. It can be controlled by a partner or on one's own.
There are no noises associated with using the toy, so it could be a good fit for someone seeking discretion. On the other hand, because it's a pretty large toy it could be hard to hide. For this reason I don't feel that it would be a very discreet toy for travel.
Experience
Overall I found that I am not the biggest fan of pussy pumps. While this was a quality toy, I was just generally not very excited by it.
When I tried to use it with a partner, we both felt the experience had a "medical" feel. As though we needed a stirrup bed and bright fluorescent lighting to complete the atmosphere. While this isn't something that does it for me, I'm sure there are many people out there whose panties get wet at the thought. This toy is definitely for them.
Follow-up commentary
3 months after original review
It seems that pussy pumps just aren't for me. I haven't taken this toy out of storage since writing this review and have had no desire to.
This product was provided free of charge to the reviewer. This review is in compliance with the FTC guidelines.

Thank you for viewing
Silicone pussy pump
– clitoral toy review page!