Slightly Overpriced Staple
If you don't like g-strings that come with lingerie sets here, you're not going to like this. However, if you're okay with butt floss and you want to buy one of these to fill a gap in your lingerie collection, this will do the job quite nicely. For $8 I'm not in love with it, but it certainly is wearable.
Published:
Pros:
Inexpensive, Fills a Role, Soft, Durable, Made in Canada.
Cons:
Standard EF G-string Gripes, Cheap packaging, price.
Ever order a gorgeous corset or a sleek black bra on Eden and find it in the mail lacking a g-string? This is your standard basic run-of-the-mill Coquette g-string that fills that role nicely. They're available in black, white, and red. The downside, however, is that this is essentially your run-of-the-mill g-string that comes with most lingerie here on EF.
(Reviewer's note: I'm tentatively trying these section headers. I would like feedback on them (whether you like them or not, etcc). If you would like to use them please Message me and I'll be glad to link you to an album or something.)

Eden's Website lists the materials as Polyester. The manufacturer's tag on the product lists it as 80% Nylon and 20% Spandex. It feels pretty nylon-y. Not that I'm a professional fabric analyst but I'll go with the manufacturer's tag on this one.

Being a one-size-fits-most panty this has to be quite stretchy. An issue with OSFM pieces is that they're always either too stretchy, too tight and never really feel like they sit right. My girlfriend is 5'5" with a 38 hip size. These fit her fine. Conjecture on my side will say that these will fit anyone between 34-40 quite well, and probably a bit apart from that somewhat. However, because these are OSFM you might not experience perfect comfort.
They stretch pretty far, fit aside. She has shot this at me several times. Apart from sexual wear, I suggest weaponizing this g-string for military use.

Despite my (and general EdenFantasys community) opinion that these run of the mill cheap g-strings are well, cheap, this one is quite durable. It's soft, yes but unless you take a blade to it, it should last. They retain their color through the wash (more on that later in care).

We ordered Coquette's
Satin and Lace Corset with Hook and Eye Closure
and it was the offending party without the g-string. If it means anything, this is what we paired with it. It also works with a black lacy (or plain) garter belt and stockings to pretty great effect. But hey, you're women. I don't need to tell you how to color coordinate.

This came without a cardboard insert or anything, in a resealable thin plastic bag. The g-string is folded and has a tag on it. There's some blurbs here and there about how to wash, materials, the fact that Coquette made it, the fact that it's made in Canada (a plus!), and that it's one size.

Caring for your run-of-the-mill g-string is quite easy. You don't even have to feed it. The symbols on the tag advocate gentle wash cycles, no use of bleach, no use of tumble dry, and no ironing. TheCleansing advocates washing lingerie by hand if possible and air drying.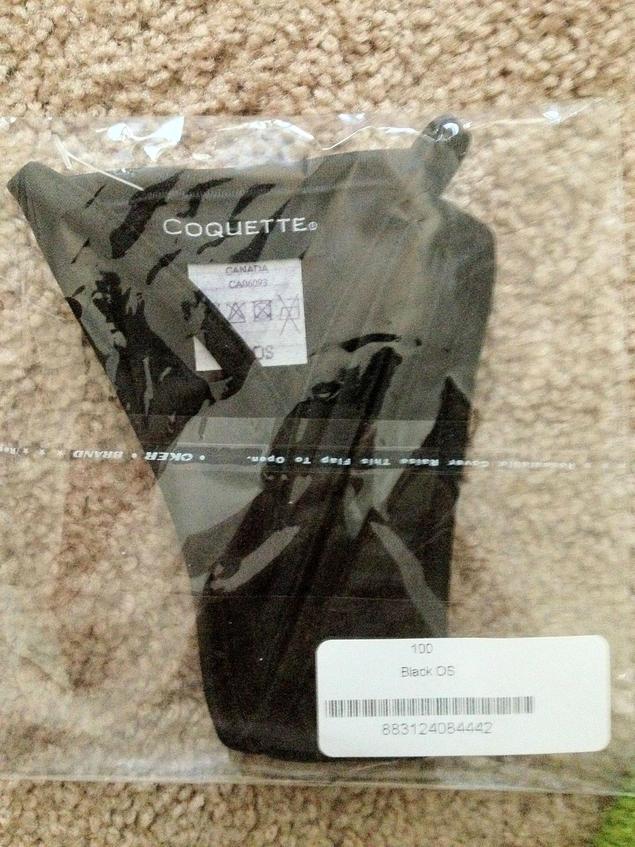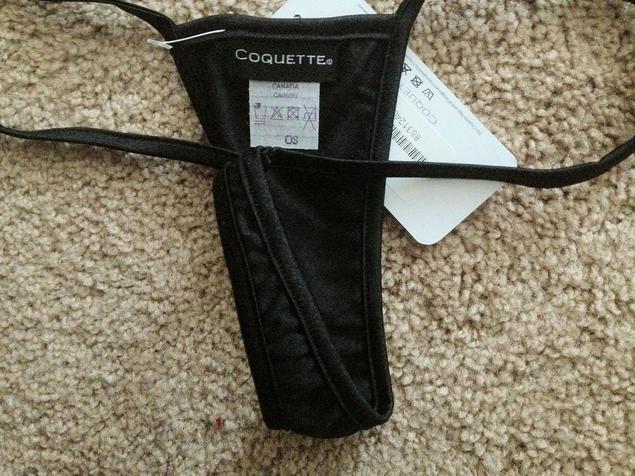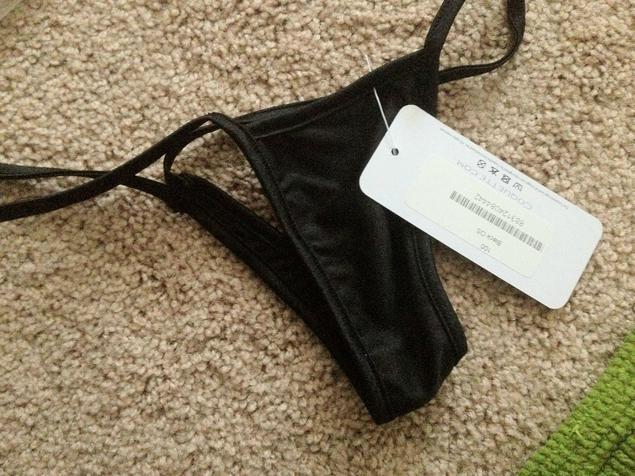 According to the girlfriend, it's comfortable to wear but not to have on for an extended period of time. Sweat and the like handle better on cotton than on this stuff. There is a liner but it's not exactly tough material.
Also, we're not going to skirt around the fact that this is essentially a butt floss string. We're okay with this.
Experience
I'm going to give this 4 stars. If you don't like EdenFantasys' standard g-strings you find in their lingerie, you won't like this. We do, and we did (and we conquered!). During sex I've pulled pretty hard on this. The stretch hasn't changed significantly.
This content is the opinion of the submitting contributor and is not endorsed by EdenFantasys.com

Thank you for viewing
Black g-string
– sexy panty review page!