Superior and Sensual
The toy wasn't the strongest that I have ever experienced but it was still powerful and enough to make me climax by the clitoris and also internally. It gave me a nice powerful, gradual buildup which is the kind that I like the best. Don't get me wrong, we all like a fast climax from time to time but my favorite is the one that takes a little time to build.

I found no major problems with the Silicone Dreams toy and it will be a great addition to my toy box. I give it 5 stars and 2 thumbs up.
Published:
Pros:
Silicone, Smooth, Powerful, Quiet
Cons:
Large and in charge
My new Silicone Dreams G-spot vibrator arrived in a rectangular packaging that had purple swirls all over the package.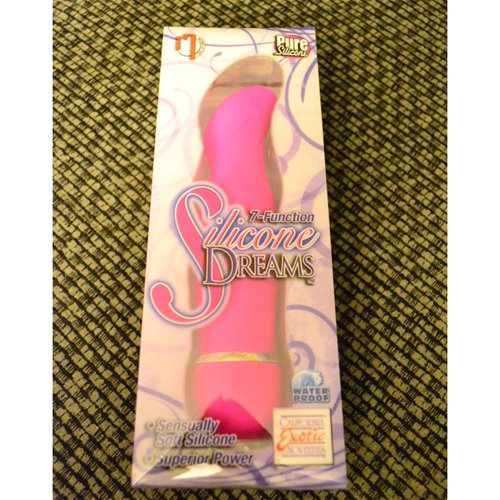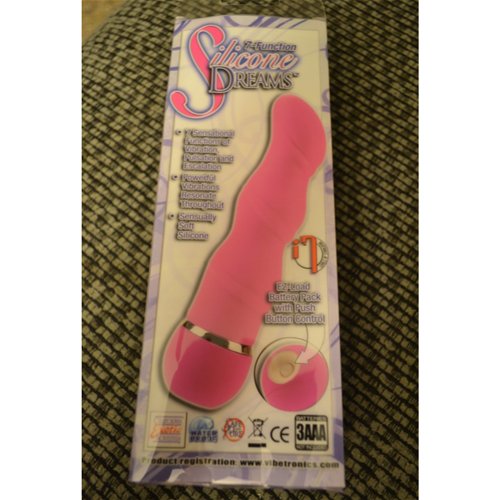 The toy is made by California Exotic Novelties. It is a beautiful hot pink in color.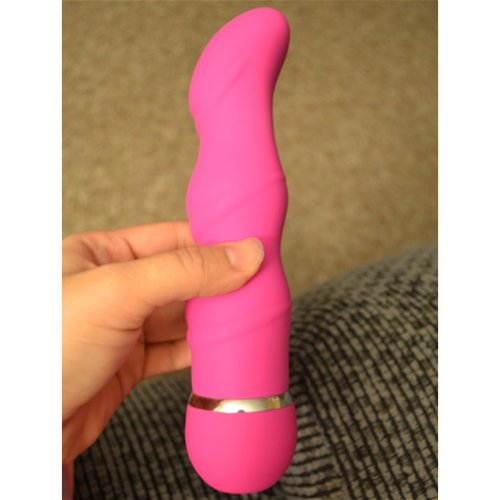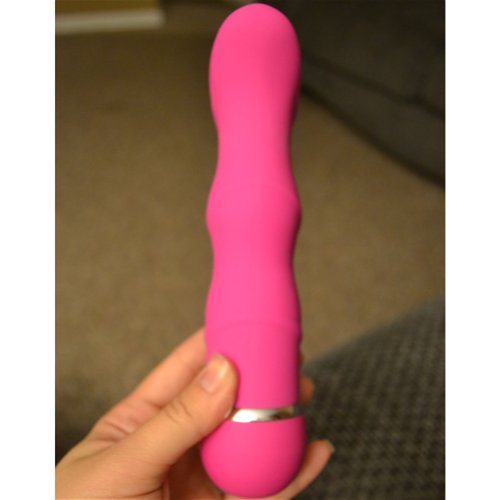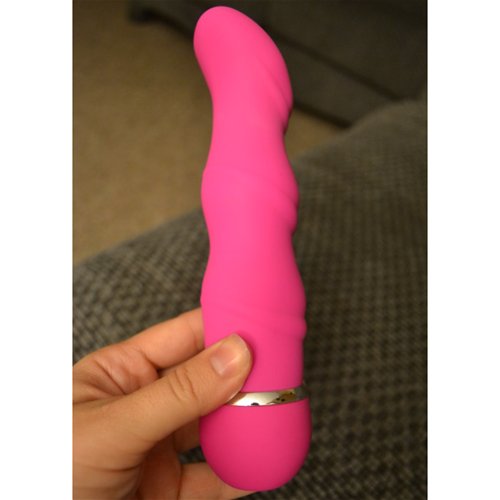 There was a clear section that in the middle of the packaging that displayed the full toy in the window. In no way is this packaging discreet.
There is a large picture of the product itself shown on the back of the packaging.
The toy had a slight smell of the silicone product. I don't know how to describe it but it is on some new silicone toys when first out of the box. Once I cleaned it, I checked for any taste, just for you guys. Luckily there was none.
I took out the Silicone Dreams and inspected the smoothness and feel of the toy. It is very smooth to the touch and I just loved running my hands all over it. The feel is very velvety and smooth. It does have some small, thin, raised swirls on the shaft of the toy for texture. These really made no difference for me.
For the most portion of the toy, it is silicone. The cap/lid that screws on is a PU coated plastic.
Silicone is one of the safest materials around for sex toys. It is a level seven on the material safety scale with 1 being the lowest and 10 being the highest/safest grade.
This toy offers the following:
Food-grade material / Hypo-allergenic / Latex free / Non-porous / Phthalates free
This toy offers 7 different functions ranging from vibration, pulsation and escalation.
It is very quiet, it has multi speeds, it's powerful and best of all, it's waterproof! I don't know about you ladies or gents but when things tend to get powerful inside, sometimes a big splash is unleashed. Thank goodness that this toy is waterproof. The control on this toy is the push button type, it has a small round button. It is located on the bottom of the toy on the screw/twist on cap.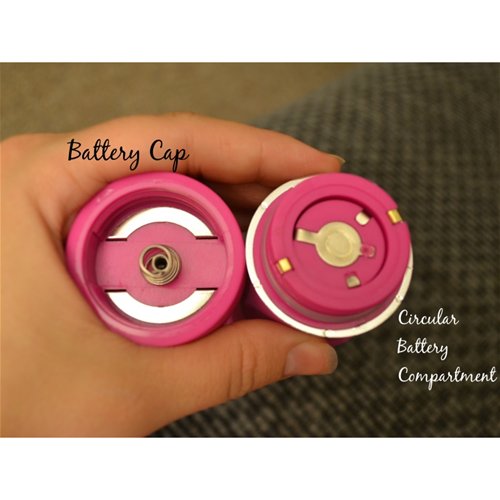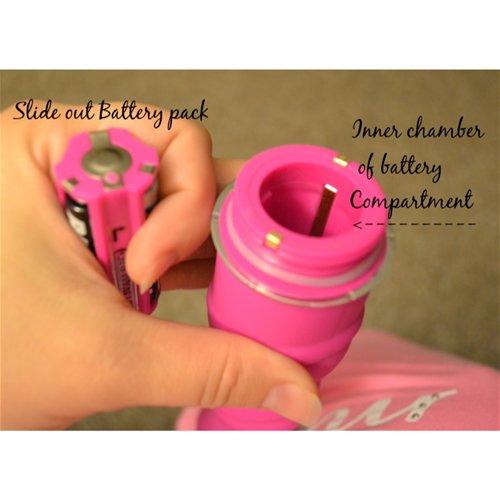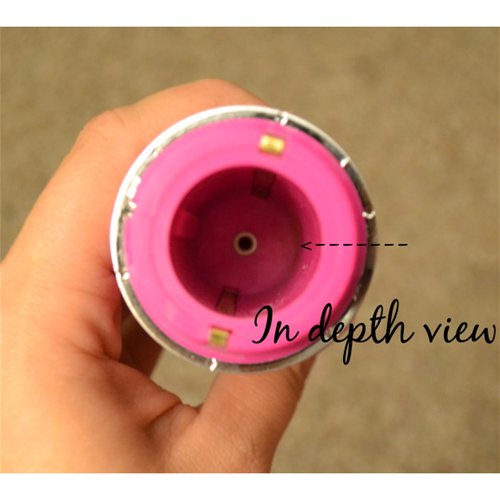 The settings must be fully gone through to start all over. Since there is only one basic button, you have to cycle through each to get the setting that you are looking for. I will discuss the settings below:
1st- Low and steady, Which is still a good vibration- 2-3 vrooms
2nd- Medium and steady, even greater sensation --4 vrooms
3rd- High and Steady, Strongest vibration- (My favorite)4-5 vrooms
4th- Escalation, ranging from low to high that builds up slowly until maximum power is reached.
5th- Pulsation of a pattern that seems to be high, just back and forth with a quick pause in between.
6th- Pulsation which seems to be medium to high, back and forth with a quick pause in between.
7th- 3 short medium pulsations followed by one long high pulsation.
Even on the highest settings, this toy still gets a 2-3 on the bees level.
This can't be heard out of my bedroom door into the hallway but it can be heard under my blanket by my partner.
All of the above settings are felt mildly through the shaft of the toy but the actual head of the toy has the most powerful vibrations. I did use a water based lubricant with this toy because of the size.
Note:
Do not use Silicone lubricants with this product
Silicone lubes and toys do not mix well because the lube tends to break down the material of the toy.
The battery compartment is very easy to manipulate as it just screws and unscrews. The control portion is in the cap that comes off so make sure not to get wet while removing to place batteries inside or to remove them. The actual battery holder itself slides in and out with ease. The batteries go in with no problem. The compartment has the markings to show how to place the batteries inside.
It takes 3 AAA batteries. I prefer to use Duracell brand but all I had on hand was the Rayovac alkaline and they lasted quite a while for being a cheaper brand. The slide out compartment only goes in one way so you can't mess it up. Once you get the batteries in and slide the compartment back in, the cap will screw on until it meets a silver ring. This seems to help for the water proofing.
The full length of the Silicone Dreams is 8" long.
The Insertable length is 6 1/4"
The Circumference is 5 1/4"
The Diameter is 1 3/4 "
The weight of this toy is 6.7 ounces with no batteries inside and 8.2 ounces with 3 batteries inside.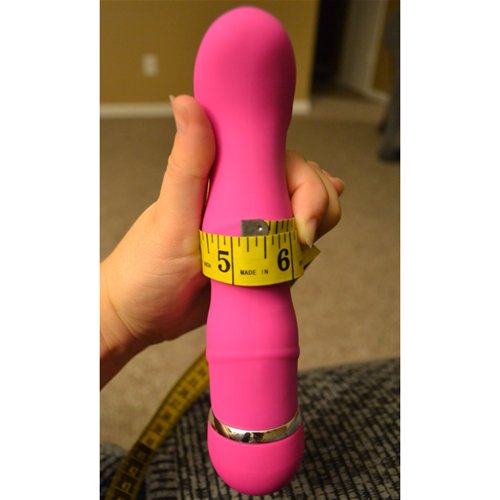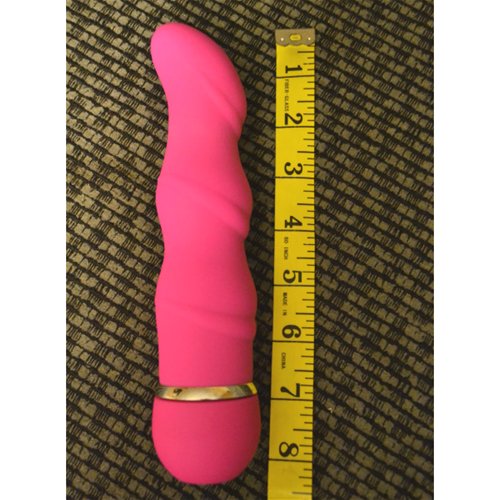 Experience
I used way more lubricant than needed at first, just to be on the safe side. Once I got it worked in, I knew this big guy was going to be Superior to some other G-spot toys that I have tried in the past.


Another great use for the Silicone dreams is a clitoral vibrator, I used it for just that reason and I experienced another great orgasm from this toy. The vibrations were just the power that I needed. This toy can be used for solo play or for partner play. I actually used this toy internally while my partner held it in and twisted it around gently for different sensations. I used a clitoral vibrator at the same time. This was extremely pleasurable and fulfilling.
I joke and call this toy "Large and in Charge" because it has a thicker girth, but it's not too much that I can't handle it.

The actual g-spot part of the toy which is at the tip delivers in the department of reaching my G-spot perfectly.


The first time that I used it, it actually made me squirt pretty quickly. Between the vibrations on my cervix, G-spot and vaginal walls, and that I am not used to a girth as big as this, I could not hold back. It packs the power that is needed for an extreme orgasm.


The Silicone dreams is easy to manipulate and is a great choice for beginners. It also packs a powerful punch that more experienced users can appreciate.


Another use that I found while being creative was that it really works on my nipples for a strong amount of teasing and foreplay. You could use this on a shaft, balls, and anal teasing. Do not use this for anal insertion because it has no sort of flared base.


For the care of the toy, I washed it in antibacterial soap and water when it first arrived and this is how I clean the toy after each use or I use my toy cleaner or my wipes. Make sure to get in the silver ring seam running around the battery cap. Bodily fluids and secretions can hide in there. If you want to thoroughly clean the toy, you can use a 10% Bleach and 90% water solution. While cleaning, since this toy is waterproof, you can run it under water or submerge it. Rinse thoroughly before use if the bleach solution was used.


Once again, If you use lubricants, DO NOT use silicone lubricants. Another tip, don't store this toy near another silicone toy. They can cause the materials of each toy to melt. So far, this toy does not seem to collect, lint, dust or hair.


I'm glad that I didn't let the size stop me, I was thrown off guard big time by it. It definitely filled me up to the maximum state. The vibrations were so intense that I squirted with it pretty quickly. I thrusted lightly and switched it up by holding the pressure up against my g-spot. Those sensations were out of this world.

Remove batteries when not in use, they have the possibility of leaking into the toy and causing damage to the toy or motor, or even you while opening the case.

This product was made in China.
Follow-up commentary
1 month after original review
This is one fun toy! I only wish it came in a smaller size. It would be terrific if toys could come as a duplicate but in smaller sizes and larger sizes.
This content is the opinion of the submitting contributor and is not endorsed by EdenFantasys.com

Thank you for viewing
Silicone dreams
– g-spot vibrator review page!