Well, It's Certainly Different!
For the ultimate in discreet vibrators you can't beat the Pleasure Ball by Doc Johnson. You could leave this baby sitting out and no one would be the wiser. It is a great little massager, especially for the back of the neck and bottoms of the feet. It doesn't provide pin-point vibrations and won't please the clits-o-steel but it is cute and pleasurable for all that!
Published:
Pros:
Good quality materials, unique look, decent vibrations speed/strength
Cons:
Vibrations are diffused, slightly porous
A round ball that vibrates and doesn't look like a sex toy. I HAD to give it a try! I was pleasantly surprised though this certainly won't be replacing my favorite clitoral stimulator. It is a very cute little toy and a surprisingly powerful little massager.
The Pleasure Ball by Doc Johnson is made of TPR and hard plastic making it pretty hygienic. It is also composed of food-grade materials, it is hypo-allergenic, latex free, and phthalates free. It is fairly non-porous though there is still the possibility that a nasty will stick around after washing the toy. It cannot be easily covered with a condom but if you are seriously worried you could cover it with some plastic wrap.
The toys is smooth and the user has the option to use the smooth plastic side or the TPR side which has just a slight bit of drag. The dark purple side is hard plastic and the light purple side is TPR. My camera makes the ball look as though it is blue but it is actually light and dark, true purple.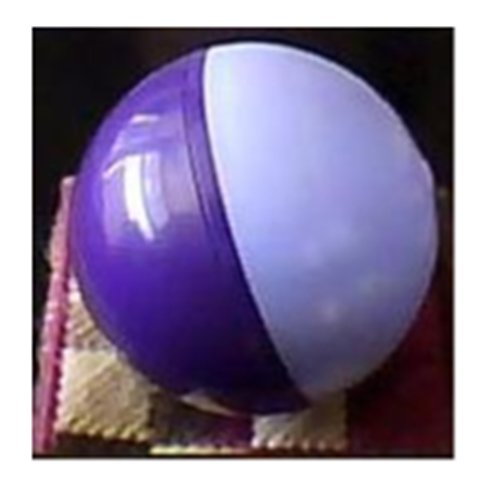 The ball fits easily in the palm of the hand making controlling where you want the ball very easy. Around the center it measures just over 10 inches so it's closest in size to a softball.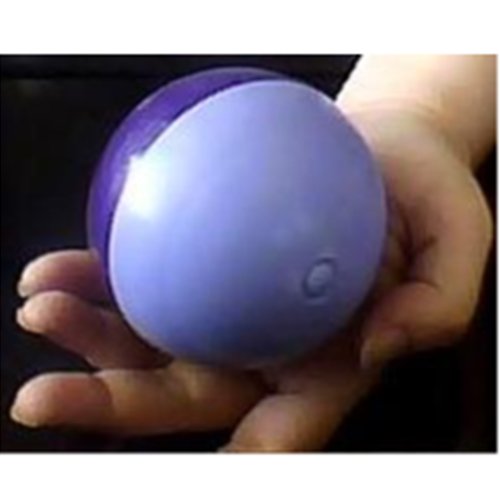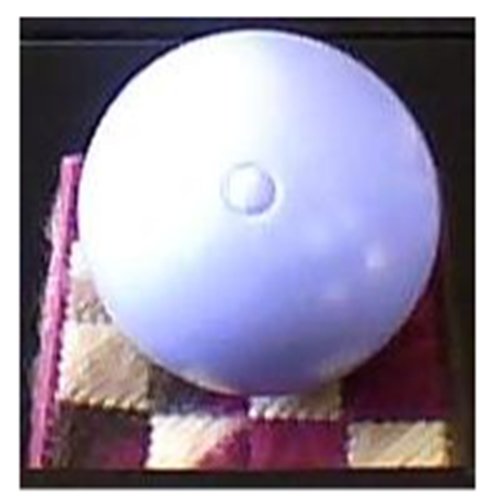 As you can see in the above photograph the toy has a push button style control and offers three levels of vibration. The vibrations are diffused throughout the toy rather than being concentrated in one area. This might be a problem for some users.
The lowest vibration is pretty rumbly and the ball really shakes. It's louder than more vibes of this power.
The second is just a slight bit higher pitched and more buzzy. The vibrations are more easily felt on the surface of the toy. It is not terribly louder than the first speed.
The third vibration is much more powerful but drops out of the rumble and becomes very buzzy and surface. It is also significantly louder than the lowest vibration.
Now this can only barely be heard outside a bedroom door if it is resting on top of the bedclothes but this could be off putting to some users.
I found, after playing with the toy for a bit, that I could use this as a clitoral stimulator and it would actually work to get me off but if you know you need quite a lot of power or pin-point vibration this is not going to be your friend! What I loved about the toy is it is wide enough and the vibrations are diffused enough to stimulate the entire area; labia majora, labia minora, clitoris, nipples and perineum. It adds a special spice to a blow job and isn't so powerful or intense that it hurts a sensitive frenulum. I found that if I press the ball against my cheek while giving a blow job it elicits some rather pleasant moans! The Pleasure Ball can also stimulate the testes and taint for yet another blow job enhancer.
We used this to ease sore neck tension and it works fabulously for it. What we found to be most effective was to put the ball on the mattress and then lay on it. It is also fabulous for tired, sore feet and large muscles though it doesn't have quite enough power to actually unkink knotted spots.
The toy is completely waterproof so it can be used in the shower or bathtub just be sure you have the threads properly placed so that the toy is tightly closed. It can be a bit tricky to get the darn thing closed and I found that sliding it back and forth a few times will match up the threads and close it up tight. It makes some odd metallic sounds when it's closing but this doesn't harm the toy.
The battery housing is located inside the toy and it takes 3 AA batteries.
Cleaning your pleasure ball is as easy as hot water and soap. It is waterproof so don't be afraid to really clean it! You could also use a commercial cleaning solution but I wouldn't recommend boiling or running it through the dishwasher.
Store the toy pretty near anywhere! The box it arrives in is perfect for this but the thin plastic can tear easily. The plastic is recyclable so that's a plus that almost negated the fact that this toy uses batteries. I would recommend not storing this in direct sunlight as it can sometimes bleach out the color of TPR but otherwise this is a pretty sturdy toy.
Follow-up commentary
10 months after original review
I love to use this toy as a massage aide more than as a vibrator. It is great for laying on top of with the ball in the small of my back. The vibrations are just powerful enough to help me relax and release tension in my lower back. It's also great for rolling feet over after a day spent walking.
This content is the opinion of the submitting contributor and is not endorsed by EdenFantasys.com

Thank you for viewing
Pleasure ball
– discreet massager review page!