Well, that sure was MEAN!
I've tried two different Meanys that both had internal flaws. This leads me to believe the product itself is currently not being made efficiently. I would stay away from this line until there is more proof that Fun Factory is stepping up their manufacturing of these "SmartVibes". If they fix their mistakes, this line will be at the top of the market!
Published:
Pros:
- Great Design
- Smooth & Unscented Material
- Waterproof
Cons:
- Mechanical Flaws
When I first received my Meany, I was really excited about it. The material was soft and unscented, it was the perfect size, the speeds were great, and it was tagged WATERPROOF! As I was going through the process of taking external pictures and testing speeds to write them down for my review, the Meany stopped working. I then proceeded to return it for a replacement and waiting around excitedly for one that worked. However, when the replacement got here, it too was broken.
PACKAGING
The first box arrived in a cardboard box with a peek-a-boo plastic shield on the front. Definitely not discreet if you need that. It was very nicely done. There is enough info on the box alone to help you get a handle on the Meany's functions and safety. The back of the box opened to include even more info without actually opening the complete package. The quality of the box alone got me excited to try this.
The Meany itself was snuggled up in a form fitting plastic sleeve and underneath I found both a user guide and a single use packet of lube. Again, very nicely done! The user guide takes you through the functions and safety guide of the product so you can be sure you're using it with the best safety in mind. Everything is done in a gray matte that looks sophisticated and expensive.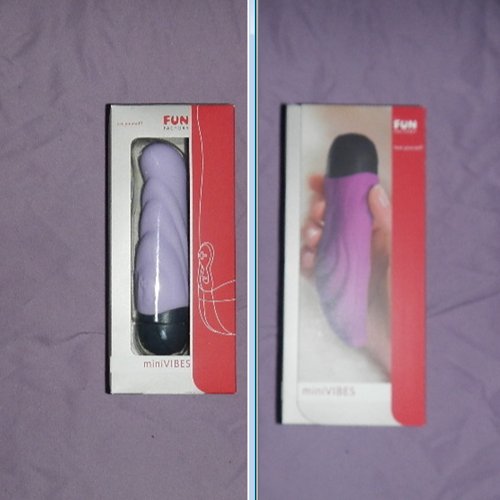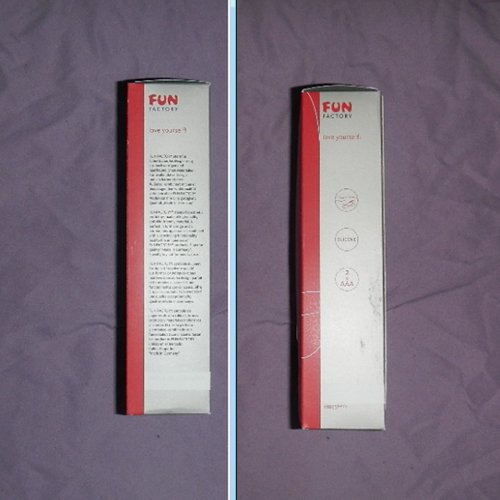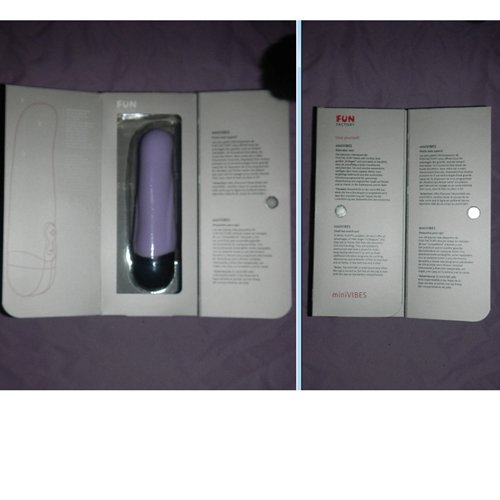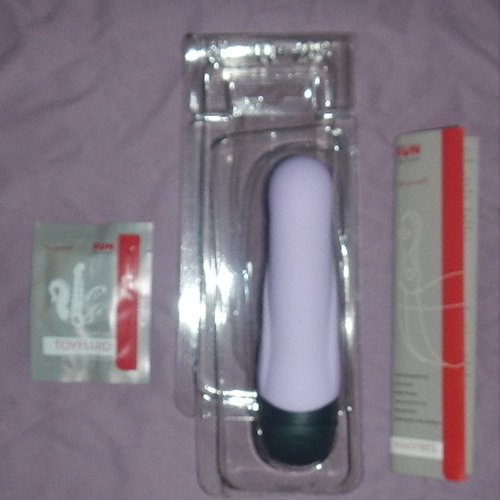 PRODUCT DETAILS
My Meany came in purple. I think both the purple and black both looks sleek and desirable. They have these listed under g-spot vibes, but I don't think they would get too much use in that way because the tip doesnt really stick out too much further than the rest. It's actually the same height as the base, but because it gets thin before the tip I suppose it could do something.
MADE BY:
Fun Factory
MADE IN:
Germany
MATERIALS:
Sleeve is 100% Medical-Grade Silicone, Plastic underneath
SPEEDS:
It SAYS 7 on one box, 8 on the other
LENGTH:
5 1/2" Total, 4 1/2 Insertable
THICKNESS:
1 1/2" Base, 1 1/4" Tip
REQUIRES:
2 AAA Batteries, NOT Included
EXTRA FUNCTIONS:
Waterproof, Push Buttons
This is from Fun Factory's line of MiniVibes SmartVibes. If it worked, this product would be among the best you can buy. The material is super soft! I loved the velvety feel on the sleeve while I was holding it for inspection. When I got around to using it on my soft bits, the material feels divine in water. As for out of water, it catches without lube, but not to a painful point.
The Meany has ripples of pleasure in the form of 3 bumps before the tip. Inside, this doesn't give too much stimulation, but enough to make it worth it. I find it's best for clitoral stimulation though, as it's material AND sounds are soft. You would definitely be able to use this behind closed doors without your kids or roommates knowing what you're up to, provided you're not screaming.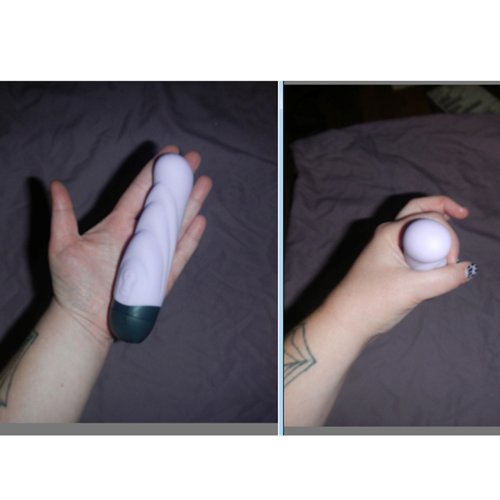 With the eight speeds you HOPEFULLY get, there is something for everyone. Once it turns on, there is a low smooth vibration. The plus sign cycles through the speeds higher, as the minus sign cycles back down. The device is meant to shut off when it cycles all the way through. This would preserve the battery and make it convenient if it worked as it says. The other speed settings include the same smooth vibe in harder vibrations, rumbles, and pulsations.
Again, if this worked, the usability would also be divine. The plus and minus signs are in an easy to use format that I've never seen before. Perhaps they just haven't perfected it yet. Here's hoping! The base unscrews to the battery compartment where it shows which way to insert your two AAAs. It's easy to close the base back up and made me worry it wasn't as waterproof as it says. I've had bad luck before with waterproof products needing to be thrown out because the batteries exploded after getting wet.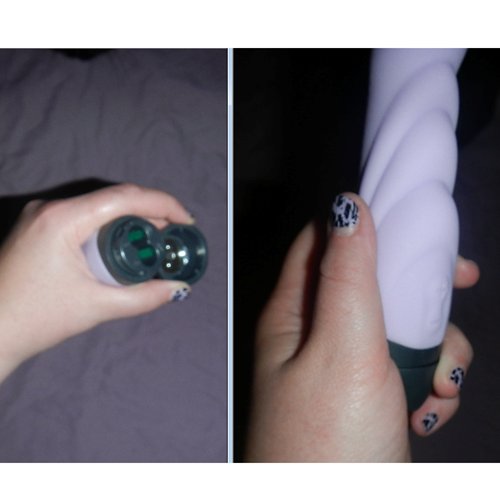 CLEANING/MAINTENANCE
This is easily cleaned with a spray or wipe, but it shows the product also being cleaned under water. As it says waterproof, this shouldn't be a problem. However, I would recommend you clean this under a faucet so it's not spending extra time in a situation it can get damaged. Call me paranoid?
This isn't a HUGE lint collector, but it still will get hairs and fibers on it. A small toy box or bag will store this nicely. As for sharing this toy, it should be able to be thoroughly sterilized with being waterproof enough to use anti-bacterial. As I've never shared a toy, don't quote me on that.
Experience
OVERALL
From first glance and usage, this is one of the best products being made at the moment. However, that quickly changes once you figure out they have screwed something up in production. I hope they will recall these and fix their mistakes so I can have a working one someday.

The first one I got worked the first try and cycled through the speeds. I had to take the base off to take a pic of the battery compartment and look at the details for my review. When I screwed the bottom back on and tried turning it back on, it refused to work again. I switched out batteries, tried screwing the base back on in different ways, held it at different angles, and other odd methods that didn't pan out. I finally gave up and returned it for another one. The second one came in a completely different box that wasn't as nice and seemed foreign. I am assuming it's an old retail box or one they sell overseas. With this one, I put the batteries in and it immediately started vibrating on speed 3 (a strong smooth vibration). Pushing the buttons did nothing. I am able to put the batteries in and take them out to use it, but it kills the convenience and multi-function capabilities of the product. If I wanted just a single speed vibrator, I'd use my hitachi.

I'm extremely disappointed with this. I didn't want to bother the EF Staff again because as I see it, one time could be a fluke... two times means the product itself is flawed. Sort of like "Fool me once, shame on you. Fool me twice, shame on me". This is even more saddening because Fun Factory got everything right except the internal components. I probably won't try any other of their products in this line for awhile in hopes they step up their technical department.
Follow-up commentary
2 months after original review
I never got this to work right. After a few more tries it never got unstuck from one speed. Honestly, this went into the trash a week after I got it. I fiddled with it daily and it was becoming a stress inducer. Too bad, I really hope they end up fixing this one!
This product was provided free of charge to the reviewer. This review is in compliance with the FTC guidelines.

Thank you for viewing
Meany
– g-spot vibrator review page!