A Cool Cock Cog
All brushed metal and stylish design, the Strut's narrow width and reasonable weight makes it a good item for the introduction into the world of metal cock rings. It's very well made, and comes in a sleek metal tin that's discreet enough to leave out in plain view.
Published:
Pros:
Well made. Comfortable. Doesn't get in the way during sex. Looks cool.
Cons:
None, but you have to be careful to choose the right size.
For the most part, cock rings are meant to help maintain larger, harder erections by restricting blood flow in the penis. Metal cock rings are not something we were comfortable about trying up until now, and not what we would suggest for anyone to try as their first cock ring. True beginners would be safer starting with a ring that was adjustable or stretchy, so it could loosened or be cut off in an emergency. However, as the Gear Essentials Strut was our first metal ring, we don't feel bad about deeming it "beginner-friendly" IF you're a beginner to metal.
The Strut is smooth with not even the slightest casting seem or burr to be found on it anywhere. We never found out exactly what kind of metal it is, but it looks like and has the weight of brushed stainless steel. It would probably be futile to list the technical weight, so we're going to say it's a little lighter than one of our cell phones, just to give you an idea. The metal warms up quickly to body temperature, and that weighty feel creates a slight tug at the base of the balls during thrusting, which is rather pleasant.
One of the bonuses about having a metal ring is that we don't have to pay attention to what kind of lube or massage oil gets on it, or what other toy materials might come in contact with it. It's also a breeze to clean with just soap and hot water.
The outer "cog-like" shape is tapered inward equally from both sides, and has a blunt outer edge. This shape didn't create any discomfort for either of us, in any position, and was slim enough overall not to inhibit deep thrusting.
Obviously you cannot adjust the sizing of this ring, so you need to pay close attention to ordering the correct one.
The Strut is 3/8" thick x 2-3/4" wide with a 2-1/8" (54mm) opening. The average dick is only 1-1/2" to 1-3/4" across, so 2-1/8" is not as small an opening as you may be picturing. If you have a penis of Guinness-worthy thickness, you may be able to wear this at the base of it. Otherwise, this ring is made to be worn around both the penis and base of the testicles together.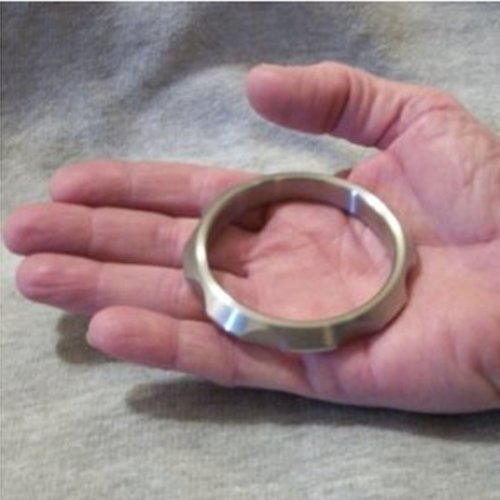 To find the right size, WITH an erection measure under the balls up against the body and over the penis, making it tight but not uncomfortable. This will give you a circumference, which you divide by 3.14 to find out what diameter of ring you need. We've been told that you can then subtract a quarter inch or so and still get a good fit with a rigid ring, but you might want to research that a little further on your own. Nevertheless, the 2-1/8" Strut is for measurements of roughly 6.67"; if you measure closer to 7", Strut may be too tight. At 6.28" (or about 6-1/4") or below, you should start shopping for a 2" or smaller ring.
We like the compact metal can this ring comes in, which is great for storage and has a top that fits tightly enough that you could throw it in a travel bag or drawer without worrying about it popping open. It's discreet in its markings too, with "Gear Essentials" on the side and a gear-toothed "G" logo on the top. Aside from a bar code and name/size sticker on the bottom (which is easy to peel off) that's it. The inside has a velvety black bottom/side liner and a padded top liner to keep it from rattling around, which is good because the can's a bit larger than what's needed for the ring alone. You could store 4 or 5 condoms or maybe even another thin ring on top of the Strut.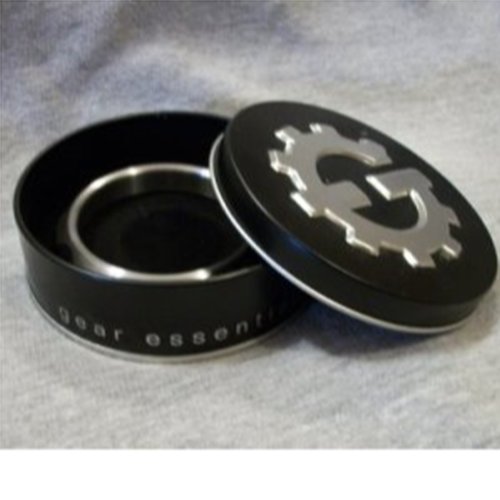 Experience
Alan says:
I was nervous about stuffing my goods into such an unforgiving device but thought to give it a go just to see what it was like. I remembered the drill from reading about metal rings before; in goes one ball, then the other, followed by the soft dick. Easy enough. I stood there feeling rather proud of myself, until I let go and the ring and it slid off. Ah, yes... I overlooked gravity. The moral here is to get hard before you try to move around much, because this ring ain't gonna get you hard on its own. Yeah, I knew that. So at any rate, once stiffness ensued, I was able to walk around, change positions, and thrust without any slippage even though the ring was a bit large for me. I say that due to the fact that it held on but wasn't tight enough to create any major difference in my boner. It was comfortable though and I was grateful that my parts were never at risk of getting an ice water bath to free them. Overall a good experience, and I'm interested enough to try the next size down now.

Michele says:
I was leery too, thinking that if we got too rough I'd wind up getting thunked in a bad way, but I never really felt the ring even when we were really going at it or when I was grinding on him. He felt it (of course) but said nothing I did caused the ring to hurt him either. I think it looks pretty hott on him too, and I LOVE the way it pushes his package forward for me to admire!
This product was provided free of charge to the reviewer. This review is in compliance with the FTC guidelines.

Thank you for viewing
Strut
– cock ring review page!