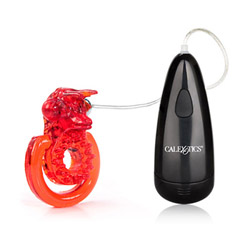 Elite sexual exciter ruby
Double-looped vibrating ring
by California Exotic
A miracle product for me! The best bedroom investment I've made!
This bad boy is worth its weight in gold! The variety of functions (vibration, escalation, pulsation) are out of this world. There is something for everyone! The "ticklers" on the bull head hit the exact right spot every single time. The gentle touch of the ticklers combined with the strong vibrations are incredible! I can't imagine anyone being disappointed in this incredible toy!
Published:
Pros:
Strong vibration, Various functions, Durable, "Ticklers" wonderfully designed.
Cons:
One button control - no on/off button.
I am one of those women who need clitoral stimulation in order to orgasm. I have always envied women who could climax during intercourse with their partner, something which had always been impossible for me. Recently, I was able to achieve this a couple times (two to be exact) while using toys on myself while hubby and I were having sex. Although it was better, I still wished I was able to climax without having to "help" it along myself. This toy made that possible for me! It's my miracle product!

The item comes in a tasteful box with photos of the toy and of course the usual hot couple. There are lots of little blurbs touting the reasons why this toy is so wonderful. The only one I have to sort of disagree with is "Pleasantly Scented". Because while there is a slight smell when you hold it to your nose, it's not what I would exactly call "pleasant". But it's not exactly "unpleasant" either.

In the box is the cock ring (which is a fabulously sexy ruby red color), the bullet, the power adapter (which is hard plastic) and an instruction manual which mainly pertains to battery installation (which is easy enough without instructions. The cover comes off by pushing and sliding and the batteries push right in). The toy uses (3) AAA batteries - a fact that I love (at least in comparison to toys that use the cell-type batteries) because the batteries are fairly cheap (I use rechargable ones). The ring was a bit sticky upon removing it from the little plastic bag, but not horribly so. It actually kind of feels like a "Jell-o Wiggler"! It's very stretchy as well and should accomodate any man with no problem at all. The dual rings are quite thick which should make for a durable, long-lasting toy. It is made of TPR which makes it super easy to clean (with soap and water or water-soluble toy cleaner).

The bull head portion is approximately 1"x1". The longer "ticklers" (for HER) are not quite an inch long. The "nose" of the bull and smaller "ticklers" line the ring. There are little nubs on the ring as well (for HIM) that provide added stimulation. My husband couldn't honestly say he noticed the nubs, but he enjoyed it enough otherwise to make up for it. However, the ticklers for me were wonderfully designed and were definitely noticeable!

There are (7) functions, including 4 different levels of vibration (although the "high" and "super high" feel pretty much the same to me) and 3 additional functions called "roller coaster", "fast pulsation" and "stair stepper" (according to the box). In other words, different patterns of pulsation and escalation. The high vibration levels are wonderfully intense - more so than most toys I've tried. The only down side of the design would be that there is no on/off button. It's a single button control located on the power adapter portion of the toy. When you push it once, it turns on to the low vibration setting, then each additional push of the button cycles through the remaining functions, then another push of the button turns it off. But at least you don't have to worry about pushing the "off" button in the midst of things. The button is a bit on the small side which could make you have to fumble for it a bit, but it does glow in the dark. It's fairly easy to push, but hard enough so that it shouldn't do anything if you accidentally bump it a bit. There is a small LED power-indicator light below the button.

The bullet fits easily through a hole in the cock ring that is located in the center of the bull head. It is wired and connects into a port in the battery power adapter. I'll be the first to admit that I was a little unsure about the fact that there was a wire running from the toy into the adapter. I didn't know if I would like it or if the wire would get in the way. Turns out - I do and it doesn't. The wire is plenty long enough (approximately 33") to be able to be kept out of the way. It's not at all distracting. And I actually PREFER that set-up as opposed to the ones with the cell batteries because I can hold the adapter in my hand and be able to SEE what I'm doing as far as pushing the button, etc. It's so much easier and more convenient than feeling around for the button to change things up. Honestly, I don't even notice the wire.
Experience
The cock ring is super easy to put on and my husband said it was quite comfortable to wear. He said the vibration for him was much stronger than similar products we've tried - and he loves it! This one also isn't as bizarre looking as some of the rings out there (I never actually thought he'd use one because of the way they look). It's actually pretty quiet - even on the higher vibration settings. Although someone in the same room would probably hear it (but that's not an issue for us).

As for me: Literally, the first time we used it (which was the other weekend on our VERY belated "honeymoon"), the first word out of my mouth was "WOW". It was almost indescribable. The dual ticklers located on the bull head were long enough to reach just the right spot. Due to the length, they were also very gentle. The strong vibration combined with the sweeping ticklers is so incredible. If I'm not greatly in the mood when we start, it takes literally SECONDS until I'm squirming in ecstacy. I also like the longer length of the ticklers, because it gives you some "wiggling room" so that I can position myself just right and move enough to get me there. The first time using this toy was LITERALLY the first time I ever had a "hands-free" orgasm during intercourse. And it was a strong one! Probably because I was able to focus on ME instead of what I was doing! And every time we've used it since, I have been able to climax as well. That gift in itself is just so amazing to me because I honestly didn't think it was possible!

Addendum: Although being on top wasn't one of my favorite things, this toy is also liberating me in that respect. I'm not hugely comfortable with my body, so being in that position is tough for me. Also, I just don't feel I'm that "good" at it - LOL. But being on top with this toy on him is phenomenal! I can maneuver around and climax so much faster. It's amazing! So he's happy, because he can take a break now and then!
Follow-up commentary
24 days after original review
We still use this toy quite often, but unfortunately, after the first few times of using it, it really hasn't worked to get me to the "climax". When it's hitting the right spot, it still feels wonderful. But keeping it there long enough is the trick and we haven't had much luck lately achieving that. I can get really close and lose it when it moves. Which makes it incredibly frustrating for me. My hubby still likes, it though. And we'll still use it and keep trying!
This product was provided at a discounted price in exchange for an unbiased review. This review is in compliance with the FTC guidelines.
Thank you for viewing
Elite sexual exciter ruby
– double-looped vibrating ring review page!