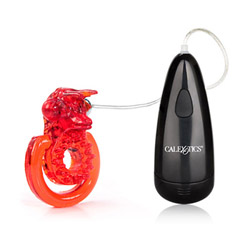 Elite sexual exciter ruby
Double-looped vibrating ring
by California Exotic
Elite 7X sex toy review
Overall, this is a wonderful toy for any couple looking to spice things up. Due to the various components of this toy, imagination and creativity are key. The toy is very comfortable yet durable. It is a great first toy or addition to the toy box.
Published:
Pros
Comfortable, easy and safe to use, powerful, adjustable, multi-faceted, easy to clean.
Cons
Slightly louder than other toys.
This toy is amazing. We actually used it on several different occasions immediately after receiving it. The
Elite 7x|Elite 7X - Vibrating Penis ring
has the potential to be used in a multitude of different arrangements. It is also extremely comfortable while at the same time being quite durable.
Initially, we used the Elite 7x during vaginal intercourse in the missionary position. I wore the cock/ball ring and inserted the vibrating egg into the bull's head. Previously, I had been looking for a toy that would hold my balls and prevent them from traveling during orgasm. This creates a much greater sensation of pleasure for some men. However, during sex, it also had another benefit, but we'll get to that later.
I noticed that the ring itself was very comfortable and did not strangle my cock but was snug. The ring around my balls, again, was snug but was quite comfortable. The vibrating egg was powerful on its own. However, once placed in the bull's head, the power was diluted. This was my perception. My partner had an entirely different experience.
During sex, I intentionally grinded my pelvis into her crotch with greater force than I normally would. This was to see how powerful the toy was in terms of clitoral stimulation. She commented that the stimulation from the bull's horns was enough to give her a clitoral orgasm. Furthermore, she found the vibrations coming from my cock quite pleasurable.
We used this toy while wearing a condom. The ring was placed over top of the condom, and even with lube, the ring stayed put. The ring around my balls also helped to stabilize the ring. Without it, the bull's head might have rotated out of place.
During our next session, the Elite 7x was used for doggy style. The bull's horns stimulated her asshole instead of her clit and yielded the same stimulation vaginally as the previous position. We did not have a favorite setting but did enjoy switching from one mode to the next.
One last detail we found beneficial about the toy was that the vibrating egg was connected to the remote by a jack/plug. It is the same as plugging ear phones into an MP3 player. This is great for storage to reduce the amount of stress placed on the wire. In other toys, we have found this stress to greatly reduce the life of the toy.
We rate the vrooms at a four out of five. While powerful, the vibrations were not as powerful once inserted into the toy as I would have liked. For her, they were more than adequate.
We give it two bees because it was not loud, but it was not as quiet as other toys we have used. To put it in perspective, if you were wearing it at a quiet restaurant, the cat would be out of the bag. However, unless they have their ear to your bedroom door, roommates won't hear a thing.
We rate the toy at a five out of five because of how wonderfully the toy performed, or rather aided in our performance. It was comfortable, easy to use, powerful, and able to be used in a wide array of positions. It is also a bargain as it can be used as a clitoral stimulator, cock/ball ring, anal stimulator, independently, or combined with both the vibrator and rings.
This product was provided free of charge to the reviewer. This review is in compliance with the FTC guidelines.
Thank you for viewing
Elite sexual exciter ruby
– double-looped vibrating ring review page!