A Very Nice Boxer Indeed
My partner has tested a few boxers and boxer briefs from EdenFantasys. These are his favorite so far. They are comfortable, flexible and not restricting. They have a nice pouch for the manly parts in the front. The band is stretchy and wide, it doesn't pinch. The only thing he thinks is missing is an easy-access flap in the front.
Published:
Pros:
Comfortable
Stretchy Material
Well Made
Cons:
Sizing is Off
No Flap in Front Pouch
I spoil myself with plenty of goodies from EdenFantasys. Let's face it, I cannot get enough of this place! I guess that is obvious because of the number of reviews I have done! Anyway, since I am all about spoiling myself, ever now-and-again I have to get something for my husband too. He loves it when I do, so I try to buy him things every few purchases. This time around I got him the Zakk Boxers.
Packaging:
Simple, Not a lot of Waste
The White Cotton Boxer Briefs by Zakk came in a nice sealed plastic bag. The boxers were clean and folded neatly inside the bag. Once I threw out the plastic, I read the tag that was attached to the boxers to find out a little more information. I found the product # (Z5133), the size information and a picture of a man modeling the boxers in the black option.
I found the inside tag that is sewn on to the boxers to be helpful too, as it states the care instructions and materials. The tag is in both English and Spanish languages.
Since this is such a basic item, it can be folded, rolled in a bunch or just throw into the dress drawer with the rest of the boxers and underwear. There is no need to keep it safe in the plastic wrapper or treat it delicately.
Made in China
Contents: Boxers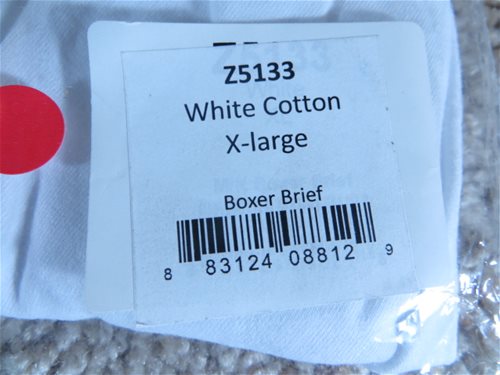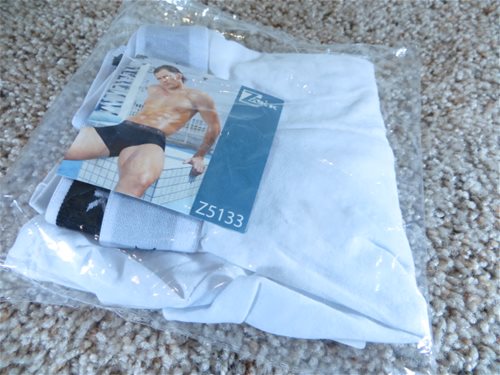 Care/ Maintenance:
I am disobeying the rules
The care instructions are on both the paper tag and the inside sewn in boxer tag. The care instructions state: hand wash in cold water only, drip dry, do not bleach, do not iron.
Yeah, I don't think the care instructions need to be followed for this item. It seems incredibly unnecessary to hand wash. That is why I haven't. These have been through the washer and the dryer a dozen times or more, and they are still soft and stretchy. They have shrunk a bit though, this is partly due to the materials and partly due to my laziness in taking care of them. It is a good way to get something to fit better if they are too big for you though!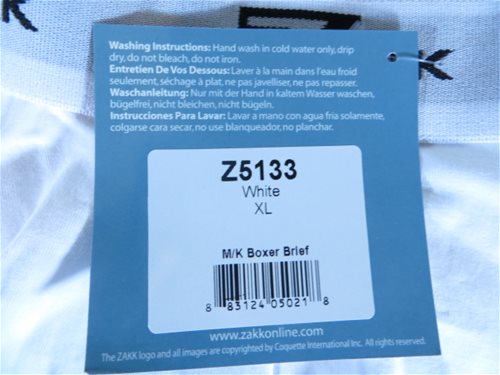 Size:
We review the XL
It is available in the sizes: S, M, L, and XL.
My husband is typically a 36 waist. We have found that the boxers at EdenFantasys run a bit small, so XL seems to be the best choice in size.
Measurements I took:
Laying flat across top: 16.5 inches (total 33 inches)
Laying flat across mid: 18.5 inches (total 35 inches)
Laying flat leg opening: 11 inches (total 22 inches)
Top to bottom length: 9.25 inches
Holder pouch top to bottom length: 8 inches
These boxers are a bit small for your average XL size. I would say they are more like a L. They are very stretchy and the band doesn't pinch when stretched.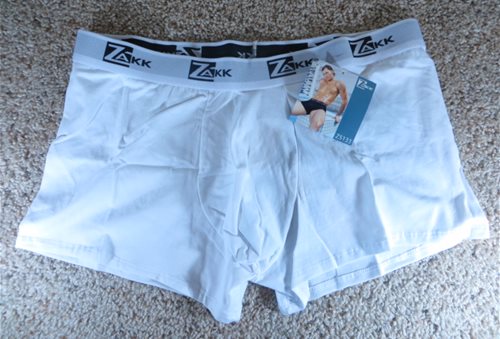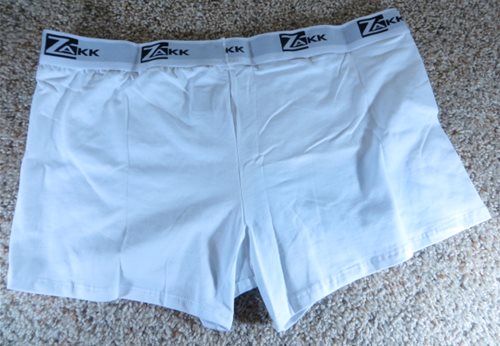 Design/Shape:
Who the hell is Zakk?
These are very nice looking boxers if you look past the Zakk band. I am not sure why they needed to display the Zakk brand all over the top, or why any brands for that matter do this at all. I know Joe Boxer does this as well. To me it is just tacky. If your boxers show above your pant line when you reach for something, everyone sees the Zakk written a hundred times. Who the hell is Zakk?
If I cannot focus on the Zakk band for a minute, I will tell you they are very normal and decent looking boxers. They are bright white, not too see-through, thick and soft. The seams are only (1) down the backside and (2) in the crotch pouch area. There are no seams on the side. The bottom is a small stitched hem that does tend to fold up. The penis pouch has no flap, which was a big fault for my husband. He prefers boxers with the pouch flap. Very stretchy, very accommodating, very sexy on.
Material/Texture:
Everyday use
These boxers are very comfortable. My husband wears them on a very frequent basis. He has no problems with the materials day in and day out. The materials have stood the test of the laundry – both washer and dryer and still come out soft and comfortable. They are medium to heavy duty fabric and snug (very flattering to his package).
The boxers are sturdy and strong and feel like they will last for a long time. There was a few stitching errors, but they don't bother him and they are on the inside of the boxers. Overall the craftsmanship is good.
Materials: 50% cotton and 50% polyester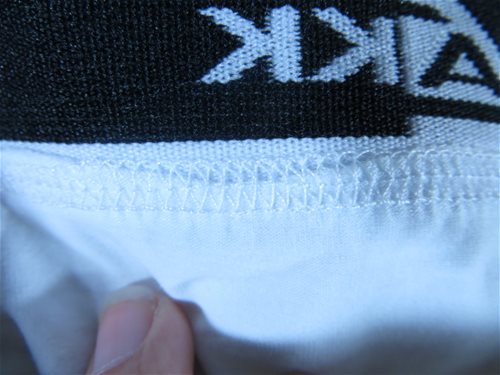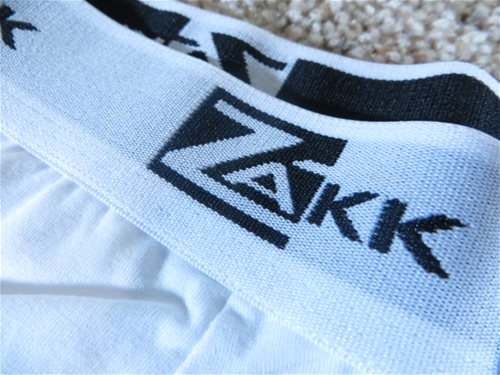 Experience
Personal Experience :
Both my husband and I love these boxers. In my opinion his package looks amazing in the specialize pouch for it. They fit him a little tight and look amazing on him. For him he likes the flexibility and movement in them, along with the comfortable materials. He wears them regularly. The one complaint is no pouch flap.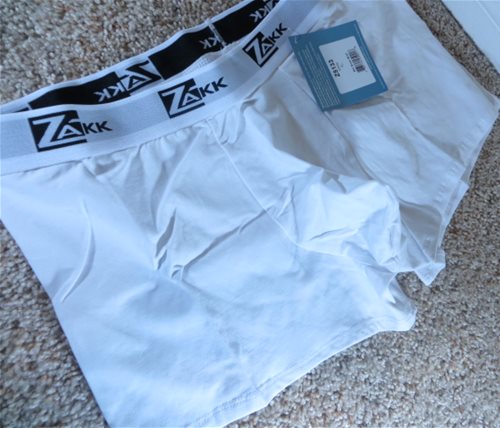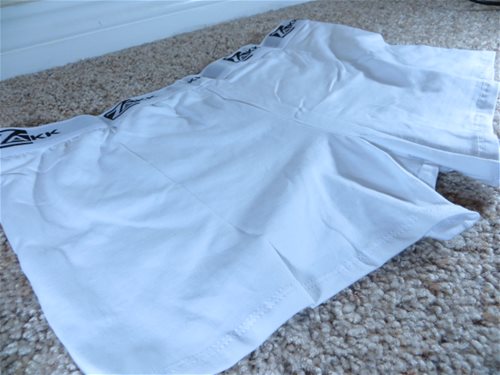 This content is the opinion of the submitting contributor and is not endorsed by EdenFantasys.com

Thank you for viewing
White cotton boxer brief
– briefs review page!