Bamboo Boxers
After being so happy with the Male Power Bamboo Lounge Pants, I decided to order myself a pair of the bamboo boxers as well. I must say, these are very comfortable. They are great for wearing regularly under clothing, or for lounging around. They are a bit pricey, but the material is great!
Published:
Pros:
Comfortable, wonderful bamboo fabric, reduces sweat, available in black and teal
Cons:
Expensive, clingy fabric may not be modest enough for some
These come packaged similarly to the bamboo pants, inside of a plastic sleeve in a paperboard box. The sizing info can be found on the bottom of the box.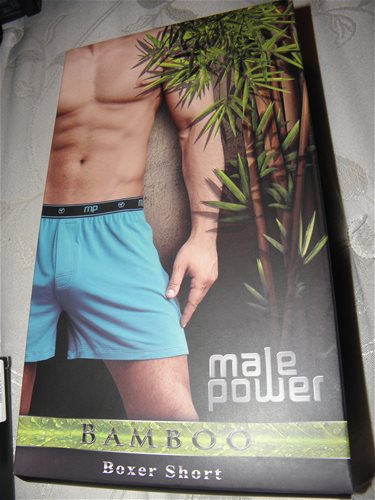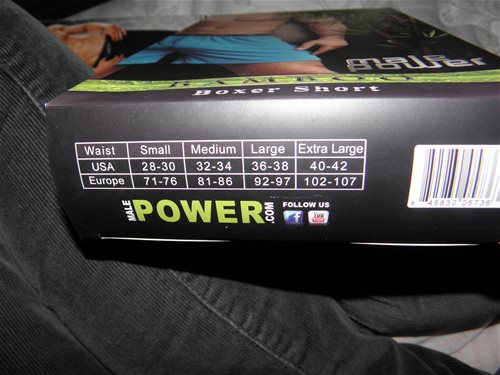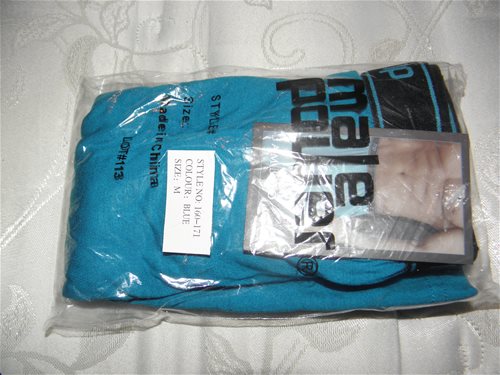 According to the tag, these are 95% bamboo and 5% lycra. They are made in China. In terms of care, these are machine washable on a cool setting, and tumble dry on a cool setting. I can attest to this fabric holding up well in the wash and dryer, since I have had no issue with my pants after many washings. The fabric really does seem to regulate body temperature nicely - I never get too cold or too warm in these. These claim to keep moisture off of the skin, and they really do seem to prevent sweating, or feeling clammy and gross. Another added benefit is that the bamboo is supposed to have anti-bacterial properties. Overall, bamboo seem to be an ideal fabric, and Male Power makes really comfortable bamboo items.
I ordered these in a medium, and I find the fit to be very comfortable. When laid flat, unstretched, the waistband is almost 15" across, and the length from the top of the waistband to the bottom hem is 14". The inseam is about 4". This does have a one-button fly in the front. There is a piece of fabric on the front that covers it and keeps the button from showing. One thing about these though, is that the fabric is very drapey and it clings over whatever it touches. They aren't tight or uncomfortable, but the fabric is not for those who are very modest about their body. If you are self-conscious of any body parts that boxers would typically cover, the fabric will probably highlight those areas. It really shows off the shape of your body underneath, so if you are self-conscious about that you probably would not feel comfortable wearing these. I feel like my bum looks a bit awkward in these shorts because of this, but I've been told that it looks great in my bamboo pants that are made with identical fabric. I got these with the intention of wearing them to bed and around the house, and if I wear underwear under them pantylines can be seen easily. If you intend to wear these under clothing, nobody would really be seeing any of the parts that the fabric would show off anyhow. I think these would be great for wearing under clothing because of the way that the fabric seems to almost prevent sweating, or at least keep it at bay. Unlike Male Power's bamboo pants, these boxers do not have pockets (yes, boxers with pockets DO exist, and I own at least one pair).
I find that these stretch to accommodate nicely, and the sizing is accurate. I can wear either the large or medium, but I decided to get these boxers in a medium to make sure they wouldn't slide down or be too big. These fit just right, and I generally wear a large in bottoms. They come to about the middle of my thighs, and I have fairly long legs. These are very comfortable to sleep in, or just sit around in. They are great for men or women, even if the waistband has the Male Power MP logo going all around it. I like that the logo says MP and not Male Power because it is more vague and less flashy; I don't like big, or obvious, logos on my clothing. The waistband stretches nicely, and I don't seem to have any sort of muffin top in these.
Experience
When I ordered the bamboo pants, I got them in a size large. I have 38" hips, and decided this time around to order the medium. I figured that the medium might be a more snug and comfortable fit. I am pretty happy with the fit of the medium, I think these boxers fit very comfortably. The price could be a bit off-putting, at around $30 a pair; though, the quality of these and the fabric makes them really appealing. I love these boxers for lounging around in! I really like these boxers. I have a friend who wanted to get a pair of their own bamboo pants when they saw mine, and now they really want to get a pair of these boxers since I mentioned that I got a pair. They find the price tag to be intimidating, but after trying out my bamboo pants, they really want a pair of these boxers. The price seems too high, but the fabric is high-quality and makes you reconsider once you try them out.
This content is the opinion of the submitting contributor and is not endorsed by EdenFantasys.com

Thank you for viewing
Bamboo boxer short
– shorts review page!