Super Boxers!
These boxers are like the Super Man of underpants. They do everything and are all around high quality. They're the kind of boxers you can wear daily for comfort without worries of them coming apart, or you can sleep in them for added comfort while catching Zzz's. And to put the icing on the cake, they look smokin' on my partner!
Published:
Pros:
Comfortable.
Anti-baterial.
Reduces moisture.
High quality.
Cons:
Everything's perfect after cutting the inner itchy tag!
These neat bamboo boxers are quite a nice pair of undies for any male who likes this style -- boxers, not briefs. I think this style is great for guys who are looking for comfort since these don't totally conform to your body like briefs. The loose, but fitting fit is exactly what my partner looks for in boxers.
And besides comfort, these have interesting wicking & antibacterial properties! How's that for safe underpants? This means these boxers are designed to "wick" away sweat, and with antibacterial fiber, these are a fabulous option for someone who has sensitivity down there due to sweating or just allergy-prone skin.
These are supposed to aid in keeping you dry, and according to the informational box they come in, they have "thermo-control" for warm and cold climates. These are totally super undies! I'm surprised they didn't fix me dinner too.
Now, my only question is where the heck is the women's anti-bacterial undies? That would be nice. Moving on though.
With all those nice qualities, my partner would consider these a "must." Kind of like us ladies have our "musts" when it comes to bras and perfumes. These are like the dream underpants. Hanes wishes they were this awesome.
My partner wears a medium, but I ordered large since they came close to his size. He wears a 34 and these fit him great, while also looking sexy! The leg hits about 3 1/2 "inches above the knee. They fit loosely while being comfortably snug in the crotch.
The 95% bamboo and 5% lycra materials are so comfortable that I even want to wear them! They feel "slinky." Not silky or spandex-y, but a nice, lightweight slinkyness. The waist band is silky soft as well. These are definitely as high-quality as I was expecting. Very well done and seem to be sturdier than your typical boxer short. The bamboo boxers are made from the pulp of naturally grown bamboo grass.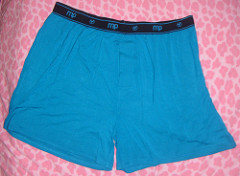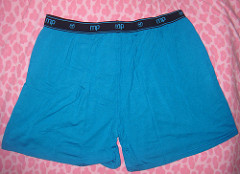 Boxer's measurements
laying flat
Waist band: 16" across
Entire crotch slot: 7" long, the part that can open measures 5" long.
As I said, these are closable via one button.
15" long from top of band to leg hem.
Leg/thigh area: 14" across.
Inseam (between crotch and butt) to waist band: 12" long.
Made in China.
The color is bold and flattering. Almost a turquoise. Across the black waist band says "MP" for Male Power and has the round, ball-like logo, which is really hard to determine what it actually is. Nothing shows that these come from a place that also sells sex toys. They just look like boxers.
As for keeping you dry, I do think these have the ability to help somewhat in that department. It depends on how much sweating you do, but for light sweaters, these will help. I licked the fabric because, well, when I'm removing makeup from under my eyes, I lick whatever's nearby (T-shirt or in this case, my lovie's boxers) and when I rubbed under my eye, it wasn't wet! It took me a second and I realized that's because these have this wicking ability. That was really interesting, but of course they will get wet when washed or soaked.
Caring for your new bamboo undies
: Machine wash cool. Tumble dry cool and remove promptly. wash darks separately.
These have 2 layers of fabric over the penis-slot. You have the one button and the layer of fabric you use to button them with and there's an extra layer over that. See my photo for better explanation. I suppose this extra layer is to prevent your peter from playing peek-a-boo. My partner liked this. He said he usually doesn't go through the trouble to button them, so that extra fabric is handy to hide things and keep from zipping up Mr. Peter.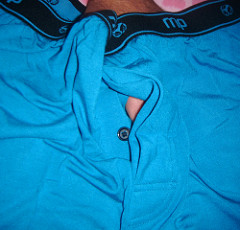 Oh my God! You think thought that was my lovie's peter, didn't you! While trying to get a photo of this fabric and slot, I had my partner help me by holding the boxers apart from the inside. When we realized that it actually looked like his penis (the finger peeking through the hole) and then his arm hair showing above, we laughed so hard we couldn't resist but to go ahead and use this one to show what I wanted to say about the layers of fabric over the slot. Sorry, but it was irresistable!
Experience
Packaging

These come packaged in a plastic baggy with a paper insert. The paper insert has information about the boxers such as its anti-bacterial & wicking properties. It also has huge photos of a man wearing them, which wasn't the most tasteful way to package, but it can be removed while the boxers are still left in the plastic baggy. This makes them gift-giving worthy. There is a tag on the boxers with the photos too.

The paper gives informative, interesting information about the bamboo shorts such as:

-Smooth, soft and luxurious
-Breathable fiber wicks away moisture, keeping you dry and comfortable.
-Thermo-control for warm or cold climates.
-Ideal for sensitive or allergy prone skin.
-Anti-bacterial.

Also on the package is "Who says it's not easy being green? Male Power has gone eco-friendly with its wild new bamboo collection. The bamboo collection consists of 8 different garments made from this amazing material: jocks, lo rise shorts, thruster bikinis, lounge pants, tee shirts, boxers, power socks and micro thongs. All feauture a green leaf design, and are available in black or teal."

Experience

My partner says these are the best underwear he's had. When he first got them, he said "I'm wearing these to bed every single night!" So it looks like we'll be getting some more. He says they feel wonderful on, and unlike any other boxer. I really love how they look on him. The fabric shows his crotch magnificently, whereas other boxers don't.

In fact, it looks like we'll also be buying a pair for the 12 year old too. When these arrived, my partner and I were feeling of the soft fabric. When the 12 year old felt them, he was all ready to try them on over his clothing and everything. So I think we have 2 Male Power fans in the house. And since the fabric feels so nice and comfortable, I've been thinking about getting the male pajama pants and wearing them myself. I've even looked into the women's collection on Male Powers' website. I'm liking them too.
This content is the opinion of the submitting contributor and is not endorsed by EdenFantasys.com

Thank you for viewing
Bamboo boxer short
– shorts review page!