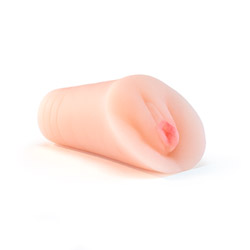 Realistic pocket masturbator
Pocket pussy
by EdenFantasys
Extremely soft, smooth, and elastic
I found the combination of the super soft material and the lack of any texture to be overall not very stimulating. It went completely dry much too frequent for me. The very tiny hole made it hard to use and even more frustrating when the inside went dry. This is the least favorite of any male stroking product I've tried. Due to the issue of quickly going dry, I would have a hard time even recommending this to very sensitive types.
Published:
Pros:
Can accommodate any human girth
Without ribbing it's very quiet in operation
Cons:
Lube dries up very fast inside
Low on the sensation scale
Difficult insertion
Large and heavy
This TPR male masturbation is designed to aid in manually stroking the penis. It's pretty simple in design. It's basically a lump of TPR that has been molded into a handheld shape with a hole in the middle and a vulva appearance on one end. The hole goes through the other end to allow it to accept men of any size. The appearance and shape are pretty typical of these devices. A pinkish paint has been placed around the hole to give it a more lively appearance. I noticed that the paint was coming off on the bag it shipped in. After the first use, the paint entirely dissolved.

The TPR material used to create this item is extremely soft and elastic. TPR is a 7 out of 10 on the Eden Fantasy's material safety list. It has a smell that was definitely noticeable but not so much that I would complain about it. TPR is much more elastic than other materials like silicone. This may give it an advantage in avoiding the cracks that usually happen over time to the silicone ones I've used. Only time would tell.

Because of the super elastic material the hole has to be very tiny to provide an acceptable tightness. I found it difficult to get inside the hole, and the occasional slipping out was more annoying than usual because of the amount of effort and number of attempts to get back inside. This is probably a typical experience with any similar products made out of such an elastic material.

There are two things that I consider to be atypical for this product within its category. One is its size and weight. Its size is quite big, reducing the number of places you can hide it. The additional material adds to the additional weight. You'll want to switch hands if you're using this frequently, so your dominant arm doesn't get too much more muscular than the other. The another thing that sets it apart is the inside of the shaft.

Uniquely the entire inside is smooth and lacks any texture or contour. I will say that this will be a strategic advantage for those of us that climax too quickly and want to extend the playtime. Also, it would be great for those who are too sensitive or are trying to avoid being desensitized by a toy. On the other end, I don't fall into either of those groups, so I was not impressed. The smooth chamber has one extremely annoying side effect. I found that my penis would push all the lube out the other end. Every ten pumps I found that it was completely dry and basically stuck to me. Apparently, the ribbed texture used in many other male masturbators helps keep some of the lube inside where you need it.
This product was provided free of charge to the reviewer. This review is in compliance with the FTC guidelines.
Thank you for viewing
Realistic pocket masturbator
– masturbation sleeve review page!