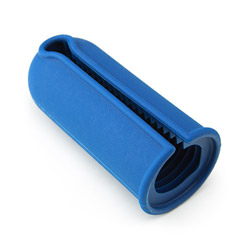 Silicone stroker
Penis stroker
by EdenFantasys
I'll Take Your Tease Please
This is something I would pass on. I prefer my stroker toys to have soft, bumpy, or sensual textures. This toy does not have that. It does not feel like a vagina or mouth. I doubt there is a toy in existence that can feel exactly like that, but the silicone stroker does not claim, nor is it designed to. If you enjoy a rougher feel on your cock when you masturbate, try the stroker.
Published:
Pros:
Easy to clean
Can squeeze for a tighter fit
Cons:
Not a soft sensual massage
Flimsy
Too short for some
The Silicone Stroker has one sole purpose as the name describes. That is to provide sexual pleasure to the penis. Anyone who has a penis would be able to use this toy safely on that body part as the material consists of silicone. Providing of course that water-based lubricant is used.
Operating and maintaining the Silicone Stroker is super easy. It has an opening on the end and a slit down the side to create "wings." Once you insert your penis inside the toy, you are free to stimulate any part of the penis that you so desire just as you would with your hand! The toy is completely waterproof so that you could use it in the tub or shower! However, the material, albeit safe, seems very flimsy to me. When I used the stroker, it would try to "scrunch" and "fold" on itself on my downward strokes. I am longer than the toy.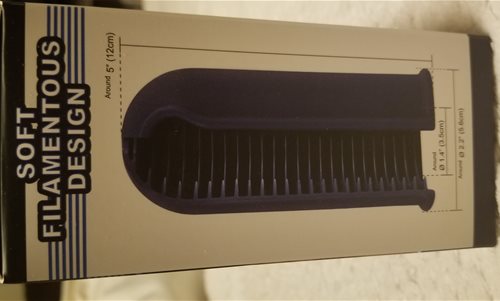 That five inches there is shorter than I am. Sure it makes for a small and discreet toy, but thin walls make the overall structure flimsy and "cheap."
Nonetheless, I had high hopes that this would be able to get me off. Sadly, it couldn't. The inside ridges are weird, flexible, stiff. There is no soft massaging action provided by sensual waves and no bumpy rides from nubs. To me, it felt more like a tease. The toy does not hurt, but I couldn't orgasm from the type of sensation of rings running across my cock. It really felt like they were just brushing me.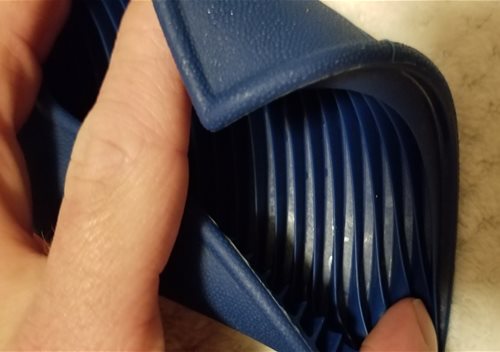 The ridges, which are shown here, do hold fluids well. This is good because the lubricant has a place to stay during use, but it also makes the stroker harder to clean than one would think. Still, due to the design being loose and open it can be quite messy. Some lube could run out, and any ejaculate will not be contained within the stroker either. This is a point that should be kept in mind by potential buyers. As is the packaging it comes in.
Some may not be comfortable seeing this box upon opening their delivery. I'll admit even I'm not too crazy about it. The main thing is that like me; some people like to store some of their toys in the packaging that they came in to not only conceal them as much as possible but also for protection and to keep them clean. You can keep this stroker in the box between uses. However, if you do plan on doing so, you need to keep in mind that the nondescript nature of this toy will be vastly overshadowed by the box. This one will have a picture of a man using the stroker as shown below. Really, I guess this is to be expected with a $12 toy. Sure, other toys with this brand name have a nicer box, but they also have a nicer (read "higher") price point. And as an added benefit that picture does provide all the "instruction" the user might possibly need. Which is good considering there is no instruction sheet inside.
I do have a piece of advice for those who do not know though. The box states that water-based lubricants are "strongly recommended. I need to tell you that it is also required. Silicone toys are typically not compatible with lubes such as those that are silicone-based. There is an adverse reaction when you use them together. So, remember, for the safety of your toy, use water-based lubricants. Those are easier to clean up anyway and typically won't stain fabric as silicone can.
All of that said, if you simply throw away the box, it's unlikely anyone will guess what this really is. If storage is needed simply grab a different small box or put in a toy storage box. Then you have total privacy from prying eyes who still would have no idea what the heck this thing is (unless it was accompanied by your lube and other toys of course).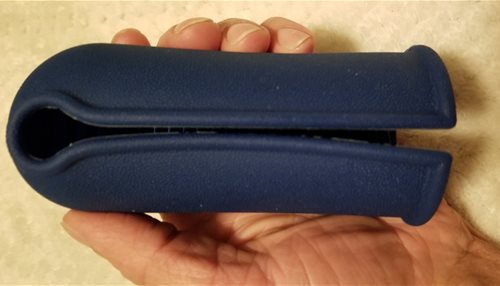 In short, the silicone stroker (retail packaging not considered) is one of the most discreet male toys out there and is available at an affordable price. Those who enjoy a tease, want something different than their hand, or don't care about a soft caress but do demand a nondescript design may find this one to their liking. Just don't expect to feel the warm, wet, velvety sensation that most others are going to provide. This is not a fleshlight; it is not a Tenga or any other fancy pocket pussy you may have heard of. It's not intended to mimic a warm love hole at all but is marketed to provide a different "unforgettable sensation."
This product was provided free of charge to the reviewer. This review is in compliance with the FTC guidelines.

Thank you for viewing
Silicone stroker
– masturbation sleeve review page!