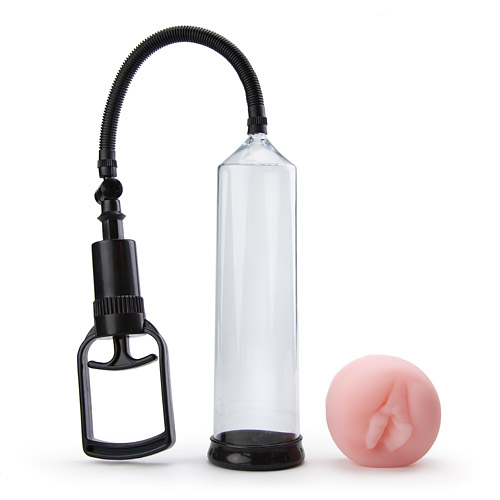 Size up
Penis pump with gauge
by EdenFantasys
Fun Size
If you are having trouble with erections, this pump can help you out. It can also be used to increase the potency of your erection, giving you a stronger ejaculation by increasing the blood flow. Just be sure to read all of the appropriate warnings before you try it.
Published:
Pros
*Easy to Clean
*Easy to Use
Cons
*Can be a little difficult
This isn't my first penis pump, but I am leaning heavily towards it being my favorite. For starters, the pump handle is pretty easy to use. Instead of squeezing a bulb, you pull on a little handle using two fingers. Very simple and elegant. Using it can require a degree of skill, however.

In the first case, make sure you read the instructions that come with it. Remember the ominous scene of Deuce Bigelow: European Gigolo where a penis pump was used? You don't want that happening to you. This isn't a toy to fuck around with. Above all else, until you are accustomed to it, let yourself adjust to the pressure after every pump. If it starts to get painful, you need to stop.

The pump comes in several pieces. You have the pump and hose, that fastens onto the clear tube. The tube has three adapters. Two black rings with different size holes, and one masturbator. The masturbator slides onto the tube, however you will need to be semi-erect in order to slide into the tight opening. Lube is your friend here, it will help to increase the suction.

The quick release button on the pump handle is easy to use for relieving pressure. However, it is also possible to pop the hose off the clear tube. I would recommend testing this out at lower pressures first. Better make sure you can handle it before you get into the higher pressure areas. Like I said before, above all, safety first.

Cleanup is fairly easy. Just use warm soapy water after you use it. For lubrication, go with water-based. You will want to coat your penis with it before use. Otherwise the dry feeling of it dragging in as the suction increases, well it isn't pleasant.

Lastly, SAFETY! Pump once, wait. Pump again, wait. Figure out where your threshold is. Maybe you get painful at 5 pumps. Then it is easy to know you can handle four. You also don't want to use a pump if you suffer from priapism, Peyronie's disease, or urethral strictures. It will aggravate them. Make sure you read all of the precautions!
Experience
I was surprised that the masturbator fit over the pump tube. I was expecting one to use in your hand. Overall, I found the masturbator not to work out that well when attached to the tube. When you get erect, you release the pressure. You can try masturbating with the tube, but the handle will flop. The solution there is to pop the hose free at the end of the tube.

In general, it just seemed better to pull the tube off and use either a hand masturbator, or my own hand. The pleasure was a lot better overall. I don't consider this to be too big a detriment to the pump, however. The orgasms I got from this were similar to the ones I generally get from a higher state of arousal. And a half hour or more of teasing myself beforehand. So it is something in the way of a quickie enabler.

You can use the pump to achieve an orgasm that would normally take over a half hour. Beyond that, it should be possible to provide some suction stimulation to the nipples or breasts. This opens up the chance for some partner play with your pump. I would not recommend using it on the vagina or anus, however.
This product was provided free of charge to the reviewer. This review is in compliance with the FTC guidelines.
Thank you for viewing
Size up
– penis pump review page!