Get your Rocks Off together
An affordable couples toy that gives intense orgasms and helps to maintain hard-ons for longer periods of time. It will suit almost anyone, both beginner and advanced. Its not just a man's toy, but a single woman's toy too, as it can be used on your favorite dildo turning your basic toys into vibrating ones, as well as using it on your nipples. Plus, of course, your dildo harnesses. Something for both of you to use together or by yourselves; a toy box essential.
Published:
Pros:
Designed for couples, discreet bullet, easy to use, high quality, waterproof,
Cons:
The inner knobbles having slightly scratchy seams,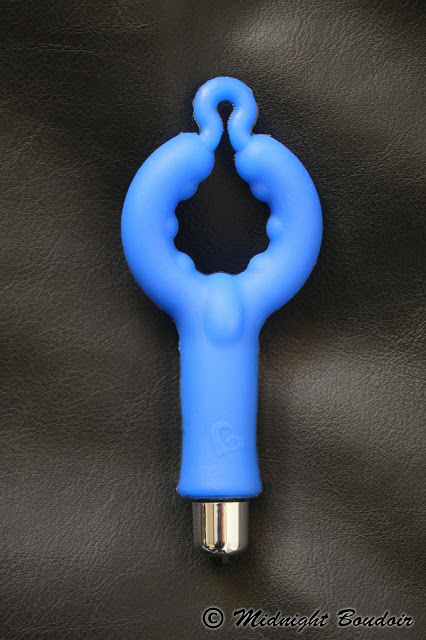 I own a lot of toys now, and I was excited for my OH to have a toy all of his very own. It was his first male toy, so it was new to him.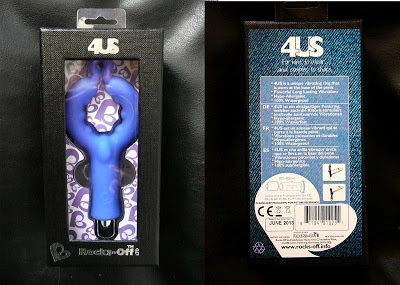 Packaging
The Rocks Off 4US came in a beautifully, presented leather look, black, cardboard box with a plastic window to see the toy. The name 4US and Rock off both written in a lovely mirror finish writing.I loved the fact the box opens like a book, making it re-usable to keep it clean. Inside the 4US sits in a plastic holder formed into the shape of itself surrounded by the Rocks Off purple logo.
Description
The 4US is a great idea, in fact it is a cock ring with a difference, it can pleasure both the man and the woman at the same time. The stretchy, medical grade silicone sleeve does not have any rubbery smell to speak of and is a lovely bright blue. The silicone is 100% Phthalate and latex Free.
I know there are many cock rings on the market, but I feel that many have a simple design fault, in the fact that the bullet sits in the cock ring horizontally on the penis. This is to pleasure the man. but I feel they are not designed to fit a woman properly.
Where the 4US is unique, in the fact it sits vertically, so the bullet is designed to give us girlies maximum coverage of the clitoris. The 4US has extra thick, stretchy, arms forming the ring, which hugs the penis firmly enabling the vibrations to be felt from base to tip. The center ring of the arms on the 4us has 7 slightly raised knobbles to press gently into the penis to transfer the vibrations better. The sleeve itself does have some noticeable seams but these are soft and don't effect use in anyway.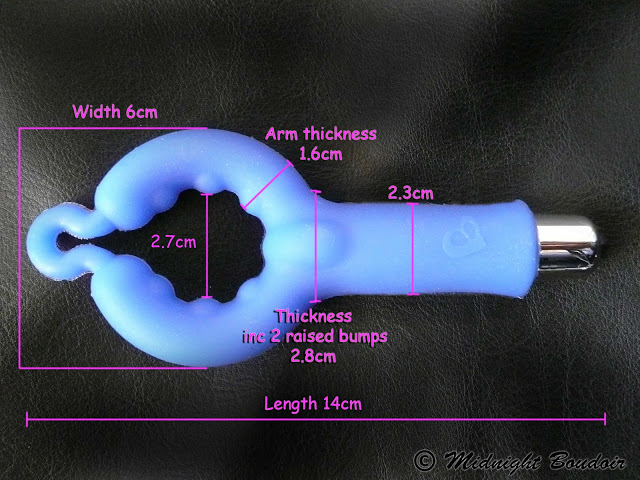 The cock ring will also stretch from 2.7cm to an amazing diameter of 4.2cm.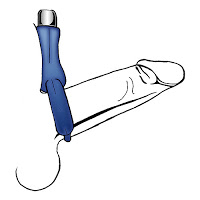 The 4US is designed to stimulate the clitoris in any position, it can be worn above or below the penis and its brilliant design has added a bulge below the ring, and is curved very slightly to press directly on your clit.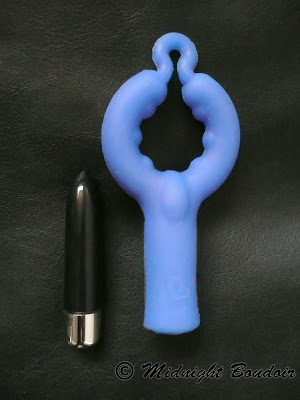 The waterproof Ammo 80mm glossy black bullet slips easily from the inside of the sleeve. It is a lovely designer looking glossy, black with the Rocks Off logo embossed on the side. It measures 8cm long and 1.6cm wide, perfect to hide in a bag or for travel too. As with all Rocks Off products, it also comes with a single N size battery; simply remove the paper disc and your away. After changing battery, please make sure you screw the base on tightly to maintain the waterproof seal. The matching black silicone button on the base of the bullet has an excellent quality, well defined click. It has 1 vibration so need to worry about fiddling with buttons to find your favorite sequence, 1 click and your off.
The vibrations are quite strong for the bullet by itself. Once the sleeve is on, it dampens the vibe a little, as with any sleeve. Its the quietest vibe I've ever owned and cannot be heard through duvet or sheets, let alone through walls or a door.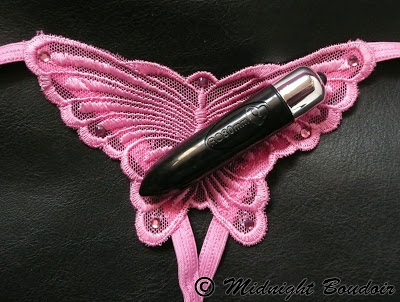 There are a variety of ways to use this toy, giving something for anyone.
Ways to wear the 4US
• Around the base of the penis,
• Right underneath the head of the penis, (my OH's fave)
• Around cock and balls,
• The bullet sitting above,
• The bullet sitting below,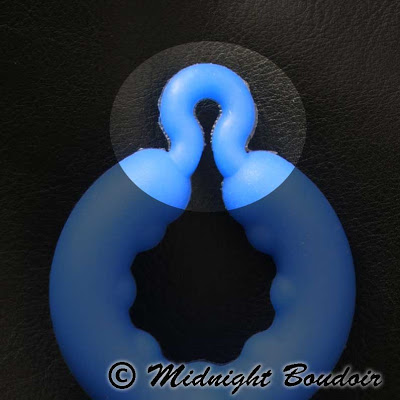 Nipple play
Anyone who reads my reviews regularly knows I adore nipple-play, and while having fun with many different positions, my OH placed the stretchy hook part over my nipple. Wow this worked, it tightened beautifully around it and I felt the vibrations really well.
Turn any dildo to a vibe
What I love about this great design is the fact you can stretch the ring over any size dildo up to 4.2cm and you have penetration and clitoral stimulation at once. So if you have a favourite dildo (not silicone of course), just add the 4us onto it.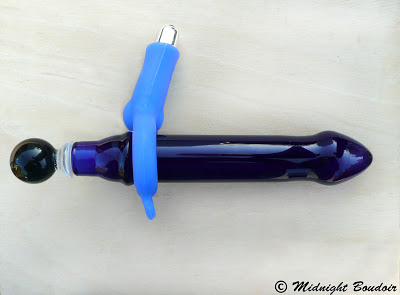 The Temp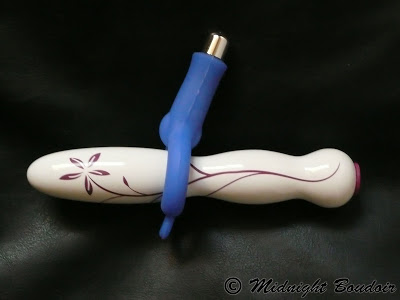 Lovemoiselle Ceramic Noemie
Cleaning
The 4US is completely waterproof, so its best cleaned under running, warm, soapy water; then use a sex toy spray to make sure. The sleeve itself does have some noticeable seams but these are soft and don't affect the use in anyway. They need to be paid close attention to while cleaning. The soft texture feels amazing but it is like a dust magnet, so you need to store the 4US in its own box.
Experience
His point of view
Once on the penis, it warms to your body temperature quickly. My OH is very well endowed and had no problems getting it on, but being a very grippy texture it is definitely easier to fit while still soft. Larger men like my OH will find it more difficult to use this as a cock and balls ring as well, as its fairly firm.
The inner knobbles of the ring transfer the vibrations really well as they press into the skin of the penis, but this can work against you if you are a wider girthed guy. My OH found it very tight worn on the base of his penis and had to remove it after only 30mins, but luckily it had already completed its mission.

Used by itself under the head of the penis, it gives alot more sensation and will work wonders for guys using it alone. The 4US also works in another way, in the fact it prolongs orgasms with its constrictions, helping those guys who want to please their partners for longer.

My Point of view
This incredible toy turns my man into a vibrating toy boy.!!!!
I loved him to wear the ring with bullet on the base of the penis as it gives me maximum pleasure to go cowgirl on top, its brilliant design has added a bulge below the ring to press directly on the clit, so I could control how hard or soft I pushed against the ring. This made me come almost immediately.
The next best position is doggy-style with him wearing the 4US under the penis this again hits the clit perfectly, its slight curve enables the bullet to cup your whole area. Missionary felt a little uncomfortable when the bullet is above the penis as it dug into my pubic bone with slightly harder sex; you could hurt the guy if you get carried away too. So just be sensible with each other.
Our best position for us was definitely cowgirl and sitting in a chair supports you both and seems to keep the 4us in place better too.
The bullet on its own for me wasn't quite strong enough as I'm a power freak, but used together as a couple wow what a different story, I was there in minutes.
You will have to forfeit some depth of penetration for extra G-spot coverage and vibrations, believe me its worth it. Either way it will spice up things in the bedroom for both of you, encouraging you to try new positions.
Something to be aware of too is when using condoms, add some water-based lube if you don't already as the 2 materials will grip to each other and may tear or at least cause the condom to ride up.

Conclusion
As a discreet couple toy this worked absolutely perfectly. Its well made and funky with strong vibrations and we loved exploring the different angles and positions to see what worked, it caused a lot of giggles and fun and most of all it worked brilliantly getting us both there quite quickly we loved it!
This really does turn your man into a boytoy!!!
Follow-up commentary
2 months after original review
We still like this toy, it has good stretchiness to fit my OH well and I love the firmness of this toy against my clit; we still use this regularly and it turns any of my dildos into a vibrating toy; giving me the option to have clit stimulation as well as penetration of my favorite dildo.

This is perfect for use with harnesses and pegging so both of you get amazing stimulation.
This content is the opinion of the submitting contributor and is not endorsed by EdenFantasys.com

Thank you for viewing
4Us cock ring
– vibrating penis ring review page!