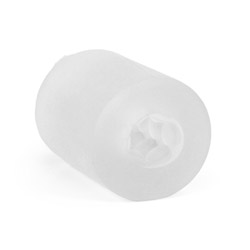 Goodhead helping head
Penis stroker
by Doc Johnson
Good little helper
The Goodhead helping head is a great oral sex aid. With the stretchy material and inner nubs it adds pleasing stimulation for his penis. It can also be used by a male alone as a masturbating sleeve.
Published:
Pros:
Textured
Stretchy
Cons:
None (maybe material for some)
USE
The Goodhead helping head is a product designed for male pleasure. You can use it alone as a masturbating sleeve or with a partner letting them control the motion or using it to aid in oral sex. This sleeve can be used in the bedroom or in the shower. While it isn't the size of normal masturbators, it still isn't very discreet. It's small enough to travel with if you have a bag or something to store it in.

MATERIAL/TEXTURE
It is made of TPE which rates a 6 on the material safety scale. The material is very stretchy, so it'll fit most men as it expands when sliding over the penis. The material feels smooth and soft/plushy but gets a little sticky and slippery when lubricant is applied. The length of the sleevve is 2 1/4 inches long and it states it will fit any size. Inside of the sleeve there are small nubs circling it. There are 6 rows of nubs with 5 in each row- 30 altogether. The numbs keep their shape when in use but they aren't rigid/firm or uncomfortable. The sleeve does have a smell to it like many TPE toys do. It had a light, burnt rubbery smell to it. It wasn't as strong as some products I've come across. We washed it a couple times but the smell still lingered. I assumed it had a taste so I let him give it a couple of washings then I applied some flavored lubricant to the inside of the sleeve before using it on him. I didn't notice any nasty flavor from the sleeve since I used a flavored lube with it.

PERFORMANCE
The Goodhead was a success for helping me out in the oral department. He really enjoyed the nubs and said the sensation was stimulating and a change in pace from just using my hand. He also like when I sort of twisted the sleeve around instead of just stroking up and down with it. It's easier to hold on to and use than just my bare hand slipping around on his penis, well, until I got carried away with the lube and it slipped causing me to punch myself in the mouth- so be careful with the lube. Despite that mishap, he did find it more pleasurable when using more lube, as one drop of the stuff wasn't enough and cause a little discomfort for him. It didn't hep make things THAT much quicker, but it helped. If your guy is one that takes forever to get off by just oral sex, this will help some because it gives a bit of texture to help stimulate the penis better than just your hand. If he's tired of the nub feeling, you can actually turn the sleeve inside-out and use the smooth end, though you may want to wash the lube off before doing so.

CARE
TPE can not be sterilized. It picks up hair, lint and other particles VERY easily so I suggest keeping it a plastic bag or some other storage bag. The best way to was it is with warm water and soap, letting it air dry before putting it in a bag. You could add a little corn starch to it as well. You can use a water or silicone based lubricant with this sleeve.
This product was provided at a discounted price in exchange for an unbiased review. This review is in compliance with the FTC guidelines.

Thank you for viewing
Goodhead helping head
– penis stroker review page!