Hercules would be jealous of my cock!
Hercules will certainly lend some strength to your cock, this is due to the silicone material and the little give it has. Add some lube to your tool, slide on this ring and you will soon see why Hercules was so widely loved. It was his rock hard cock! Use it solo to feel the change first hand or use it with your partner and let her feel the difference of a Herculean cock .
Published:
Pros:
Silicone, Very restrictive.
Cons:
None for me, May not fit larger guys.
If you do a search for Cock rings you will find over 200 rings to chose from, of those, 82 are non-vibrating. Frankly, it can be a bit overwhelming at times. 10 different materials, umpteen sizes and more colors than you can shake a cock at.
So, when I seen a intriguing looking cock ring made out of 100% silicone sitting in my assignment cart, I jumped on it. You see, if you refine the search of those 82 C-rings to those made out of silicone, you will only get 8 in the results. Why is that significant? Read on and find out. But first things first.
Enter in the Hercules, a awesome cock ring from the Adonis collection made by the fine folks at California Exotics. Hercules was a demigod and as such had more strength than any human. It only make sense that this ring is so much better than the other 74 rings that are not made from silicone. This ring is ALMOST like wearing a metal C-ring. While it will stretch a bit, it is defiantly not like other soft materials. Honestly, if you want a cock ring to work like it's suppose to you want one that provides good restriction and is comfy to wear. For me, this one is about perfect.
Something to consider is that silicone it body safe (One of the safest materials you will find) can be sanitized and if you just give it a little loving care it will last for years. Once again the strength of Hercules. Have I mentioned how hard it will make your cock? Oh ya, Hercules would be jealous of how hard it makes my cock. I only have one ring that can get me that hard and it's stainless steel! Yup, I love this ring, so does the wife.
So lets take a look at this ring.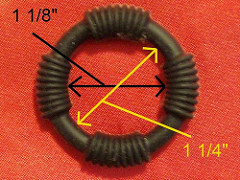 As you can see the smallest inner diameter is 1 1/8". The ring is about 1/4" thick so it will not rip easily. In fact, I have never seen good silicone tear. Really though, it's Hercules right? The ring has four areas of ribs. These are soft and flexible but can not be felt during use. I am not sure why it was designed this way as I could not notice a difference when I moved it from one position to another. I guess it is more of a visual aid than anything else. It could just be that with my cock so hard and the wife's wanting eyes, I just did not notice. hehe
You may also have seen the lint and dog hairs all over the ring. Ya, silicone does that, no worries though, a quick rinse with water and it is good to go. You can store it in a plastic bag if you want to keep the lint and what not at bay, you could also use the packaging. I just toss it in the drawer with the rest of my silicone toys.
Hercules comes in a small clam shell type package. There is a small card inside with the name and material information. I think it is nice that there is nothing really that screams out COCK anywhere on the card. I would think that people would still be curious as to what it is for though. Just tell them it is a scrunchy.
Water and oil based lubes are suitable for use with Hercules, silicone based may work but only a spot test will tell you for sure, if not though it could degrade the material.. Ya ya, I know, Hercules was after all only half immortal. Even he died eventually. Clean up is easy as it can be; soap and water, boil it, use a 10% bleach solution or toss it on the top rack of your dishwasher without soap.
With this ring I find it best to put it on before full erection. While it can be done after, it is a lot more fun to watch my tool grow to full hardness after it is on. Either way, it's best to put some lube around the area before hand to aid in positioning. If you are smaller that average this ring my fit around both the cock and balls. For me this was just not going to happen.
Experience
I'm a bit over average in size, about 1 3/4" at the bottom of my shaft. Well, when I received this ring and felt the materials firmness, I was a bit worried. In my experience, when a product description says it will stretch 'X' amount, I fine they will stretch more. This one was pretty much right on the money. So the first time I used this ring I used it solo with a little trepidation. With ice cold water, my old time friend-Rosy Palm, good lube and a 30 minute timer, I started my testing. Round one went better than expected, in fact it lasted all of ten minutes. I am sure this was due to the enormousness of my cock and the feel of ever bump and vain as Rosy did her job. Happy to say I felt no numbness or discomfort. Another thing I really enjoyed, you know how when you fold the garden hose up and it builds pressure and when you let it go it releases all that built up pressure? Ya, a good cock ring will do the same.

Second test with the wife. I put it on before she came into the room and got under the covers. When she felt it around my tool she just had to see the new ring. By that time I was standing tall and throbbing with anticipation. The look on her face was all I needed to see to know she liked it. When she felt my engorged tool inside her I knew she loved it. Same good results here, no pain and great gains.

It does not provide any extra stimulation to her clit and she could not feel it on my shaft.

At the time of writing this review I do not know the price. I would guess it will be at or under the $20 mark. At that price you can not go wrong as long as if fit you. I also think it could work good used in a harness, most of them only come with a rubber O-ring so this would make a great replacement. The strength and clean-ability will be far superior to rubber.
Follow-up commentary
6 months after original review
What a great ring, it provides great restriction and is very comfortable to wear. No signs of damage to be seen and no stretching is noticed. That's what is so nice about a silicone ring!
This product was provided free of charge to the reviewer. This review is in compliance with the FTC guidelines.

Thank you for viewing
Adonis Silicone Rings Hercules
– cock ring review page!