Ladies! Fun Gift for Him. Boys, put your Pee Pee in here!
Hey, I was being nice and bought this for my husband. It is a fun "toy" to use with foreplay and it actually works to increase girth and length. It has markings to show you that it is working. My husband says that it works well as a masturbation sleeve too! We have nothing to compare it to as it is the first one we own but we wont need to buy another one since we like this one so well.
Published:
Pros:
Easy to use
Measurement Markings
Actually Works
Cons:
none noted
I wish that it came with tightening cock rings to maintain the erection.
The Adonis Pump from California Exotic Novelties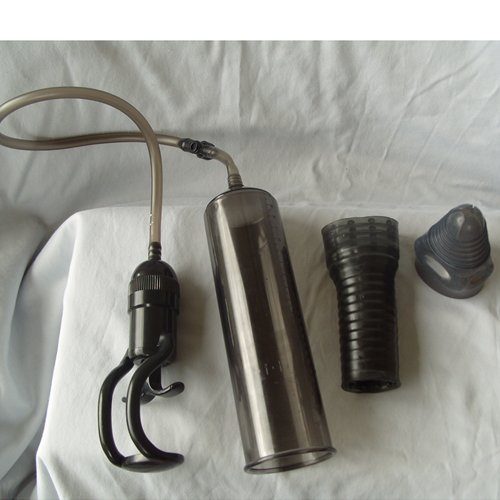 This is a handy device used for male masturbation or for increasing the length or girth of the male erection. It's not for the girls! It does work well for couples play with foreplay though. It has markings on the chamber so you can see how your efforts are working. This fits men with a girth of up to 2 ½ inches. It does work better if the man is somewhat aroused.
The Adonis pump is comprised of a plastic chamber that holds a masturbator sleeve or a sleeve. It has a hose attachment to the top of the chamber and on the hose is attached a one way air release valve and the handy ergonomic pistol style hand grip.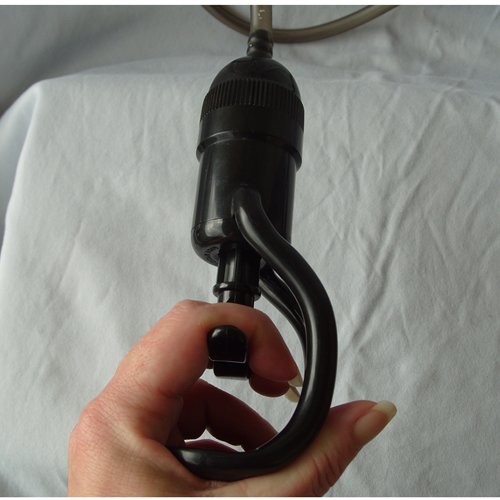 The plastic chamber is 9 inches tall and has a diameter of 2 ½ inches.
Plastic
has an Eden safety scale rating of 8. It is hypoallergenic, phthalates and latex free. It is non porous. It is easily cleanable with antibacterial soaps and water, toy sprays or wipes.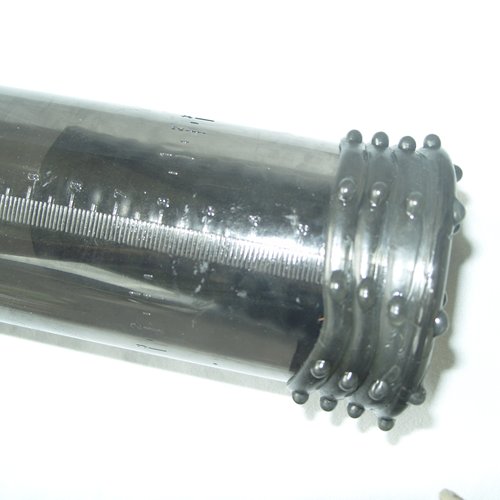 The masturbation sleeve is made from
TPR
Eden safety scale rating of 7. It cannot be boiled and it is suggested to clean with antibacterial soap and water. This sleeve is porous and a condom should be used if sharing with others. The masturbation sleeve has nubbs and spiraled textures. The masturbation sleeve has a diameter of 1 ¾ inches and is 5 ¼ inches long.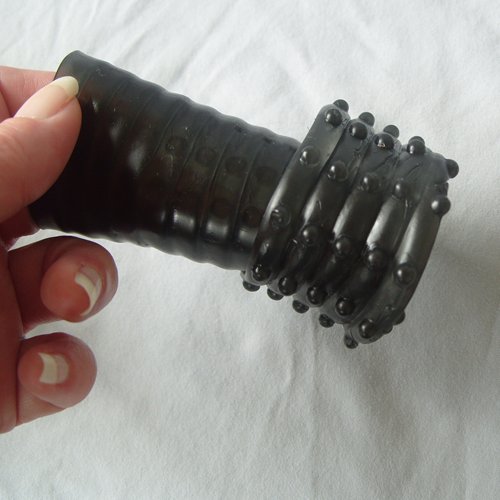 The inner sleeve to use with the pump is made from
silicone
. Eden safety scale of 10. Non porous, hypoallergenic, phthalates and latex free. You can boil this part of the toy, wash it with antibacterial soaps and water, toy sprays and wipes. This sleeve has a swirled texture. This sleeve has a diameter of 2 inches.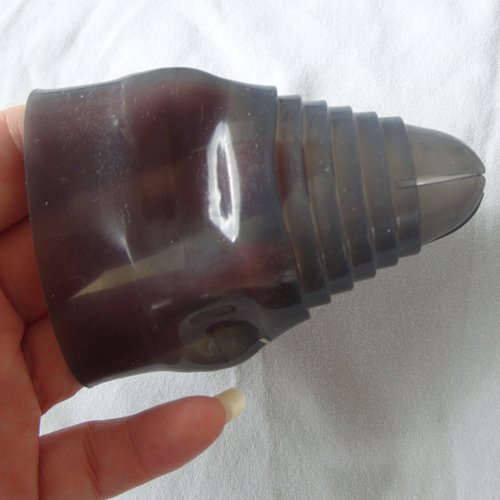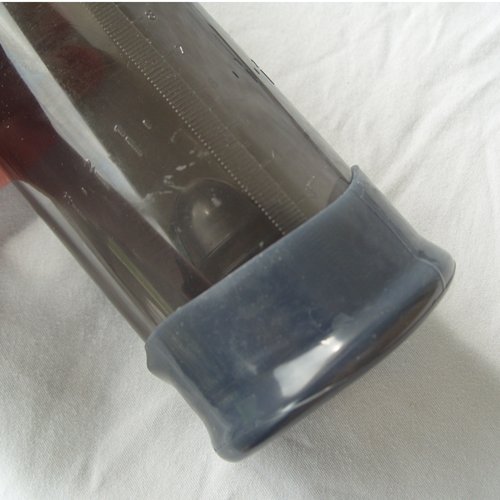 With the combination of these materials it is safest to stay with water based lubricants so that none of the components are damaged.
The plastic chamber has markings on the outside of it. It has markings from 0 to 7.8 inches and along the bottom it has markings from the center line out to 3 inches. These markings are so that you can tell how much of an increase you have had in girth and length. I think this is a fun feature. It helps with laughing and the couples play.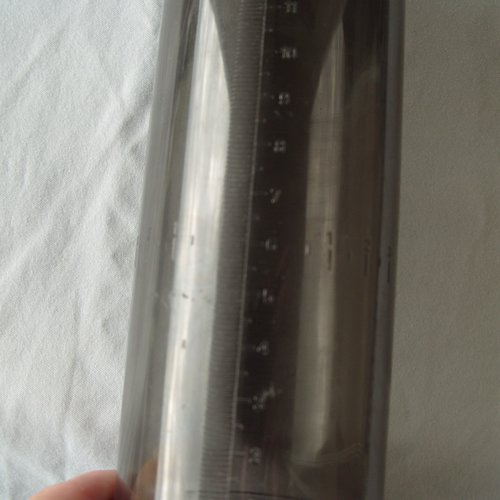 The hose is attached to the top of the chamber, it is approximately ¼ tubing. There is 2 inches of tubing to the suction release valve and then 19 ½ inches of tubing to the grip. The tubing is quite flexible but it does have a kink where it was folded over during shipping. This hasn't become a problem but I am watching it closely!
The whole grip is 6 1/2 inches long, it only takes 2 fingers to use the pump and create the suction, It is ergonomic and doesn't hurt your hand to use it. The whole grip fits in your hands nicely and I have smaller hands.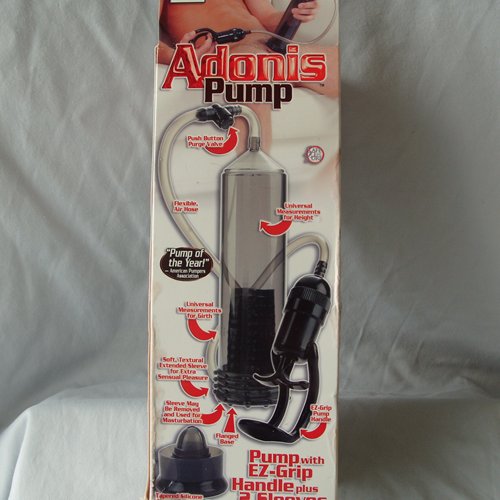 The packaging is nothing special, it comes wrapped in a clear plastic bag and then in a box with a man using the pump on it. Of course it has the standard disclaimers on it. 1. Consult a physician should there be any complications. 2. Discontinue pump if pain occurs. 3. Apply the minimum amount of vacuum pressure necessary to achieve an erection. 4. Use of vacuum pump may bruise or rupture the blood vessels either immediately below the surface of the skin or within the deep structures of the penis or scrotum resulting in hemorrhage and or the formation of a hematoma. 5. Misuse of pump may aggravate an existing medical condition such as peyonies disease, priapism, and urethral strictures. 6. Misuse of vacuum pump could result in swelling of the penis and/or serious permanent injury to the penis.
Experience
It is actually very easy to put the sleeves into the plastic chamber. It cleans up easily. The air valve has springs in it and you can let off the suction a little bit or a whole lot and taking the pump off is not a hassle. The only draw back is that there should be some kind of cock ring to place around the penis before you take the pump off to hold the blood into the penis. I will be purchasing one!!

Of course the package containing the pump showed up on a night when I had to go to work, I had set the box with the pump in it at my husbands side of the bed. So, of course he used the masturbation sleeve attachment that night when I was at work. The next night when I was off he grabbed the pump and placed in on his penis and came to see me at he computer. We then proceeded to the bedroom and had a really fun time with the pump. This is a big deal since my husband doesn't usually instigate sex. My husband does have some ED issues and this is a nice fix for the time being and we didn't have to see the doctor. So this is cheaper than the CO-Pay! I would suggest this to anyone with ED before proceeding down the medical path. It is fun to place on the penis, start pumping and compare the markings. It is something we could do together, not just him!
Follow-up commentary
4 months after original review
We now have several pumps and this one is definitely my husbands favorite, it is easy to use and easy to clean up. The trigger type mechanism for pumping is very comfortable and it doesn't make your hand hurt. It really does work well to increase length and girth. I am so glad that we didn't have to spend the money for a medical pump.
This content is the opinion of the submitting contributor and is not endorsed by EdenFantasys.com

Thank you for viewing
Adonis pump
– vacuum penis pump review page!