No es que caliente (not that hot)
Culo Caliente, or Hot Ass, is a stroker that can bring some great feeling to your stroking fun. This nicely molded ass feels good no matter what language you moan in. Open ended design is supper easy to clean and the stretchy Pure Skin will take on all come-r's, no matter the size. She is "Estoy deseando tu pene duro y fuerte". ("I'm aching for your rock hard cock!")
Published:
Pros:
Soft, lifelike material, open end, easy to hold.
Cons:
Could be longer, molding of vagina makes the ass look big.
Ahh the pocket ass, many have tried and many have failed to make one that replicates the feel of the real skin. The selection of materials available to manufactures can get them so close, but never, in my humble opinion, will they ever get it right. Maybe if they could give them a pulse, mmmm...maybe...
Sorry, drifted off there.
This Red Hot Lover from California Exotic is a realistic pocket ass for a guy's (begging or advanced) masturbation pleasure. This is by far the closest my penis has had the pleasure of using. The nice rounded ass just begs to touched and have your "rock hard cock" just as deep as you please. Use her solo or with a partner, she does not care, she IS that kind of girl. Just remember that if you are planning on a threesome with two guys, use a condom. She is not that easy.
This lovely ass is made up of
Pure skin
(TPR). Therefore, we need to use a little extra care before, during and after use. I highly recommend washing this toy before and after each use. To do this you can use a toy cleaner or soap and water. Sorry, no sanitizing to be had here. After cleaning, a light dusting of cornstarch can be applied to keep the surface from getting sticky. I have not found reason to do this. Oh ya, DO NOT use talc! Really just don't, please. This ass only uses water-based lubes, really she does not work well with oil or silicone base lubes.
Culo Caliente! Hot ass indeed! This really is a good-looking ass; it feels even better when you run your finger over her hole of pleasure. It does feel real and oh so nice. If only it had a pulse, maybe warm. She comes in at about 5" long and 2 1/4" wide at the largest part.
After the molded ass, the stroker resembles a corkscrew or maybe threads, like you find on really big bolts. This makes total sense to me. You see there is also a tiny winy vagina molded in, compared to the ass, this always brings the song "Big Butts" to mind. You know?
The love hole starts out at a small 1/4". Well, it IS supposed be small, it is an ass. However, do not fret; this ass will easily take anything you care to thrust in her.
Foursome anyone?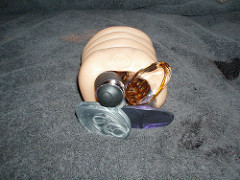 As you can see, she is eager to please. This brings me to a thought on realistic ass strokers. Most people when looking at ass strokers feel that it should feel like a real ass; it should be tight, preferably VERY tight. This one is not; I have never tried a real ass so my penis does not know. Based on my ass I could say it should be much tighter than this one, but really, I could care less. The looks are what get me going so the tightness of this stroker is just fine by me.
Inside she opens up a little bit and then gets tighter again. Immediately inside she has a small section filled with nubs, this is also true for the end. In between these sections, we find alternating areas of rings and nubs followed by another 1/4" hole at the end. Here is a picture of the inside so you can see.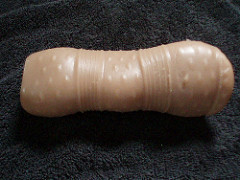 As you can see, this stroker can be turned inside out for cleaning. This is so nice, after cleaning you can dry out the inside, turn it right side out, dry and put away with no air-dry time. Easy and quick.
Experience
One of the most intriguing things about this toy is the packaging. This is the first toy I have bought that had bilingual packaging, as in most of the info is in both Spanish and English. I actually found a translation website and looked up all the writing, learned me some Spanish. Pretty nice box with a nice gal posing her ass in a G-string, front and back. You can use it for storage if you please or you can use a zip top bag. Just make sure to keep it separated from other toys in a dark, cool place.

Well, another stroker to add to the rotation. As I said before I have not had the pleasure of a real ass, (OK, a couple of oops!, but those were short lived) so anything that looks like an asshole works well for me, mostly too good. Fantasy thing, ya know?

At any rate, only one real complaint from me: the shortness of the stroker. A couple of inches would help oh so much.

Please feel free to ask if you have any questions.
Follow-up commentary
4 months after original review
Sin embargo funciona muy bien! Yup still one nice stroker. Although I do not use it as much as other toys in my box, this still gets some use. I do like the feel of the texture better than my Fleshlight (Lotus), and it is easier to use and clean.

There is a few small tears on the entrance but they can not be felt during use. I am not sure if they are from use or turning it inside out for cleaning. I did stop doing that for cleaning and I have not noticed any since.

My only complaint is the length, if it was only three or four inches longer it would be sooo much better.
This product was provided free of charge to the reviewer. This review is in compliance with the FTC guidelines.

Thank you for viewing
Red hot lover hot ass
– masturbator review page!