Not So Crazy After All!
This cock-ring is great for all users, from men looking to enhance erections, to women looking to add some good vibrations to their favorite toy. The material is body-safe, the sizing is customizable, and design is cute and beginner-friendly. You couldn't ask for much more than that!
Published:
Pros:
Super-stretchy, one-size-fits-all
Multi-use
Beginner-friendly
Cons:
None
My husband is not a huge fan of cock-rings and wasn't overly excited when I wanted to introduce this one. But the Crazy 8 cock-ring by California Exotics is beginner-friendly and non-intimidating, so he was just barely willing to give it a try.
This c-ring is made out of TPR, a durable derivative of plastic that is latex & phthalates-free and body-safe. Some might consider it a con that its not the hygienically-superior silicone, but for those who are using this in a monogamous relationship shouldn't find any problems. And for those who aren't….. well, stock-up! Anyway, the reason this works better in TPR than silicone is that TPR is super-stretchy and accommodating.
The TPR is shiny, a true red color (unlike the product pics which look almost pink), and has a high amount of drag. This is far more comfortable when worn if you do a little man-scaping first, otherwise you may find that it tends to tug at pubic hair. Yet, it is this same drag that helps it to stay firmly in place in use, so again, not really a con.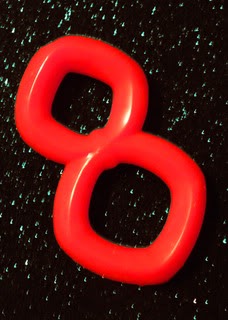 The c-ring features double rings that encase both the penis with one ring, and the scrotum with the second. Rather than the rings being made from a standard cylindrical shape, this looks almost like a square log rolled into two rings, and then connected by a small band. I don't believe this serves any functional purpose, but it is more anesthetically pleasing. For some reason, each time I look at this it reminds me of a spider (Then along came a spider, who crawled up beside her, and Little Miss Muffet cried "oh, yay!").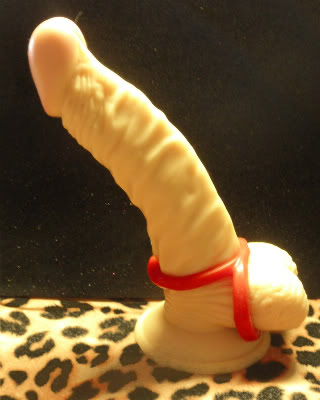 I actually think this ring is a bit more forgiving to put on than other rings because, again, it's so stretchy. It starts at ¾" for the shaft and 1" for the scrotum unstretched, but will accommodate sizes larger than a pop can. I can't see fit being an issue for most men. It is also due to this that I didn't find any need to put this on prior to erection, like you may have with solid types.
It does help if both the shaft and penis are well-lubed with either water or silicone-based lube first. Grasp the smaller of the rings with both hands, stretch fully, and you should be able to place it at the base of the penis without having to slide it at all. Ditto for the scrotal portion. Just remember to release gently as this works somewhat like a rubber-band (unless you're into that). And remember that c-rings shouldn't be in place for more than 20 minutes or so as they do decrease the amount of circulation.
So how it worked…
My husband and I really enjoyed the Crazy 8. It worked well for its intended purpose, which is to sustain longer, harder erections by decreasing blood-flow (note: I said decrease, not cut off! If you ever see a blue or purple tint remove the ring immediately. Though again, I doubt that would happen with this ring). For him, he said that it was comfortable to wear- both when using the scrotal portion or without- stayed in place, and resulted in a bigger orgasm.
For me? Well, can't say I didn't enjoy the longer, harder erection. I also found that the material had a bit of give and was not really noticeable during sex. The material seemed to warm pretty quickly to body temperature and felt less like using an inanimate object during sex, than simply an extension of our bodies (if that makes sense).
But you know what? I really just hate to let someone else have all the fun- even my husband. So after trying this out in the bedroom, I was on the prowl for other fun uses for this toy, and wouldn't you know, I found some!
Experience
So what are some alternative ways to use this…
First of all, I found success in turning the ring upside-down and using the scrotal portion to hold a bullet vibe. This works especially well with egg-shaped bullets, or those that have a larger diameter. Inversely, if you switch the rings and place the larger diameter ring over the shaft of a dildo, the ¾" ring will be a tighter fit for smaller bullets. With this, however, you will just want to ensure that you do not have the rings lubricated, or it may cause the bullet to slide more easily out of the ring. Obviously, you can try this either with your partner or on a dildo. (Dildo + c-ring + bullet = rabbit!).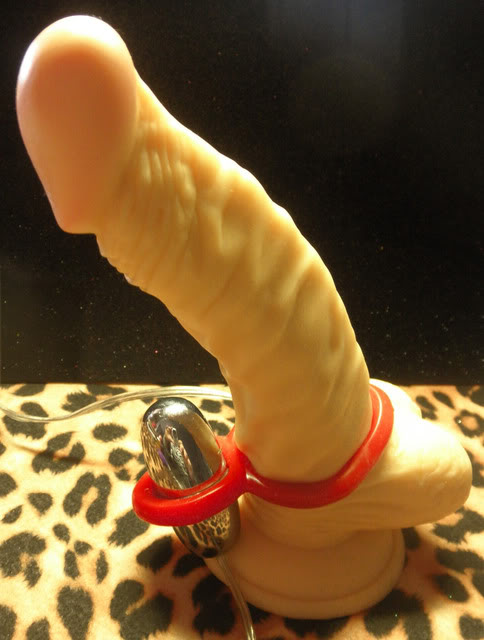 A second option is to fold the rings, placing them on top of one another, and slide them both over the shaft of a penis or a dildo that is on the longer side. With the rings doubled, it will reduce the stroking depth up to ¾", decreasing the chances of it hitting the cervix. Should you try this with a partner be sure it doesn't decrease the amount of circulation too much, and remove it if it causes pain, discoloration, or swelling (not related to the erection, of course!).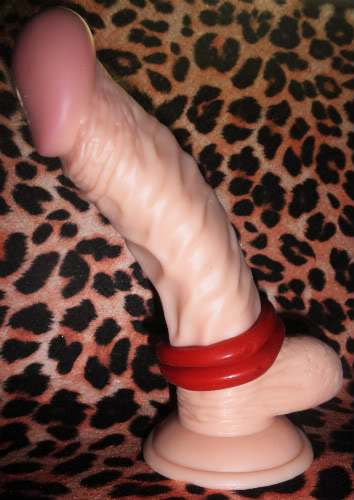 Anything else…
The ring arrived to my house in a clear plastic clamshell with a cardstock insert that had some basic product information. It was neither discreet, nor would it be suitable for storage.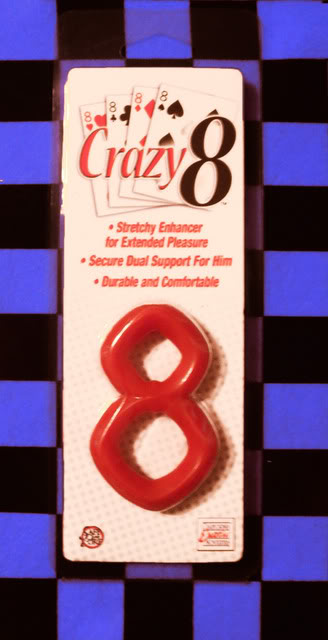 Maintenance is pretty simple. The ring is compatible with both silicone and water-based lubes. And clean-up is no problem with only a bit of warm water and soap, or some favorite toy cleaner. Allow to dry after cleaning and keep in a Ziploc bag to prevent damage to the material.
Follow-up commentary
9 months after original review
I can't say that my husband and I use cockrings to often, but I'm glad to have this one around for when we do. I like that because of the way it is shaped you can do multiple different things with it. For that reason alone it remains at the top of our toy chest. No need to look for different products depending on intended use, this is really the only one we need.
This product was provided free of charge to the reviewer. This review is in compliance with the FTC guidelines.

Thank you for viewing
Crazy 8
– cock ring review page!