Play Misty For Me
This is probably the closest I've come to 'the real thing' with ANY toy, period. While I can never see myself becoming a Fleshlight Collector, this one's definitely worth having even if you're just curious about male masturbator toys. The price point absolutely compares to the quality of the toy. I highly recommend the Fleshlight Girls range.
Published:
Pros:
High quality; Feels like the real thing; Adjustable tightness; Case makes storage easy
Cons:
Takes a little effort to clean; Difficult to hide; Indiscreet
Those who follow our reviews will know that I (hubby) recently picked up Fleshlight's
Jenna Haze Forbidden
and found it to be a great male toy. I've never been a huge fan of male masturbators (well, unless they buy me dinner and a drink beforehand) but I've got a feeling things might change now.
I'll admit that Fleshlight's many textures haven't swayed me one way or the other. I mean, there's only so much your bits can feel, especially if you're really just used to the texture of a hand. If you're lucky enough to have a partner who can touch you the way you touch yoursef then it's the technique that matters - at least for me. I can't think of a single time when I've thought "Oooh, those little ridges in my wife's fingers make all the difference", so the inside of the the various Fleshlights hasn't really been much of a selling point to me. However, where the 'Forbidden' really does kind of feel as though you're having anal sex, this particular model - actually the Lotus - has to be the closest I've ever come to real vaginal sex outside of an honest-to-goodness woman.
If that sounds like I'm exaggerating, let me elaborate. Fleshlights are made from
Superskin
and although I rated the Forbidden model as only semi-realistic since the material was too soft to feel like a real ass, it works perfectly on this one. I knew from experience to dust this with a little cornstarch too, and if the Superskin felt 90% like real skin and flesh, the cornstarch upped this to about the 95% level. Just make sure it really is cornstarch that you're using. I wasn't concentrating and used Baking Powder and by the time I pulled my cock back out it had grown 3 inches. Ok, that was a joke. But still, only use cornstarch. EF carry a powder to make toys like this feel even more realistic but that appears to be talc-based. Besides, cornstarch is very inexpensive, so isn't it worth a dollar to make a great toy even better?. Take the Fleshlight insert out of its case and soak it in warm (but not hot) water first and you're getting dangerously close to what I'd say is absolute realism. Just remember that Superskin should never be cleaned with soap. I just rinsed mine with warm water and let it air dry, although you can use isopropyl alcohol if it needs a more thorough cleansing.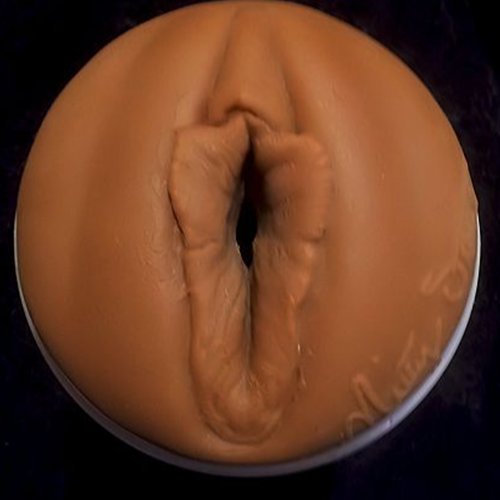 Au natural - that's the actual colour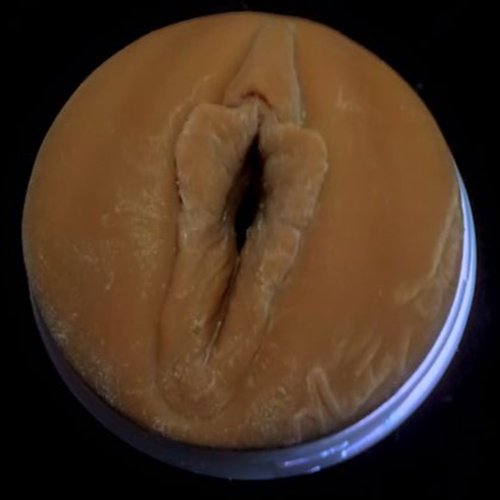 With cornstarch. The only time I've put white powder on a pussy, honest.
If you're using a finger then the Lotus also feels a little more realistic on the inside than the Forbidden, especially after applying some lube. Make sure to only use water-based lube with this and to clean it thoroughly afterwards. Whether it's because I'm uncut or not, I don't know, but I usually don't need lube for play since I get a lot of precum. However, the lube not only helped for insertion but also to make this feel like the real thing. So far I've only tried
Maximus
, which worked well (if you've read my wife's review of it you'll know it stung for vaginal and anal but it worked fine with the Fleshlight) but I'll probably try our new
Defense Lubricant
next since that feels most like natural lubrication.
This is standard Fleshlight size, making it 9 3/4" long and 3 1/2" at the widest point and 2 1/4" at the narrowest. Quite a handful, even if you've got big hands!
As an aside, I should point out that the Misty Stone Fleshlight is actually darker than it appears on website pictures. That doesn't bother me, but it's worth a mention. It also comes in the same type of cardboard box as my Forbidden model did, despite a tin being shown on the product page, so if you're a serious collector you might want to check on that with a Support Ticket before you place your order.
Experience
Part of the reason for buying this model was to include my wife in my Fleshlight play. I've used it to stroke her (like a soft grinding between two girls) and she slipped a finger inside while I did it and agreed that it felt pretty realistic (this from a girl with a previous several-year girl/girl relationship). And the trick to this is there in that little scenario - get the Fleshlight warmed and lubed and it's going to provide a mind-blowing (well, perhaps not mind but you know what I mean) experience. I ran my fingertip over the outer lips and clit hood and that felt real, and slipping my finger inside only heightened the pleasure. Once I was warmed up myself I did the same thing with the tip of my cock and unsurprisingly that felt exactly like it does when my wife and I have sex. The internal texture of this Fleshlight is nothing like as extreme as it looks in pictures, and if I'd taken it all apart to look at it beforehand I might have been disappointed. But the subtle texture - or at least the first few inches of it - helped with the realistic feel (after all, what women has a series of concentric ridges running along her vaginal walls?).
Once I'd started getting used to it, I played with the twist cap at the other end of the Fleshlight. I already knew that this creates a mini-vacuum, but once again it's something that works very well. If you can get your co-ordination just right and manage to twist the end cap while you're thrusting in and out of the Fleshlight then it actually feels as though you're going in and out of a contracting vagina.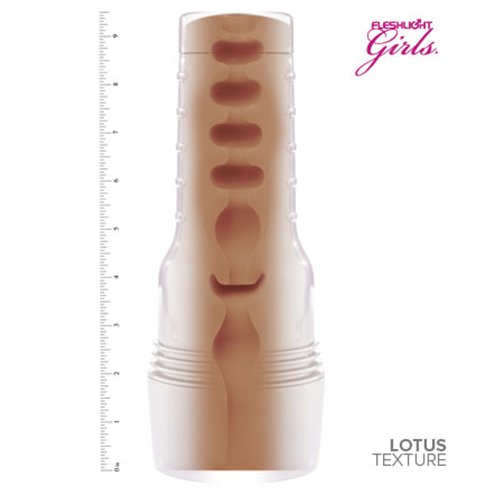 I've seen a real lotus and it didn't look like this. But I'm not complaining!
I've only tried one or two other masturbator toys, but the Fleshlights make all the others redundant. And if you've got a wife or lover who's open-minded then it goes from being a great toy to enjoy alone to something that's going to enhance your lovemaking together.
Follow-up commentary
2 months after original review
Is there an option for "I like this even more"? The more I get used to this sleeve the more I wish I'd bought it sooner. Once you get a little trial and error done with choosing just the perfect lube, this really does feel very close to the real thing. Right now I find that Maximus works extremely well, and when you've warmed the Fleshlight up first and got the suction level 'just right' on the end cap then I defy anyone to last as long as they do without toys.

As mentioned above, my wife and I have tried warming this Fleshlight up, putting just a dab of lube along the 'lips' and gently tribbing her with it. She thought the idea was odd at first but quickly grew to love it and we've found that a little game like that makes her feel less left out if I'm in the mood for some Fleshlight foreplay.

It still hasn't made me want to try all of the other textures though, so I doubt I'd ever be a collector. That doesn't mean this isn't wonderful, just that I've now got a Fleshlight that represents each orifice and don't really think I need more than that. I'd definitely replace it if anything happened to it though, probably with an identical model.
This content is the opinion of the submitting contributor and is not endorsed by EdenFantasys.com

Thank you for viewing
Fleshlight girls Misty Stone
– masturbator review page!