The Burn Says It's Working!
Having worked our way through many of the water-based lubes offered here on EF, we were excited to finally buy a bottle of Maximus. If it suits your body then it could well be the last of this type of lube you'll ever need. But keep a cold washcloth ready just in case you and it don't agree with each other...
Published:
Pros:
Thick; Long-lasting; Large bottle; Great for Silicone Toys; Very good for anal
Cons:
Burned/aggravated both myself and hubby! Contains Parabens; No trial size; Not recommended for oral
My hubby and I never used to be big on lubes. I tend to get very wet naturally and a combination of his precum and a lot of foreplay is generally enough when it comes to anal. But since we began to explore the world of pegging we've found that our needs have changed and a good water-based lube has been a necessity.
Having started out the way many couples do with good old KY, we went through most of the over-the-counter offerings before finding EF. So for a while we thought that Astroglide was our shining star, but even that was lacking. If you've read our other reviews you'll know that we previously had the same thoughts about the
Moist Anal Lube
(although to be honest we DO keep going back to that one every now and then). After a few more experiments we thought we'd settled on
Sliquid's Sassy Booty
and loved that one enough to stock up on a couple of bottles since we've been going through a LOT of it. But we just couldn't fight the urge to try something new, partly because the Sassy Booty needs constant reapplication and partly because Maximus was getting reviews that were hard to ignore.
We finally decided that the price-to-size ratio of Maximus made it worth trying. Coming in at a mighty 8.45 fl. oz., it's a bigger bottle than any other lube we'd bought previously. I also felt that the locking pump-top dispenser would be a nice, useful touch and it really is. We tend to leave it on our headboard and just reach across to it when it's needed. Because the bottle's relatively large and heavy it's actually quite easy to work the pump with a thumb and have the lube spurt out into the palm of the hand. Surprisingly, it does spurt even though it's thick - (almost syrup-like) for a water-based lube. (Going back to the pump-top, it does lock down but we recommend taking the dispenser out of the bottle first since you can lose quite a bit of lube while you're trying to get the thing locked into place).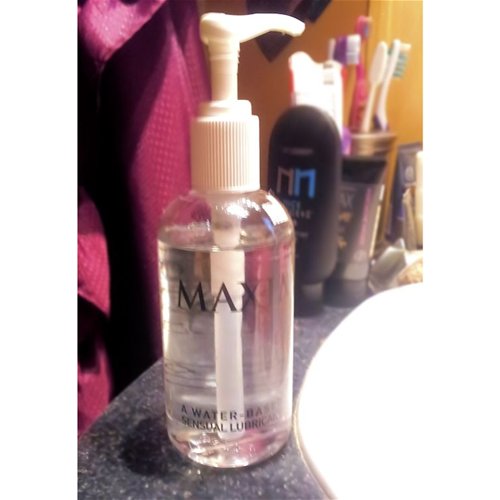 Our bottle has been used maybe 6 times and still has a LOT left
Maximus is long-lasting, clear (which I really like) and has no discernable smell but has a horrible, bitter taste (so don't use this if you're planning on giving oral during the same session). It contains the following ingredients:
Highly Purified Water, Propylene Glycol Cellulose Polymer, Di Sodium EDTA, Phenoxyethanol, Methyl Paraben, Butyl Paraben, Ethyl Paraben, Propyl Paraben.
If I'm honest, I'll say that I've no idea at all what most of those ingredients actually are. I tend to prefer more natural lubes for the rare times when I want one for vaginal use, but when it comes to anal I usually rely on reading reviews of other people's experiences.
Experience
Maximus goes on smoothly and almost feels more like a silicone lube. We both especially liked the texture when it was between our cheeks, and if it weren't for a big problem it would probably be the ultimate anal lube for us. However we've both found that Maximus burns like hell when it's first applied! We noticed this the first time we tried it during a pegging session. We'd just bought a Vixskin Goodfella mostly for me to use on hubby and gave it a good coating of Maximus before using the dildo itself to smear lube on his ass. He winced right away but we put it down to the anticipation of my new cock, so applied more Maximus to his bottom and slowly slid the cock deep inside him. He complained that it was burning for about 30 seconds then decided that he couldn't take any more so we washed it all off and tried again with the Sassy Booty. Surpise surprise - no wincing and no more tears!
Test two came the following Sunday morning. Having already made love the night before, we both woke up in the mood for a little 'spooning' session. After some kissing and cuddling, hubby reached back, pumped some Maximus into his hand and spread it between my cheeks then down to my pussy. I almost hit the ceiling when he did that! The lube gave a slight tingle between my cheeks but felt like it was burning my lips and clit, so much that I had to go and get it off with cold water. I asked hubby what he'd used, and when he told me it was the Maximus I decided to do my own research. I've no idea what it is in the ingredients that affected both of us, but whatever it is is damned annoying!
Since the Maximus rendered my pussy unusable for the next few hours we went ahead and tried it for anal. Again there was that slight tingling at first but once it eased it worked really well. It's not so thick as to get sticky, but it's not so thin as to be watery. Hubby used two pumps of the bottle to get my ass well and truly lubed up, and even though I'm completely used to taking him back there, it made anal sex very easy with just one application needed after about 10 minutes (thankfully he didn't last much longer than that!) He has also used it with his
Fleshlight Forbidden
and although he said that it needed a little reapplication with that, it didn't irritate him
I'll say here that we've both got slightly sensitive skin, although this is the first lube either of us have ever tried that felt like it was burning. It's a huge shame, because there's so much potential here. I have (admittedly rare) fantasies of hubby fisting me, and my anal experience with Maximus suggests that he'd be able to finally do that IF I could bear it for vaginal use. Still, since Maximus seems to do everything it says it does, I can't mark it down as a bad product just because it irritates both of us. It's a very, very good lube, it just may not work for everyone.
Follow-up commentary
2 months after original review
I wish there was a different choice of icons rather than "I've started to like it more" since it's not that we didn't like it, it's that it hurts us personally when we use it. We've tried it again for vaginal, anal and male anal and it's been the same each time. It's a shame, because the lubricating part is wonderful, it just stings and burns too much for us to get any use out of it.

We have found a great use for this though and that's for hubby with the Fleshlight. It actually works about as well as any of our other water-based lubes but since we can't use Maximus for anything else, it might as well be used for that. And he says that it feels great for that so all isn't necessarily lost :)
This content is the opinion of the submitting contributor and is not endorsed by EdenFantasys.com

Thank you for viewing
Maximus
– lubricant review page!