Pump Me Baby!
Are you looking for something with powerful suction to use as a masturbator? Maybe, you are longing for that suction feeling but have been let down by typical clitoris pumps. Want to add a whole new dimension to your subs. nipple torture? Your search is over! The Hustler Penis Pump is a powerful pump that is sure to leave you and your partner hot and wet.
Published:
Pros:
Powerful Suction, Tight Seal, Quick Release Valve, Can Be Used on Men or Women.
Cons:
Does not provide a lasting swelling effect.
Pump Me Baby!
"Penis pump for Hubby only?" Humm. "Think again. That toy is made for me!"
Ladies, are you tired for trying clitoris pumps to only find they lack suction power? Your search is over. The Hustler Penis Pump is not just for him anymore.
This powerful little pump is a wonderful tool to tease your lover with. Use it to add a whole new demotion to your foreplay. Hustler's pump delivers a firm strong sucking sensation while maintaining an air tight seal. Not only does it provide amazing suction, but it also leaves your erogenous zones sensitive to the touch.
Want to pump your lover and then use your hands to further the stimulation while the pump does its work? No need to worry with this pump, you can let go and it stays in place and does not loose suction power. So let those hands roam and bring your lover to the brink.
Unfortunately, the suction is all that is provided by this pump. When using it no swelling is noticeable thus I feel this would not be a pump for those who are looking for something to aid erectile dysfunction. On the other hand, this pump works wonderfully for male masturbation. By regulating the suction you can pump your way into orgasmic bliss. Face it men, who doesn't want to feel cum being sucked out of there rod? That is exactly what happens!
Easy to use the Hustler Penis Pump utilizes a squeeze bulb attached to an air hose and valve. When the air valve is set to the closed position and the bulb is squeezed air is removed from the tube creating a vacuum. Also, the more times you squeeze the bulb, the stronger the suction becomes. In addition, the air valve allows for quick release of the suction.
Play Safe:
Take it slow, very slow. Over pumping can cause serious damage to your rod. For example, you can bruise the shaft, rupture blood veins, and even cause permeate damage. If you feel any pain or discomfort from the pump it is best to stop immediately and talk to your health care provider. In addition, it is not recommended that you use pumps for longer than 20 min. in one area without taking a break.
For more information on safety issues when using a penis pump check out this
penuis pump safety page.
Also, I found this wonderful page that shares all you ever wanted to know about
penis pumps
.
In addition, the Hustler Penis Pump comes with a handy use and safety booklet.
Design, Material, and Size:
The Hustler pump comes similar to other bulb type pumps. It consists of a
plastic
tube, removable
TPR
sleeve, air tube, quick release air valve, and a bulb.
Tube Length – 8 ¾ inches
Tube Circumference – 7 inches.
Tube Diameter – 2 ¼ inches.
Sleeve Diameter – 7/8 of an inch and can be stretched up to 2 inches.
Max penis girth allowed by this toy 2 inches.
Food-grade material / Hypo-allergenic / Latex free / Phthalates free
The plastic scores an 8 on EdenFantasys safety scale. It can be easily cleaned using antibacterial soap and hot water, your favorite toy cleaner, or even isopropyl alcohol. In addition, this material is safe to use with water, silicone, or oil based lubricants.
On the other hand, the TPR sleeve scores a 6 on EdenFantasys safety scale due to its inability to be fully sanitized. Therefore, I suggest wearing a condom if you are planning on sharing this part of the toy. However, it can be cleaned with toy cleaner or with soap and warm water. Also, this sleeve is only compatible with oil and water based lubricants.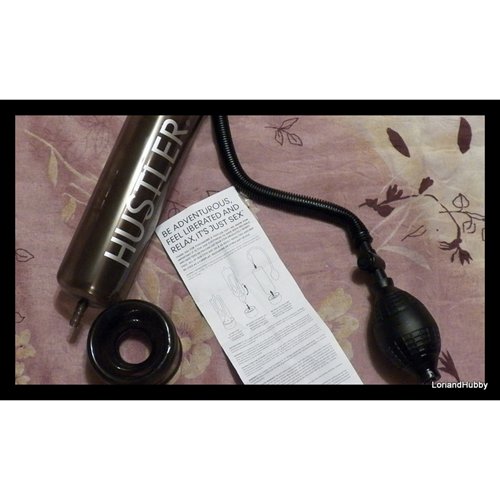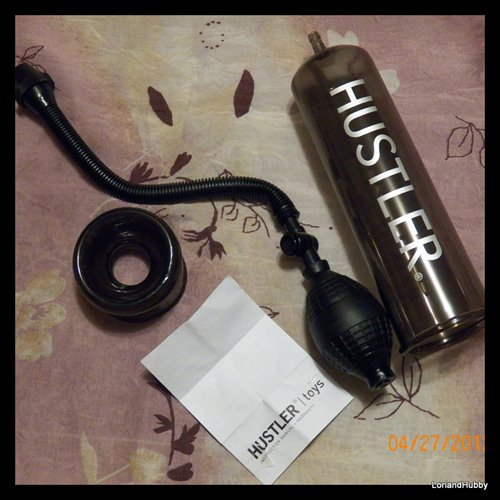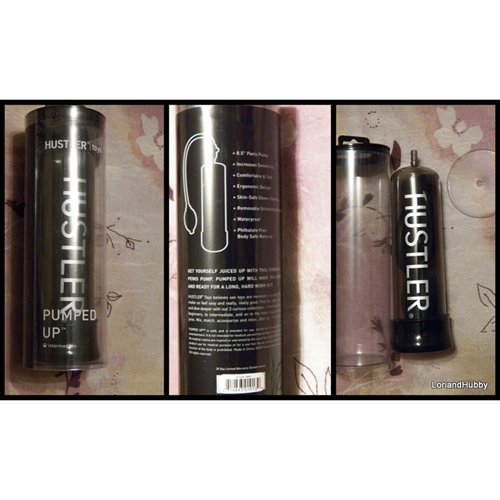 Experience
After Hubby watched a few videos of women using penis pumps and squirting, he was excited to purchase the Hustler Penis Pump to use on me. I, on the other hand, was kind of skeptical. I could not but think, he was a little off his rocker. However since we started this grand experiment of rediscovering sex, I could not tell him no. And I'm so glad I didn't.

Using the pump is amazing. It fits great around my clitoris and labia while maintaining a strong seal without the sleeve insert. Not to mention the powerful suction ability. The feeling of having me sucked hard and firm up into the tube is unlike any feeling I had ever experienced before.

Hubby uses this on me for foreplay with wonderful results. Although I have yet to feel my cum being sucked out of me, it leaves me hot, wet, and longing for more. Recently, we discovered another great use for this pump, nipple torture. Hubby places the tube on my nipple and pumps making my nipple and surrounding area suck way up into the tube. Then he lets go and leaves the tube holding onto me. The tube stays in place without releasing until he decides when to let me loose. It is an amazing feeling that I have not felt before. I never dreamed that nipple torture could feel so good or that I would want it so badly.

Hubby's experience:
Hubby tried the pump out to see what it would do. Although he used a lot of lube, trying to insert himself through the sleeve it felt too tight and caused discomfort. After removing the sleeve Hubby pumped his member, it fit well and kept a tight seal. With only a few pumps he filled up the tube. Unfortunately, Hubby did not enjoy the feeling of being pumped and found it mostly uncomfortable enlarged inside the tube.

Nothing is lost though, I love the pump and Hubby really enjoys seeing my hot spots sucked up swollen inside of it.

If you are looking for something to spice up your playtime, the Hustler Penis Pump maybe just what you need to order. Although this pump does not provide the swelling effect of some pumps, it does provide a nice erotic sucking feeling and leaves your pleasure spots more sensitive to the touch.
Follow-up commentary
2 months after original review
We absolutely love playing with our pump. Although Hubby does not use it for his member, he uses it on me often. The pump has held up well and shows no signs of wear or tare. Over all we are very happy with our purchase and recommend this to anyone who is looking for a pump to use during BDSM games.
This content is the opinion of the submitting contributor and is not endorsed by EdenFantasys.com

Thank you for viewing
Pumped up
– penis pump review page!