Purple Penis Pleaser Performs Powerfully
The Purple UR3 ass palm pal is simple. It is designed around the sensation of tightness and, with the passion of art, gives exactly that. If really strong squeezing is what you're looking for, this does it exceptionally well. At the same time, this makes this toy a bit extreme for "everyday" use. It should be considered a specialist that fills a "narrow" role, excusing the pun.
Published:
Pros:
Great execution of tightness. Discreet, concealable and cheap.
Cons:
A lot of tightness that may overwhelm. Short.
I bought the Purple UR3 Ass Palm Pal on a whim, looking for something to bump my cart total above the glorious "free shipping" threshold. Boys, am I glad I did. Costing a little over ten dollars, this thing is just amazingly good, when we carefully consider its role.
What it is
The Purple UR3 Ass Palm Pal, (I'll refer to it as the PURPL from here on, and you'll generously forgive my mangled acronym.) The PURPL, is a very simple open ended masturbation sleeve made of the UR3 material. It is 4 and 3/4 inches long, 2 inches in diameter at the big end and a little less than one inch in diameter at the small end. This would certainly qualify as a "pocket pussy" if it represented that bit of anatomy. "Pocket Ass" lacks pleasing alliteration. "Attache Anus"?
Here's a photo to give you a sense of scale: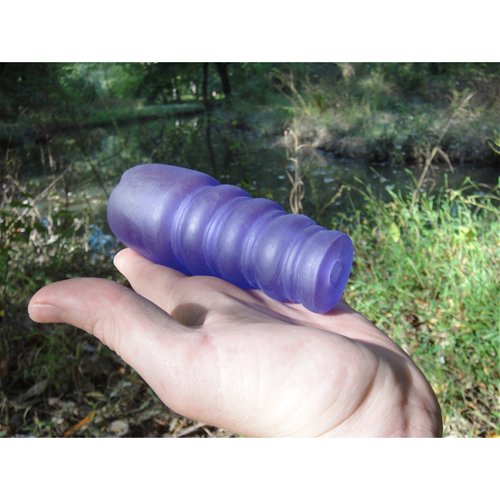 The "business end" of the PURPL is an aperture about a quarter inch in diameter and the canal behind it expands to about 3/8 of an inch. Except for the purpleness, it looks pretty authentic: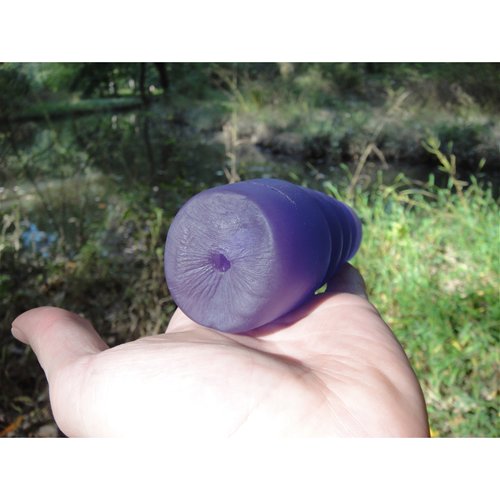 Inside, the canal is lined with what I might describe as "rounded bumps":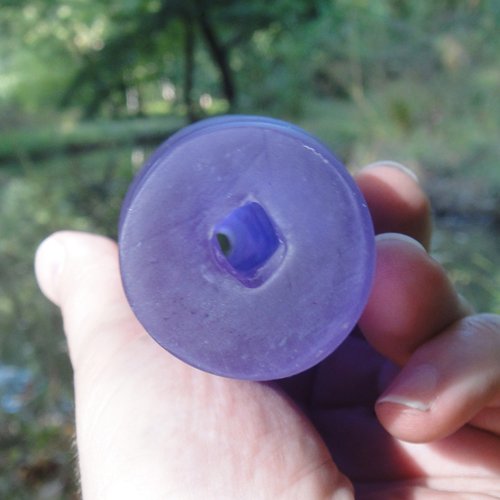 These bumps are fairly subtle, which is good, as I'll explain.
What it's Made Of
This toy simply would not work were it made of anything less than UR3. I simply love this stuff. UR3 (short for Ultra Realistic version 3) is a combination of silicone and PVC (Polyvinyl Chloride). UR3 is made without phthalates (nasty chemicals used in the past to make plastics soft), Cadmium (a really nasty heavy metal sometimes used to make PVC more durable) or latex (not really nasty a all, but some people are allergic to it). It has a remarkable skin-like yielding softness, and at the same time is amazingly elastic. I have repeatedly placed an... "object" not less than two inches wide inside the PURPL, and is shows no signs of tearing. UR3 does have few important limitations, though. First, this material is, like all of the soft flesh-like materials, porous. While Doc Johnson recommends cleaning the toy after every use with warm water and soap, this toy cannot be sterilized. This toy cannot be shared. Because UR3 is a mixture of silicone and hydrocarbon-plastic, oil and silicone based lubricants will damage the sleeve. Only water based lubricant is compatible with UR3.
In Play
The PURPL is small in every dimension, it is therefore, above all, tight. This toy does not work without a lot of lubricant and using it is going to be a little messy. After using a lot of "Probe Thick and Rich" I was able to slide the PURPL over my wider than average penis with a firm, but not forceful, push. Here I immediately felt the difference between the PURPL and almost every other Doc Johnson masturbation sleeve, and I own more than several of Doc Johnson's masturbation sleeves. Most of them are a snug fit, and I like that. Most of them also have huge ridges internally, and that, combined with the tightness makes for an abrasive, irritating feeling after a relatively short period of vigorous stroking. The soft bumps inside the PURPL are much more subtle, noticeable along the glans and shaft, but not overwhelming.
Since the PURPL is short, your penis is likely to protrude from the end, though I found this to provide a pleasing "squeeze and release" around my glans. This also means the the PURPL will become covered in lube, which can make holding on to a tightly-fitting sleeve troublesome. Here again, I was pleasantly surprised by good design. Placing my thumb and forefinger around the lowest groove on the sleeve provided a very secure grip. At the same time, this grip provided a very good simulation of the strong muscles of the anal sphincter, followed by the somewhat more yielding rectum.
There disadvantages of this powerful squeezing. Using the PURPL on anything less than a fully-erect and rigid penis is difficult, there is a distinct "squeegee" effect that pumps lubricant away, making it necessary to re-apply. Also, because of my enthusiastic dedication to provide a quality review, repeated use left me a little sore.
Overall
I really like this toy. It provides the best simulation of anal sex that I've ever experienced. It very tight, but it is designed around that tightness to good effect. Consider it a technical tours de force. It certainly has limitations, but is succeeds fantastically, albeit in a narrow way, that makes it very unique. For the price of admission, I must recommend it.
This content is the opinion of the submitting contributor and is not endorsed by EdenFantasys.com

Thank you for viewing
Purple UR3 ass palm pal
– pocket pussie review page!