Ripley, come quick. And bring the flamethrower!
In the world of male masturbator sleeves, this one falls short. This is just too long, too wide inside and the interior texture really doesn't add very much. Save your money - there are far better products to be had out there
Published:
Pros:
Erm...
Cons:
Smells cheap; Feels cheap; Too wide; Too long; Texture doesn't really do much
Let me start by saying that this isn't a product I'd have gone out and chosen myself. Even if I hadn't tried it, it just doesn't look like something that I'd normally find appealing, but since I've had great experience with my recent two Fleshlight purchases (the
Misty Stone Lotus
and
Jenna Haze Forbidden
) I thought I'd accept the assignment and see how it measured up. And yes, that corny pun was intended.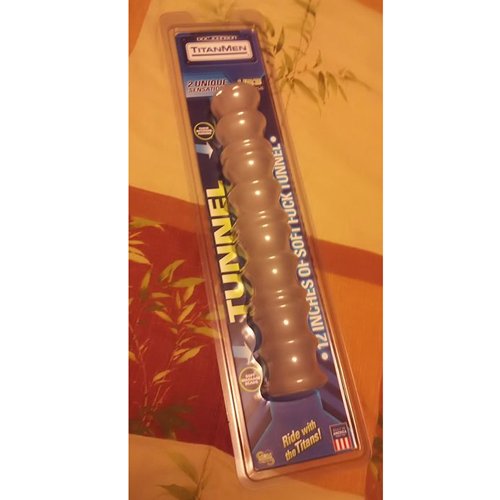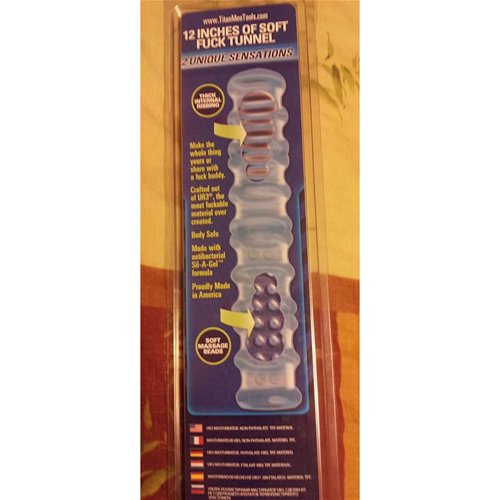 "Hey baby, want to come home with me and help me use my 12" Fuck Tunnel?" said no man. Ever
The first thing you'll notice with this is the length. I'd totally forgotten that this was being sent to me and it arrived in a bigger box than I'm used to getting from EF. The sleeve itself measures a whopping 12" long x 2" wide and and comes in the type of 'adult novelty' blister pack that my wife and I have come to expect from Doc Johnson, taking the overall size to just over 20" long. Not the easiest bit of packaging to try to hide, and you're going to want to keep it because the material is a lint magnet. The packaging itself is nothing more than a piece of glossy paper inserted into a see-through blister pack and is not in the least bit discreet. Not only is the sleeve on full view through the front, with the word 'Tunnel' in big faux-neon lattering down one side, but there are so many references to 'Fuck Buddies', 'Fuck Toy' and 'Fuck' everything else you can think of that even the most hardened adult porn collector would roll their eyes.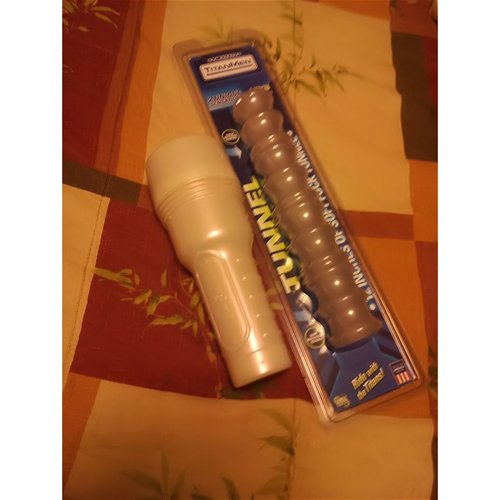 Pictured with the Fleshlight. I always told my wife that bigger isn't better
Speaking of the material, the TitanMen Tunnel is made of Doc Johnson's
UR3
(Ultra Realistic 3.0 in case you were wondering). Coming in at a mere 2/10 on EF's material safety guide, it's phthalate-free, body-safe and includes their antibacterial Sil-A-Gel formula. God knows how they came up with the 'Ultra Realistic' bit though, because the only thing this would realistically compare to isn't from this planet. This material is highly porous, and it's recommended that you use a condom with it - not the most ideal setup for a masturbation sleeve. In fact the material, design, shape, colour and sound (yes, sound - I'll get to that shortly) reminds me a LOT of that tube the Alien Queen lays eggs from in the Aliens film. It probably smells about the same too. If you've got little kids, have them make you a cup of Play-Doh tea, add a little sugar, a splash of vanilla, a pinch of coconut and close your eyes. Welcome to the wonderful world of the TitanMen Tunnel. If you think that's bad, try handling it. I used it just once 3 hours ago and the smell is still lingering on my hands. That's despite washing them three times and using hospital-grade hand sanitiser. Twice. I kid you not, this thing smells cheap. Oh and yes, I did try to wash the sleeve itself first, but that didn't help.
Apparently the reason for the length of this thing is twofold. Firstly according to the minimal packaging it's to offer "2 Unique Sensations" - half of it is ribbed on the inside, the other half has bumps (sorry, "soft massage beads"). Secondly - and you're going to love this - it's to "share with a fuck buddy". Yes, you read that correctly. That's what the back of the label says. I can just imagine the designers sitting there thinking "Well two women can use a double dildo, what about two men who don't want anal with each other?" Personally I can't decide whether that's a ridiculous idea or a brilliant one.

6" of ribbed + 6" of beads = 12" of "I couldn't tell the difference"
When it came to cleaning the sleeve, it's a case of turning it inside out and using warm water and antibacterial soap then let it air-dry before turning it back and applying a light dusting of cornstarch. And this is where the sound thing I mentioned comes into play. Due to the material and the length there's a lot of strange squelching going to go on when you wash this out, so don't be surprised if Ellen Ripley comes bursting into your bathroom screaming "Noooo!". Just another little something to bear in mind if you're going to use this in the vicinity of other people. It's not loud enough to be heard outside of the average bathroom, but if you've got someone waiting outside your door while you're washing this they're going to get
very
concerned!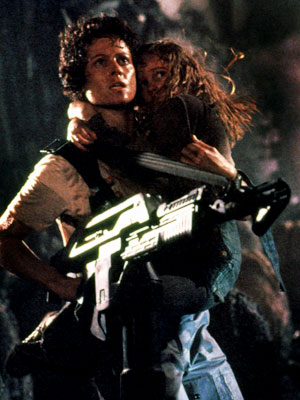 He'll mostly cum at night... mostly
Experience
Since I haven't got a boyfriend to share this with and it would be pointless having my wife fuck the other end with a strap-on, I had to use it alone. Trying to put my Fleshlights out of mind, I was determined to stay as objective as possible. I applied some Maximus lube to either end (anything other than water-based lube is a no-no) and tried it on for size. The first thing I noticed was that the insde of the sleeve was wide. Actually it's not huge, it's just that it stretches. A lot. 6" across to be precise, so this could well be the first male masturbator sleeve that you can actually fist if the mood takes you. So while that was good because it wasn't so tight as to be uncomfortable, it was bad because it just felt like something around my cock. It didn't feel realistic - it didn't really feel like anything in particular. I mean, I was obviously inside a sleeve, but that was about it. Both ends were too loose to provide any sort of grip or friction, although I admit it was kind of sexy looking through the translucent material. It's probably about 50% opaque - a little like trying to watch someone shower through a bathroom window (no, I haven't tried. I've just got a good imagination).
There were two other things putting me off while I was using this sleeve. The first one was the ever-present smell (I know I'm mentioning this a lot but honestly, it's really that overwhelming). The second was the length of the thing. I'm about average endowment but thick, so I went about halfway down the sleeve. Naturally, this meant that the other half was dangling down like a baby elephant's trunk, so the only way to really use this alone is to either hold the floppy end with one hand or to cut it in half. If I thought I'd ever use this again then that's what I'd do, but since this almost certainly won't see the light of day again, it's really not even worth cutting.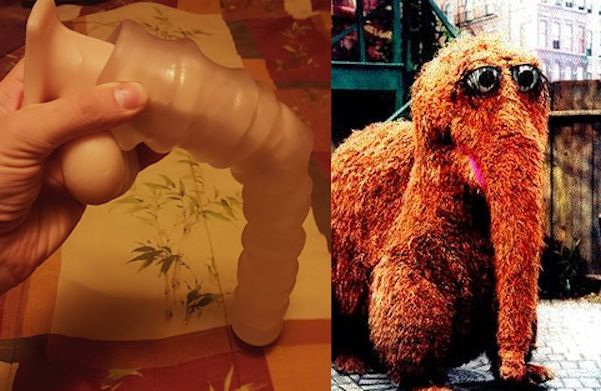 Even the Goodfella can't stay hard when thoughts of Mr Snuffleupagus keep popping up
Unfortunately I couldn't find any redeeming features with this sleeve. I hate seeing things go to waste, but just can't see any reason to ever use it again. If you're a guy with another male playmate then it might be worth trying for the novelty value, but that's about it.
Follow-up commentary
2 months after original review
In the two months since receiving this I honestly haven't given it a second thought. It's sat there under the bed (laying Alien eggs, for all I know), unloved and untouched. In fact it was only the '2 month follow-up' reminder that made me pull this back out. The smell is still there, which is probably unsurprising considering it's been boxed the whole time. I tried it one more time, just to be sure but I still just don't like it. Maybe it's because I've now got three different Fleshlight models and this just doesn't hold a candle to any of them, or maybe it's because it really isn't something that's 'me'.

Sadly, due to the nature of the item and its overall size I just can't even give this away. Does anyone know how you recycle alien body parts?
This product was provided free of charge to the reviewer. This review is in compliance with the FTC guidelines.

Thank you for viewing
Titanmen tunnel
– masturbator review page!