Such a Tease
The title says it all. Sorority tease. This just didn't work well, the jelly material had a smell, it was difficult to insert the penis inside, the stimulation was only okay and the cleanup is a nightmare. My advice, look elsewhere.
Published:
Pros:
Small, compact, can be hidden easily.
Cons:
Rubber/jelly smell, difficult to clean, didn't feel great.
The Glow In the Dark Sorority Tease by Cal Exotics is not something I can recommend to anyone. This is supposed to feel like a vagina, but it felt more like a tight rubber glove when used. This is a good idea, but poor materials and execution doom it.
Packaging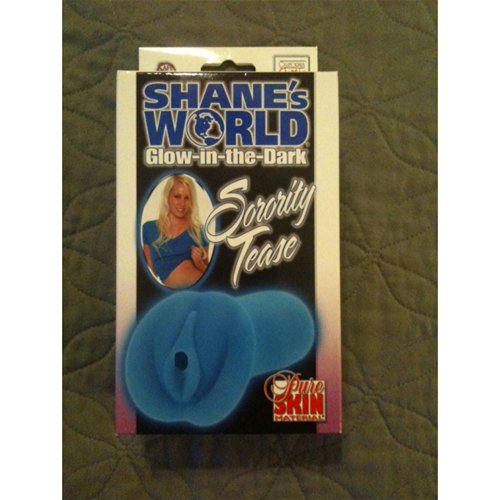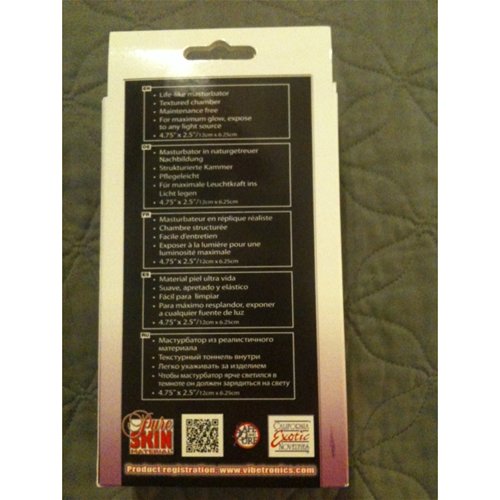 As you can see from the pictures above the Sorority Tease is not discreet. It arrives with a picture of the product on the front with the product name and company name and logo on the front as well. The back of the packaging has a QR code, the company name and logo again and a brief description of the product in several languages. If you do decide to give this as a gift make sure it is someone who you'd feel comfortable giving this to. And you'd probably want to do this in private, because everyone will know what you're giving them.
Once you open the box the tease is in a small plastic bag, and that is it. There are no directions, not that you really need any, but there aren't any directions about cleaning the Tease after it has been used, either in the package or on the box.
Design/Materials Used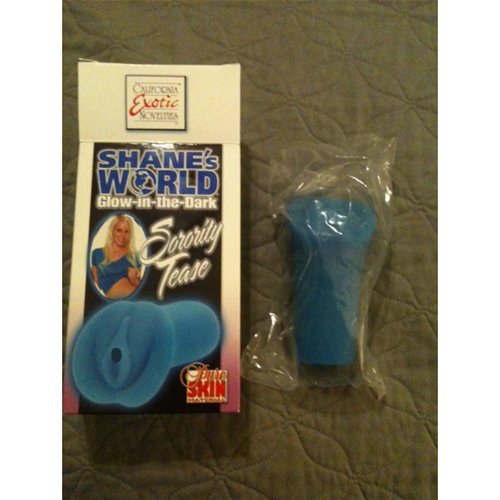 The tease is 4 3/4 inches long and is made from
Pure Skin
. This rates a 1 out 10 on the material safety scale at EdenFantasys and it felt, looked and smelled exactly like jelly toys I have had in the past. It is Latex free and Phthalates free as well.
The texture is supposed to feel like real skin, but when you remove the Tease from the plastic packaging it feels like a rubber ball really. It is quite dense for its size with the product page saying it weighs 0.3 pounds. I didn't weigh it myself but I would say that is pretty accurate, it was much heavier than I was expecting. There is also a rubber type smell that you notice once you take it out of the plastic and after three uses and four cleanings the smell was still there, although not as strong as when I first opened the package.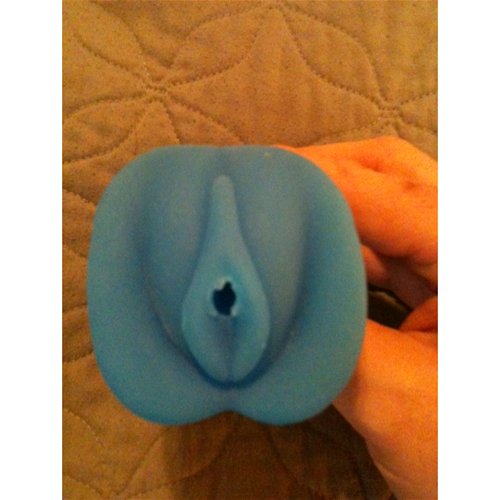 As you can see in the picture above the front of the Tease is made to look as much like a vagina as possible. There is a small hole that you insert the penis into. There is also a hole on the back of the Tease as well for release of fluids and such.
Performance
The hole on the Tease is very small and tight and is designed to mimic a real vagina. It is also supposed to have a ribbed texture inside for stimulation. I will say, this didn't feel like anything close to a real vagina. I would not try to insert a penis into this without lube. It was so tight that I knew that wasn't going to happen. So I took a water-based lube and proceeded to try again. It takes some effort to get the Tease onto your penis. What I found to work to use both hands to hold open the hold on the Tease and then place my penis inside of it. But it takes several tries and misfires before you're in.
Once you are inserted into the Tease you notice the length especially. I am not a porn star, or even super well-endowed. I measure 6 1/8" long and the Tease is 4 3/4" long. So unless you are 4 3/4" or smaller this will not cover your entire penis. The way I chose to use this toy was to move the Tease up and down on my penis. If you get a little too vigorous your head will pop out of the hole at the top/back of the Tease. It's not a bad thing, but something you do notice. I found that small, short movements worked best to keep the Tease over my penis.
The product description page said that there was a ribbed texture, but I didn't find that to be the case at all. I felt the Pure Skin material, but no ribs or ridges while I using it. Cumming in this is not easy either. Once you reach orgasm some of the cum will fly out of the top of the Tease. I found that the best way to use this was when I was approaching orgasm was to move the Tease down so that the head was exposed and ejaculate onto something else.
As far as the Glow In the Dark capability, it does faintly glow when I got it out of the drawer it was kept in. It's not very noticeable, but it does glow some.
Experience
Cleaning/Care

Cleaning the Tease is tedious I will say. Pure Skin is a very porous and difficult material to clean, I have found that it is almost impossible to truly disinfect it. You should clean this before use and after use as well. Soap and warm water or toy cleaner should be used. I tried to use an antibacterial/toy wipe but it didn't get the Tease very clean. Soap and warm water was better, but I never felt that the Tease got totally clean. You can turn the Tease inside out to clean it, especially after ejaculating inside of it. Clean this immediately after using it, do not let fluids remain in this because bacteria will fester and grow.

One reason I don't like Pure Skin or jelly materials is that I don't think you can truly clean this as thoroughly as you can other materials like silicone or glass. One way you could help to keep the Tease as clean as possible is to use a condom when you are using it, which will keep most fluids out of the Tease.

Storage

I would store this in a cool, dark place, and separate from other toys. Pure Skin can melt or absorb the coloring from other similar toys, and I've had jelly toys bind together when stored together before. What we've done is to store this in a large Ziploc bag and then in our toy drawer with other toys. This material can attract dust and lint very easily, so you want to be sure to at least wrap this in something to help avoid it attracting dust or lint.

Experience

I didn't like this Tease at all. Sometimes teasing is fun, but this one wasn't. The Tease never felt great around my penis and I was couldn't get into a good rhythm because of the shallow/short thrusting that you had to do. I kept having my head pop out of the top and take me out of the moment. The Pure Skin didn't feel like skin at all, and the rubbery smell was a turn-off. The length of the Tease wasn't great and worrying about cumming is never a fun way to get off. I tried this three separate times once it arrived, twice solo and once with my wife and I never warmed to it. In fact, the third time I got so frustrated that I pulled the Tease off and finished things myself. Making the Tease a little longer and using a better material might make this a more enjoyable toy, but I'll say no to being teased by the sorority girl.
This product was provided free of charge to the reviewer. This review is in compliance with the FTC guidelines.

Thank you for viewing
Glow in the dark sorority tease
– masturbator review page!