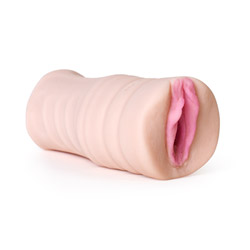 All star porn stars Faye Reagan pussy
Pocket pussy
by Doc Johnson
The Erotic Reagan
The soft feeling, noises, and sensation of sliding in all make for a decent toy. While the smell takes away from the experience a bit, overall it's not enough to truly make a difference, given the other qualities.

This item is definitely worth the price, and a video of Miss Reagan wouldn't hurt in the least to accompany it's usage.
Published:
Pros:
*The toy has a decent fit, both to hand and penis.
Cons:
*The smell detracts somewhat from the item.
*The labia coloring tends to wear off quickly.
This toy works very well as a masturbation aid. It fits comfortably in either hand, and comes with special grooves along the material for an easy and light grip.
Appearance, Smell, Taste, and Sound
The material is a light pink in color, which is pleasant, and it comes with labia around the entrance for added realism. (However, the color on this is seemingly painted on, and the one on mine rinsed off the first time I ran it under water.)
There is an odd smell accompanying the item. I'm unsure whether it's a byproduct of the material, or a lotion added before packaging. To me, it smells somewhat like a mix between almonds and coconut. (Sounds nicer than saying it has a smell akin to tanning lotion.) While not overly offensive, it is present. I am unsure at this point whether the smell may be removed, possibly by soaking the item in soapy water for a few hours, though I cannot guarantee this as doing anything more than getting your toy squeaky clean. The toy does come in a plastic sleeve, and the smell emanates rather strongly from it. If nothing else I would recommended throwing the sleeve away as soon as you receive the toy, to lessen the smell of the toy itself.
While the smell is present, I haven't been able to ascertain any discernible taste or flavor to the item. This can be augmented with flavored lubricants, if you have a preference for going down on your "girl" before the fun begins.
As sound goes, the toy can be rather noisy. While it may be erotic to hear the "slurp, slurp" action, in addition to the other sensations, this may be something of a bother if you live with other people, and don't want them to overhear you.
The last thing I want to talk about in this section is the packaging. The box is only slightly larger than the toy itself. Graphically, the box has the features of the actress this toy is modeled from, an image of the item itself, and information about it.
In addition to the plastic sleeve wrapped around the toy, a small slip of paper is included, detailing the care and usage of the item.
Material
The material is UR3, that is, Ultra Realistic 3.0. This material is a mixture of PVC and silicone, labeled as a "Thermal Plastic Elastomer". It is said to mimic real skin, which I think it does rather nicely. While the page says it is flexible and resilient, the item can tear if you are too rough with it. So you want to be careful there.
In terms of safety, it only receives a 2 out of 10. So if that is a concern, you may wish to read more on the material. You can do this at the following link:
UR3 Material
Care and Maintenance
The big thing here is hygiene. This toy is porous. What goes in, can be hard to get out. Dirt, germs, bacteria, fluids. It is recommended that you wear a condom while using the item. Whether you do this or not, you should clean the item before -AND- after each usage. Running water in the sink, and antibacterial soap on your hand/fingers seems to work nicely for me. I was able to slip my finger inside and rub soap around, before allowing the flow of water to rush through and carry stuff away.
You can dust the item with cornstarch, if you like, to keep it from becoming sticky while in storage. Dark and cool is the way to go here. If you put it somewhere hot, you are likely to find the lovely Miss Reagan coming to look more like a much older woman when you turn your attention back to her. Which wouldn't be good at all. For my part, I wrap mine in a paper towel and keep it in a nice cool metal drawer, that usually stays at 60 degrees or lower.
Usage
The last important thing is a big one. Lubrication. Love it, need it, gotta have it...or do you? Miss Reagan is pretty accepting, as most things go. I've found that a little saliva goes a long way with her. The shape and entry of the tunnel is about the size of a nickel or quarter, so little is needed for penetration.
If you do decide to use lube with this, a little care is needed. The paper included with the toy states that it can accept water-based or silicone-based lubricants. If you decide to use a silicone lubricant, it might be best to use it on a small area of the outside of the toy and see if any negative reactions occur, just in case.
Experience
I have only had this item for a short time. However I have tried using it a number of times, in order to test it in different ways.

In holding the toy during masturbation, I've noted the sound quality. If you hold it near the base, the toy will slurp noisily around your member. The sound is not unlike a rather intense blowjob, and can be gratifying if you are using it in simulation of a mouth. For those who want less sound, if you hold it near the end (where you are supposed to), the sound level drops back down.

I suppose how you grip it is all centered around your personal likes and dislikes. But this should help prepare you, so you don't get caught your first time out.

One additional thing I've found is the hole at the end of the toy. If you place a finger over this while you use the toy, it can create a pleasurable suction on your member. It seems to work best if you uncover the hole while you slide into the toy, and then cover it as you withdraw, to provide the sensation.
This product was provided free of charge to the reviewer. This review is in compliance with the FTC guidelines.
Thank you for viewing
All star porn stars Faye Reagan pussy
– masturbation sleeve review page!