The Ring of Power!
If you love your luxury toys you will be in love with this, it really is the best cockring we've ever tried, the power of the deep rumbly vibes worked well for the both of us whatever way we chose to use it, despite it being too tight for us; its so versatile as a unisex sextoy.
This is also ideal for those men who wish to constrict the base of the penis to prevent orgasm too.
Great for the guys in all ways as well, the girls or a clitoral stimulator to upgrade the toys you have.
Published:
Pros:
Silicon, Quiet and discreet,Rechargeable, Waterproof, Latex/Phthalate free,
Cons:
We needed the next size up,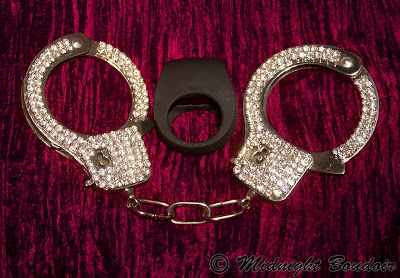 We don't own many men's toys, I have monopolised the market in this house of female sextoys. TOR 2 is the world's first waterproof and rechargeable couples' ring, boasting 100% more powerful vibrations than any product of its kind and is 100% more powerful and slightly bigger than the original TOR so we were really excited to try this out.
Packaging
The TORII arrives in the usual Lelo slip box oozing luxury and class..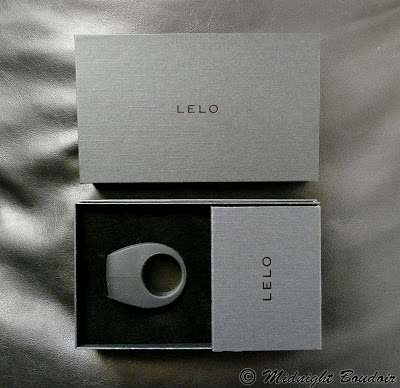 Inside this slip box you pull out a beautiful black box with Lelo clearly stamped on the front in silver metallic writing; as you lift the lid you realise its not just any old card board box it is made by Lelo so even that is solid perfect to receive as a gift.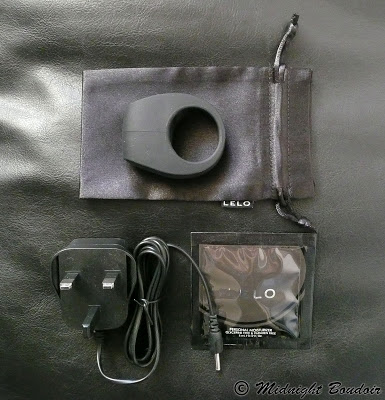 Inside the TOR2 sits inside on a black foam inset on one side, you lift the lid on the other inside revealing the well hidden rechargeable plug and cable, the instruction booklet, a sample of Lelo moisturising lube and a black satin bag to keep it in.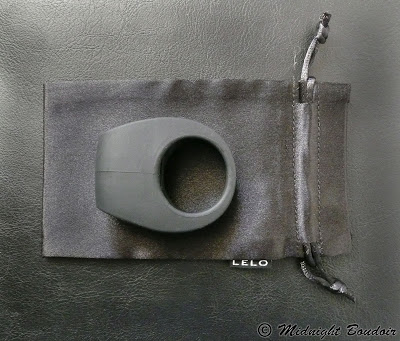 I absolutely adore toys which comes with their own bag; you really feel spoilt when receiving this product.
You also get a 10 year guarantee and a 1 year warranty booklet.
Description
The rechargeable TOR 2 is sealed with a single piece of body-safe silicon which completely seals the rechargeable battery making it waterproof, perfect for cleaning. The sealed battery is ABS plastic.
The super soft stretchy silicon TOR 2 comes in 3 luxury colours black, green and purple,something to suit everyone.
It comes in 2 parts the top is a solid rectangle rechargeable battery which produces the 6 vibrations and pulses controlled by the 2 plus and minus buttons either side of the TOR2. The main stretchy silicon ring will sit and hug the base of the penis to transfer the vibes to the man and to the clitoris of the woman when having sex. Crafted from the best materials available; the soft silicon feels sensually velvety just gorgeous.
The lifespan of the TORII is equivalent to 10,000 disposable cockrings, a fascinating fact that makes this ring very affordable.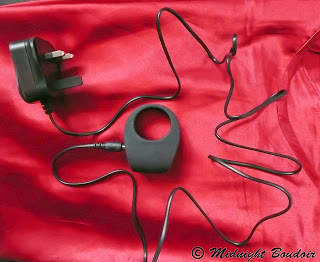 The science bit
6cm x 4.2cm x 2.2 cm, the actual ring has a minimum diameter of 3cm and can stretch to 6.5cm, but will be tight at this. Weight of 30 grams. 50 db (Very quiet)with frequency of 120hz .
Charge
It comes with a long 60 inch cable so it will reach most plugs. The adapter clicks easily into the connection hole showing the excellent quality of this toy.No more batteries....yay!!.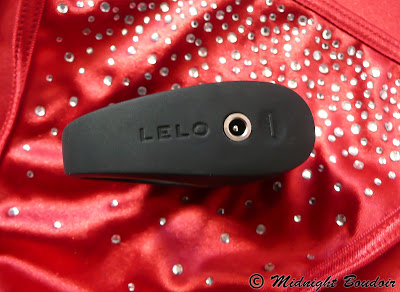 Leave to charge for 4 hours for the 1st charge, then after the initial charge it only needs 2 hours a time this will give you both 2 hours of play.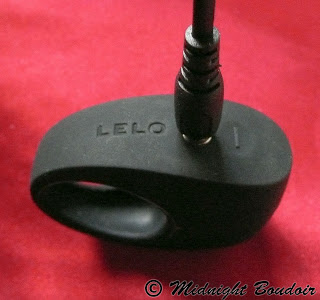 When first plugged in the LED will blink; this light acknowledges you have power and will change once fully charged.
Vibrations
When the TOR2 arrives it will arrive travel locked which I love, you really know you have a luxury product. Just hold the plus and minus buttons down together for 2 seconds to unlock and again to lock when needed.
Once charged you have 2 hours of play. You can also keep this baby on standby ready for 90 days with full charge.
I was so impressed with the power this little toy puts out, even the lowest settings felt rumbly. Plus it is sooo quiet this is the quietest vibe I...er sorry...we own! I could hardly hear it and I was right next to my OH. This really wont be heard through doors even at full pulse and speed, its ideal if have to share a house with friends or children.
The series of patterns and vibrations
1) Vibration from low to high at the press of a button, press and hold for the speed you want, it will escalate till you reach maximum, then press and hold for 2 seconds and as you let go this starts the TOR 2's series of 5 patterns and sequences, this is so clever.
2) Pulse every second,
3) Pulse every 1/2 second,
4) Pulse escalation every second,
5) Rev up and rev down, slower and deeper,
6) Mind of its own, no idea how to explain this one, no real pulse or escalation, its a lucky dip.Secret Santa!
To turn off press minus and hold till it turns off.
TIP
It is advised men not to wear this for more than an hour, especially around the testicles because of the constriction.
Experience
Use
The TOR 2 is best put on when the penis is soft, stretch the ring open and slide over the penis with a water-based lube (not silicon)till its at the base with the vibration part on the top, this gives a tight comforting fit for the man and will provide stimulation to the clit for us girlie's.
The TOR stretches to approx 6cm but will be tight.
Some men may even enjoy stretching this around their testicles too this gives constriction and sensation to the peri-anal area while the tension maintains the erection. But I personally feel this maybe too tight for most men to do this.Especially to remove afterwards ouchy X 2!!!
OH opinion
For us we sadly couldn't use this as a couples toy as my OH is so well endowed with his girth of 2.2 inches in diameter, he couldn't stretch it enough to slide it even to the base of the penis, it really is tight; but it wasn't a problem to us at all as he was able to stretch it so the rectangle battery area (with the most vibrations) sat tightly against the front of the penis on the Frenulum the F-spot, this gave incredible vibrations right where its needed most, the ring itself carried the vibrations well around the whole penis, better than any cockring he has ever used and it worked its magic fast...Woohoo!
He loved the variety of vibrations and number 3 and 5 were the best for him; but would he have liked something extra rumbly when it was at maximum with these 2 sequences. For example he recommends a build up for a second then stay at that speed for a second that would have made it perfect, but its still the best cockring he's ever tried.
This is the first cockring which he was able to orgasm completely without any manual help, he was able to sit back hands free and enjoy the vibes till the point of orgasm; then for him he felt he just had to support the testicles to feel secure and held and then was able to come hard.
This is because when the TOR 2 is tightly on the penis the vibrations are so strong they bounce the penis in time with the vibes by itself, quite entertaining to watch and a huge turn on for me.
My Opinion
As we couldn't use this as a couples toy...sniff sniff, but hey whose complaining I have a partner who is well endowed, I'll take that any day..lucky me.I used this on its own as a separate clit toy and I was there in minutes; I too loved the deep rumbly vibrations of number 4 and 5, they felt incredible. The shape of the TOR 2 enabled me to hold it by the ring and it sat nicely between my lips.
Upgrade your favorite vibes and dildo's
The TOR 2 fitted perfectly onto a few of my favorite toys by upgrading any of insertable toys to an extra clit/rabbit type vibe too, believe me you will be fighting over who is going to use this toy. We both loved experimenting on different ways to use this gorgeous luxury toy.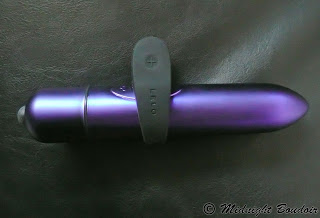 Rocks Off Ammunition 160mm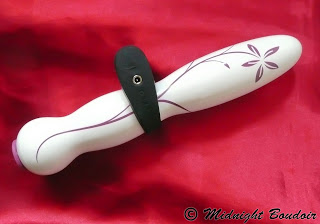 The Lovemoiselle Noemie
Follow-up commentary
1 month after original review
We still cannot use this as a couples toy due to my OH being well endowed, but he still enjoys using the powerful vibrations with it just under the Frenulum, its the only cockring that works as strong as this one.

I'm just still slightly gutted we dont get to share this together, but then I get my enjoyment from watching him play.

I would still wholly recommend this toy for you guys.
This content is the opinion of the submitting contributor and is not endorsed by EdenFantasys.com

Thank you for viewing
Tor II
– sex toy review page!