They Do Make Comfortable Thongs!
This thong may be the most comfortable underwear I've ever worn, seriously. It's silky, sexy, and it feels like you're not even wearing it. Your partner will definitely know you're wearing it, though. They will love the clasps in the front that provide quick, easy access to all the important parts.
Published:
Pros:
-Silky look and feel
-Clasps for easy access
-Good quality
Cons:
-Not a big fan of the waistband logo (nitpicking)
What Is It:
Black Thong with Clasps by Zakk
What is it? It's my new favorite thong! The wife is a big fan too.
This solid black thong is part of the Zakk collection made for men by Coquette. It has a silky smooth look and feel while being extremely comfortable. Coquette gave this thong a nice touch by adding clasps to either side of the "pouch" so you can access the goods even when your partner's tied to the bed (for example).
This thong comes in a variety of sizes and colors. Sizes small through xl are available in black, black/green, or black/blue. Sizes small or xl are also available in a leopard color.
Material:
90% Polyester, 10% Spandex
Coquette made this thong using mostly polyester and a little bit of spandex. The benefit of using these materials is that you get a thong that is made from strong material that has some stretch to it. The material is resistant to most stretching, shrinking, wrinkling, and mildew.
The material has a soft, silky feel. Your partner will love rubbing their hand (or any other parts) over it. It feels sexy and has looks to match. The majority of the material has a black matte look almost, while the waist band and trim has a little more shine.
There were no unusual smells with this product.
Design:
*All measurements are taken with the thong laying flat*
This is a pretty standard-looking thong design wise except for the plastic clasps that attach to either top-side of the pouch. They are similar to a clasp you would find on bra that opens in the front and connect the pouch to the waist band. To open them, you each side of the clasp and fold one side towards the other like you were trying to fold a piece of paper in half. The clasp will click and then you can slide the half attached to the waistband down away from the clasp. A clasp makes for a nice change from an ordinary thong and also adds a little sexiness to it. My wife loves that regardless of what position or situation she may find me in, she can easily remove this thong and get what she really wants.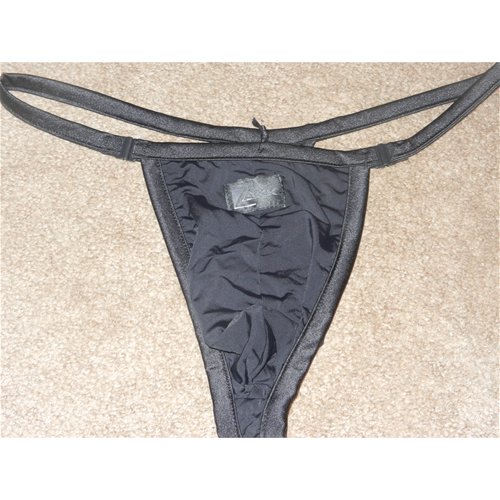 The same material/strap that is used for the waistband outlines the entire thong. It runs along the top of the pouch as well as down both sides all the way to the back strap/waistband. The back "T" looks wide due to this strap material, but don't worry. This thong is the most comfortable thong I've ever worn and you won't have any discomfort. Although I haven't tried it yet, this definitely feels like a thong you could wear all day and probably forget you were even wearing it.
There is a Zakk logo in the top middle of the pouch that I'm not a big fan of if I'm being nitpicky. While it looks very nice (although the sewing job is a little sloppy), I would have preferred not to have it at all. If my wife is running her hands over the material I wouldn't want a label to get in her way, but I do understand the company wanting to get there logo out there. It's really just a minor complaint and I wouldn't let it hinder me from purchasing this product. You'll find the usual size/materials/washing instructions in the usual place (inside-back) of most thongs.
An experienced seamstress would find a sloppy thread here or there, but nothing that caused me to believe this product would fall apart before a reasonable amount of time. Overall, everything about this thong looks attractive and well made.
Sizing:
*Sizes range from small to xl in most colors*
I could not find an official size chart on Coquette's website. Googling the Zakk brand size chart brought me the following measurements:
Small ~ 30" – 32" waist
Medium ~ 34" – 36" waist
Large ~ 38" – 40" waist
Extra Large ~ 42" – 44" waist
The sizes are accurate based on the sizing chart, but they run big compared to other men's sizes that I've had experience with. I didn't have the size chart to look at when I took this assignment so I picked an xl size as that's what I typically wear. The thong works for me, but it is pretty loose. It's not falling down or anything, but based on the size chart above I should have went with a large. I usually wear a size 38 in pants so the large would have fit well. The material also provides a good amount of stretch, so I wouldn't hesitate to order a size smaller if you're between sizes.
Experience
Storing, Care, and Packaging:
This thong came in a clear plastic garment bag. There were no pictures or anything on the packaging, but there is a tag pinned to the thong that shows a model wearing the product.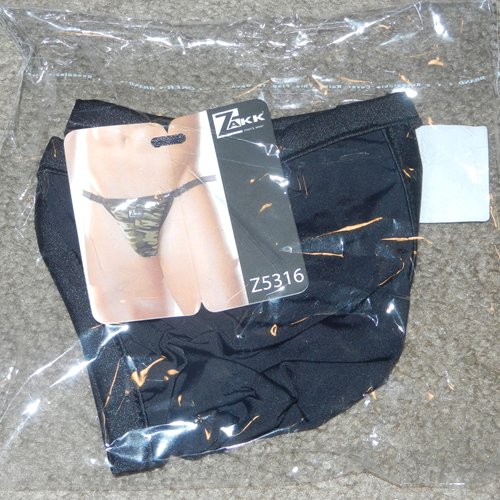 This thong is super easy to take care of and store. Coquette plays it safe and says to hand wash this and hang it up to dry, but you could just as easily wash and dry it with your other clothing. It holds up fine and I have not seen any reason to think otherwise. Store this in a drawer, the garment bag it came in, the corner of your bedroom, the corner of someone else's bedroom…you get the idea. It's that easy.
Follow-up commentary
3 months after original review
This is my go to item to wear when I want to show off for my wife. We both still love it. She loves it for its easy access and I love that it's comfortable enough to wear all day. It's holding up well and still looks new. This is simply the best thong I've ever owned.
This product was provided free of charge to the reviewer. This review is in compliance with the FTC guidelines.

Thank you for viewing
Black thong with clasps
review page!