Tickle Me Purple
I would recommend this for beginners rather than advanced users, unless the advanced users got a little "creative" with their fun. I say this because this toy doesn't really do much on its own. It has little "ticklers" all around the toy for stimulation, but it does not vibrate, nor can you place a vibrator on it.
Published:
Pros:
Compatible with other jelly-based toys, easy to clean, has mild scent.
Cons:
Collects dust and hair.
My boyfriend and I had purchased this toy on another online site prior to discovering E.F. We needed to add up to a decent total for a fair deal on shipping our products, and this was our last pick out of the start-out collection. We figured we would have a variety of picks; we are somewhat new to the sex toy world and wanted to have some options for fun, so we kept an open mind while purchasing. When we found this toy, we figured it was a good idea to work our way up to different toys such as the vibrating cock rings, then ones with full sleeves, and then ones with multi-speeds, and so on. For a beginner starting out, this toy is actually really fun and feels good in more than just one position, as we had discovered when using it.
My boyfriend and I use it with a condom (Durex Love Condom) because of the risk of the jelly being in contact with skin. I've read about how rubber-based jelly products, along with other sorts of jelly-based products, are not good for actual skin contact. When reading through the information on the E.F. site, this particular cock ring lists that it is a "Hygienically safe jelly," but when you look on its packaging, it does not list this detail. Regardless, we have tried this ring with and without a condom and had experienced no real harm, so I would assume that it is okay unless you are allergic to this type of material, in which case it is probably best not to use it at all. It was perfectly safe for my boyfriend and me when we put it to use.
The packaging of this product just says "Super Stretch Stimulator Sleeves." The toy itself, with its un-stretched diameter, is about 1/2", but with stretching, it can stretch up to 4" without breaking. When first opening up the packaging of the cock-ring, the first thing you'll notice is a scent, but it is not enough to say it was overwhelming. The scent smells like grape, which seemed similar to the smell of a grape popsicle. It actually kind of made me want a popsicle shortly after noticing. When touching the product, the first thing you will notice is how extremely smooth it does feel. It's super flexible and bendable in every direction, and as mentioned earlier, very stretchy. The packaging itself, I would say, is not very discreet: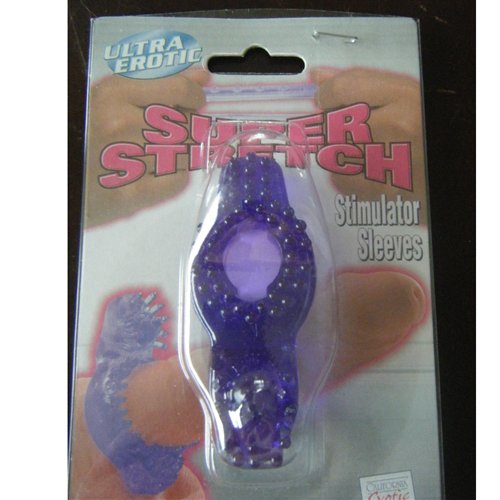 As you'll notice, it is probably best not to leave this type of packaging laying around the house if you were to have company just because it does clearly show for what this toy is used. As far as the delivery packaging, that was very discreet, and you couldn't even tell what it was or where it came from really.
I keep the packaging of this toy because I do not have anything else to store it in, but with all the toys that I own, they all have their own packaging or zip lock bags, and the batteries are kept separate. This toy I would consider to be travel friendly. Heck, it's small enough to put in a purse! Really, it's not overly complicated to pack away, unless you threw out its packaging. Then maybe a zip lock bag is best. Still, if you were to go on a plane and had to go through a scanner with your luggage, this toy isn't metal, so you are in luck for being able to keep it private.
Experience
I believe this toy could fit all sizes just because of my boyfriend and my experience. He's pretty thick and had mentioned that this cock ring did not feel overly tight or snug around his penis, but it also was not overly loose either. It seemed to have stayed in place better than our vibrating cock ring. He said that it felt pretty comfortable, and that was while wearing it with a condom. He also had mentioned that, with the cock ring, it does help the first time to prevent from finishing too fast, but after that first time and if we were to go again later, that it would not allow him extended time before orgasm again.

I have recently tested the stretching on a toy I own (which you can see pictures of in my other review "Hippity, Hoppity, VROOM"). I had this product on near the top of the toy, and it seems to have fit alright without a problem.

Its not overly complicated to wash, but it can be a bit of a pain. Since it has all those little ticklers or "tentacles" around the ring, it makes you have to spend more time in giving it a thorough clean. For those who are pretty patient with their belongings or with life in general, this won't be an issue. For those who are always on the go, well, this might be a little annoying. At most, it's just an extra minute or two of your time to clean, and really if it's just that much, it's no big deal right?

This toy does not list if it's waterproof or not, but after putting it in water to wash and noticing that it shows teeny, tiny, little spots of wear on it, it is probably not really full on waterproof. This is can be cleaned with toy cleaners, but I have anti-bacterial soap that's lightly scented, and I have been using that to clean it. I noticed that after first cleaning this toy, there was already a tiny, little bit of wear to it, as I said, but nothing noticeable like a tear. It's almost like the outer layer of the toy is wrinkled and somewhat close to peeling off. I don't know if it's the soap or the way we washed it, but I will be sure to keep an eye on it for the future.

This toy is definitely not something to leave around in the open area to where animal fur, dust, or any other types of tiny specks of dirt may be because it will undoubtedly pick it up, and you will have to be washing it constantly, which could create a lot of wear to the toy itself.

Overall, I was not disappointed in this toy by any means. I felt fully satisfied, and for the price, I was pretty impressed with the outcome of the various activities in which it participated. For something this reasonable of a price, it would be good to have as part of a collection. I'm glad to have it as part of my "party-bag" collection of fun!
Follow-up commentary
3 months after original review
This toy is still in my top favorites list for use. It's only just starting to get a little bit of wear into it but still works wonders for me.
This content is the opinion of the submitting contributor and is not endorsed by EdenFantasys.com

Thank you for viewing
Stimulator sleeve-noduled
– cock ring review page!