Vagina-bot, Commence Squish Mode!
$75 may seem a rather steep investment for a masturbator that only affords about 50 sessions (that is, if you're careful not to be too "vigorous" each time). However, the Tenga Flip Air White does provide a level of luxury and a truly unique sensory experience that no other masturbator line can boast. If you have the money at hand to pamper yourself, this is the way to go. Sexy and futuristic in the same breath, the Flip Air is one of a kind.
Published:
Pros:
Durable plastic case/base, textured exterior, phthalates-free,
Cons:
Noisy, may be too tight, TPR "mouth" of toy not securely attached to case, short lifespan
I was really interested to try the Tenga Flip Air White with my partner. I got him the
Tenga Flip Hole Black
last Hanukkah, and he loved it. There were a few minor issues, however. For example, the outside of the cylinder had a ton of exposed TPR, which collected dust like crazy. It was virtually impossible to keep this thing clean in storage, and once it was taken out and played with, it got covered in all kinds of lint and dog hair. He also found the Flip Hole to be a little bit overstimulating, with the ambitious variety of textures and dips and contours. His Flip Hole has been retired since last year, somewhat to his relief, due to a lot of wear and tear to the outside of the toy rendering it dingy and icky.
The more modest appearing Tenga Flip Air White seemed like it might be a good alternative to the Flip Hole Black. The Flip Air White appears very similar to the Flip Hole, and in many ways, it is. Both The Flip Hole Black and the Flip Air White are roughly 7" long and 3" in width. Both claim to be able to accommodate any size penis, though this is not exactly true (more on that later). The Flip Hole and Flip Air can each flip open to be cleaned and dried thoroughly, and are both able to be fucked and then stored in the same wonderfully convenient base/stand. Beyond these attributes, however, there is quite a bit that's different. Ultimately, we found the Flip Air excelled for us in ways the Flip Hole did not.
Most importantly, the Air White is far more durable. Its case and stand are entirely plastic with not a stitch of TPR to be found. The air release buttons - designed to release air from the inside of the toy to create a vacuum effect - are made from rubber. However, these are quite sturdy, as is the hard plastic. It'll be a tough job to fracture the hard plastic, provided you don't jump up and down on it or use your masturbator to prop up an uneven dining room table. This? I love. The outside of the Flip Hole was way past its prime long before the inside of it ever was, which was highly disappointing considering the cost. This material combination makes for a low maintenance toy that can be tossed under the bed or into a sock drawer at whim. When you pull it back out, it won't look like the business end of a Swiffer. It also won't be pock-marked with scars and tears, which in a material like TPR, can easily run like a pair of cheap nylons.
The material also has a rather ingenious textured design that makes gripping a hell of a lot easier. It really comes in handy, as lube inevitably will end up on your hand during a session with this thing. Think of an inversion of a basketball's surface.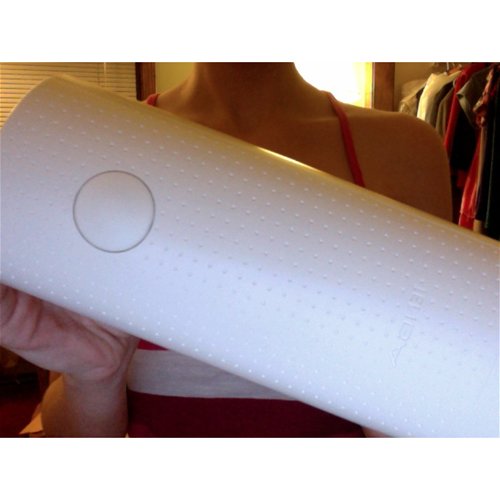 As for the inside of this masturbator? My partner and I were concerned upon popping this one out of package. Before we could even crack this thing in half and examine the texture of the walls, the view from the entry was quite intimidating. In use, though, this futuristic jerk-off device isn't even half as stimulating as it appears it would be - which we consider a good thing. Unlike the Flip Hole Black, the suction seems to be a bit less intense. This may only be illusory; perhaps the diminished intensity of the texture makes it
seem
like the suction is less intense. Perhaps having only one suction/pressure button really does make it less intense. For whatever reason, though, my partner found that this one was less like battling a Hoover.
The texture inside was also far more enjoyable. He found the area at the back of the Flip Air was far more friendly to the highly sensitive head of his penis. A square inch area covered in goose bump-esque nubs on one side, mirrored on the other side by a square inch area of gently striated, large spheres were just the right amount of stimulation. The remaining area throughout the toy primarily resembled the weave of a wicker basket. It felt a bit ropey to the touch of the fingers, but on the head and shaft of the penis was rather pleasant.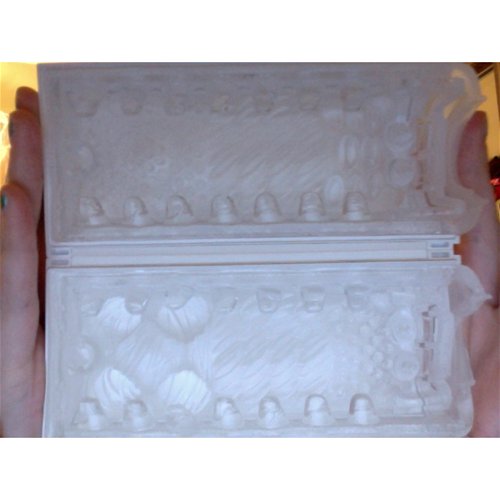 Experience
The Flip Air White was a little tighter than was comfortable for my partner, but we expected this. He's a big guy and the Flip Hole Black was also pretty snug for him. They key is, if you're a bigger guy? Opt for a toy with a less stimulating interior, even if you enjoy a lot of stimulation. The extra pressure and suction that you'll get with these toys due to your size will automatically amp up whatever stimulation you're in for. If you are of a more average size or smaller, feel free to choose the toy with the guts that look best to you. And no matter what size you are, don't be put off by the unusual look to the textures. This may not look like a flesh and blood vagina, but it's not meant to. The Tenga Flip line is a thing unto itself. If you go into it expecting to feel something similar to a vagina? You will be disappointed. But, if you're open to experiencing something totally new and highly pleasurable (provided you pick the version that's right for you), then you'll love this Vagina-bot!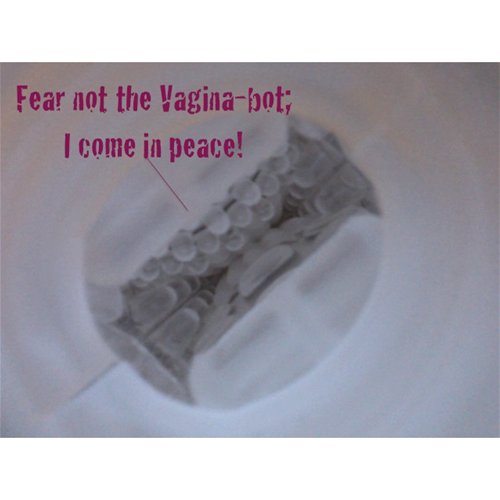 The Flip Air White is surprisingly easy to clean for such a complicated looking vibrator. The TPR Silicone is a bit delicate, and all the fine texture makes it even more dainty. Gentle antibacterial soap and warm water will be just fine for cleaning your Flip Air though, just take care when scrubbing. We like to put the soap and water directly onto the inside and gently massage with the tips of the fingers to create a lather and rinse. Shake out excess water (towels will leave behind lint, so try to avoid them) then, either balance your toy open on the base, or lay open on a flat surface to dry. Your toy should last a good 50 sessions if you take care when cleaning and stick to water based lubes. The TPR around the entry of the toy is not as securely attached as it could be, so keep an eye on this area for wear and tear.
TPR Silicone is semi-porous so this should not be shared unless condoms are employed during play. Discoloration or the TPR taking on any smell other than the original smell of the TPR (or perhaps the smell of the soap you use, if it has a fragrance) should be considered a sign that your toy is getting close to retirement.
This product was provided free of charge to the reviewer. This review is in compliance with the FTC guidelines.

Thank you for viewing
Tenga flip air white
– masturbation sleeve review page!