Who Likes Short Shorts?
If you or your man are looking for the ever-elusive sexy male underwear and want something just a bit different from the usual black, whites and reds then these are worth buying. They're comfortable and will help turn any man from Clark Kent into your bedroom Superman, although they're probably not the best choice for regular all-day wear.
Published:
Pros:
Nice colour, sexy, well-made with no loose seams, mostly comfortable
Cons:
Itchy waistband & tag. Could snag on fingernails.
I admit it - men's underwear pickings here on Eden are thin to say the least, so I've found myself buying things I wouldn't normally, purely because they're there. Some things are best left to the deepest, darkest reaches of the top drawer (no, I'm not telling you what they are) while others see the light of day on a semi-regular basis. Male Power's Low Rise Shorts actually fall into the latter category - I bought them because I was jealous of all the lingerie my wife gets from here so wanted something that would make me feel sexy.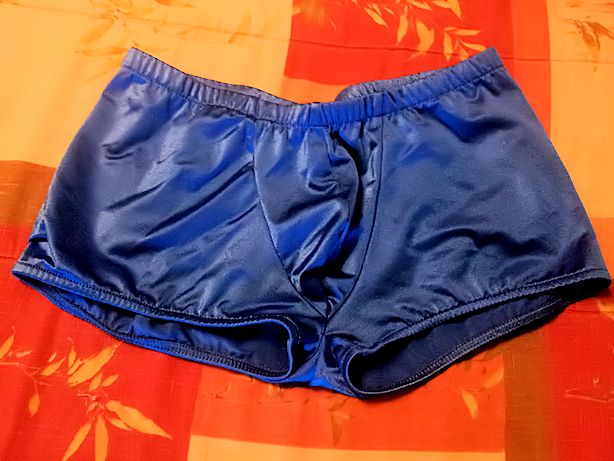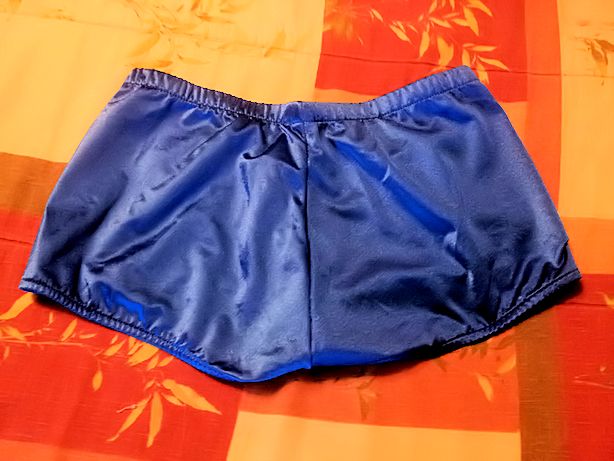 I'd already bought other Male Power underwear here on EF. They're usually pretty good quality and are always sexy (depending on your definition, of course), but all have one design flaw that really irks me - the extra bit of material at the crotch. I'll explain that shortly.
I bought these in a Medium, listed as being 32-34" and I'd say they're spot on. I'm around 33-34" and these are a snug fit. I'll sometimes buy Small if I want tight underwear (Coquette, for example), but I'm glad I didn't with these, they'd have definitely been too small to be comfortable. When these are in stock, they're carried in sizes ranging from S to XL.
The shorts are made of 85% Nylon and 15% Spandex. They don't feel like ylon, but rather feel more like clingy satin. When on, they feel fantastic to the touch and my wife loves to stroke me through them (I just have to be careful she doesn't rub too hard - we don't want a static electricity build-up down there!). They're easy to care for, and I've stuck to the label instructions for each of the half-dozen times I've worn these, and they still look like new.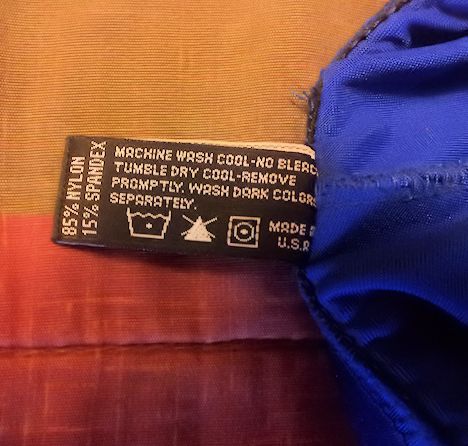 Speaking of the tag, one of my few criticisms of these and other Male Power shorts is the stitching. It irritates so much, I'm sure it should be called itching rather than stitching. It's terrible! I thought it was just the tag, but it's the whole top hemline. It's worst at the bag around the tag area. I can usually ignore it, but if I wear these on a hot day and start getting too warm then it's more noticeable.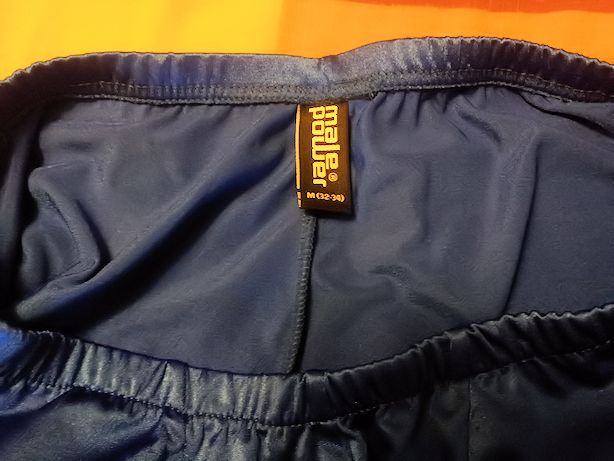 (Image darkened to show the waistband stitching)
While I'm on the subject of criticisms, I might as well mention my other one. Male Power, as well as some other manufacturers these days, seem to think that most men point their package straight down. God knows where this idea comes from. I don't exactly go around asking friends which side they dress on, but I don't think I've ever met anyone who doesn't choose one side over the other. But since I own the likes of their
Black Brief with clasps
, I've noticed that it's becoming a bit of a trend. These shorts aren't quite as bad as the briefs though, but they've still got a little extra material below the testicles, meaning that these shorts don't cup you and aren't shaped around your balls but instead come to a bit of a point down there. It sounds worse than it is though (except on those black briefs - it's terrible on those!), and is a minor annoyance that I think stops these from looking quite as sexy as they could.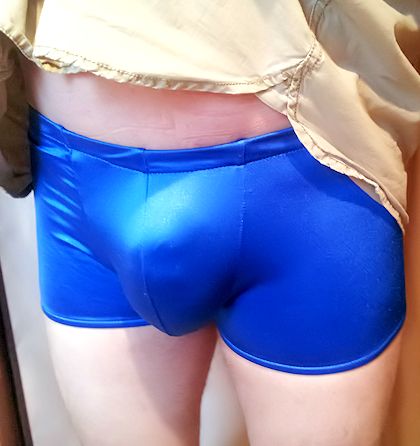 Overall though, the pros outweigh the cons. The royal blue colouring might put some off since it looks like it's something that Superman or Spiderman might wear under their outfits. It's also a brighter shade of blue than the website suggests. Personally I think the colour makes a great change from black or white and really helps to show off your own buns of steel!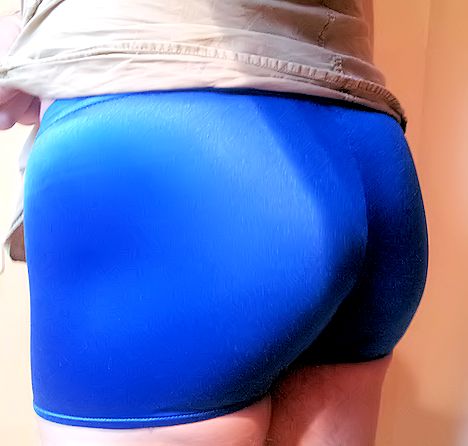 This content is the opinion of the submitting contributor and is not endorsed by EdenFantasys.com

Thank you for viewing
Low rise short
– shorts review page!