You Need Serious Cojones To Wear This
Think jockstraps are only for sporting activities? Think again. Men now wear jockstraps as everyday underwear because they're both comfortable and sexy. Unfortunately, Coquette's offering has an overly large pouch that is unflattering, unless you happen to be blessed with pornstar sized cojones. Add in questionable stitching quality and this jockstrap is nothing but a swing and a miss.
Published:
Pros:
Comfortable,
Accurate sizing
Cons:
Questionable construction,
"Crotch wattle"
Use
The jockstrap was originally designed to support the male genitalia during vigorous activities such as during sports. The pouch cups the genitals while the straps provide support in a minimal design that allows maximum comfort. In more recent times, the jockstrap has been worn by men for both fashion and comfort. The basic shape is similar to a standard brief but without the back panel. This design allows for maximum ventilation during sweaty activities but also allows for access to the wearer's ass.
Material
The pouch of the jockstrap is made of 90% nylon and 10% spandex. It's very thin and has a silky, almost slick feel to it. It feels unlike any of my other underwear. The spandex in the fabric allows the pouch to have some stretch. Being white and so thin, the material is slightly see through, especially if you press up against the fabric, and more so if it gets stretched at all. The waistband is a typical elastic band found on most underwear for men. It stretches well and sits comfortably against the skin. The waistband features the name "Zakk," the male brand for Coquette, in large print. The logo waistband is typical for male fashion underwear these days.
Shape/Design/Fit

Based on the Coquette size chart, I opted for the medium size since I currently have a 32" waist. The waistband measures 29.5" which accounts for some stretch with a proper fit. I found the waist size to be pretty accurate. Because the sizes overlap slightly, you could certainly size up if you prefer a looser fit. The 1.5" wide waistband provides a comfortable fit and distributes pressure evenly so there is no pinching. The leg straps are only 1/2" wide but are comfortable and frame the ass nicely. My personal preference is for slightly wider leg straps, but these were fine.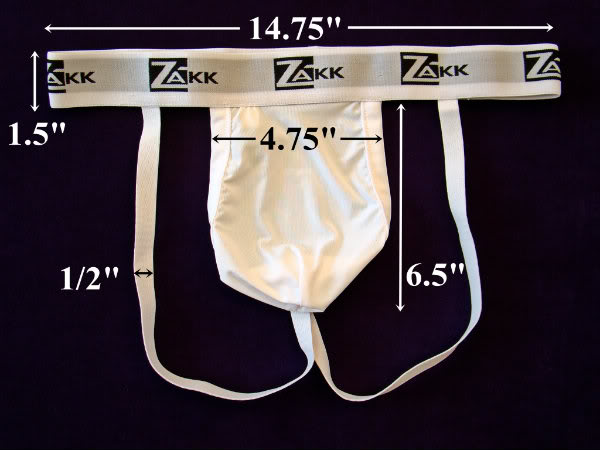 The pouch is created from a single piece of material that is stitched together at the bottom to create a cupping effect. The problem for me is that the pouch is way too large and does not provide really any support. Instead of hugging and lifting the penis and testicles up towards the body, mine hang freely as if commando. It creates what I refer to as "Crotch wattle." You know that flap of skin hanging from your grandmother's neck? Now imagine it hanging from your balls. Yeah, not sexy. I am not hugely endowed and would actually consider myself on the small side of average. However, you would need seriously large cojones to fill out this jock. And the picture of the model wearing it on the product page? His jock is either stuffed and/or there is a significant amount of photo editing going on. The material is too sheer to not see any details with it as stretched as it appears on the model.
Poorly conforming pouch compared to another jockstrap:

Crotch wattle (tags also visible):
For whatever reason, Coquette elected to sew the labels to the band on the inside of the pouch. The problem is again that the material is so sheer that they are easily visible (notice again that you don't see them on the model). Sure, they can be cut out, but a better place would have been at the back of the waistband. Or better yet, make it tagless.
Most of the jockstrap is sewn together with double stitching, which is a nice feature. Unfortunately, there were several loose threads found before it was ever worn. I was concerned that these might continue to fray (see more about this below).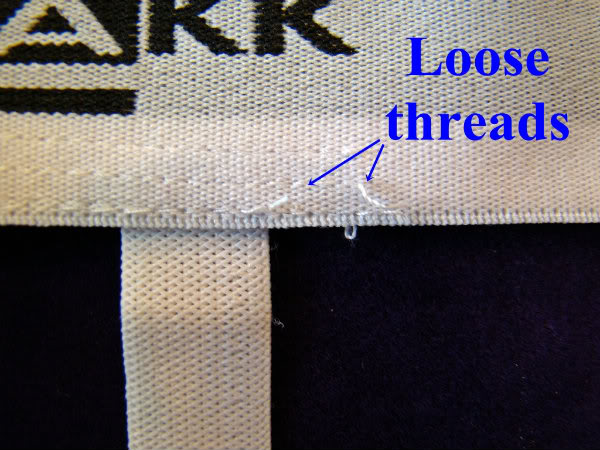 Care and Maintenance
Included care instructions indicate that the jockstrap should be hand washed in cold water only and drip dried. Do not use bleach or an iron. Realistically, not many men are going to actually hand wash their underwear. Hand washing is for delicates, which most men do not wear. So I threw the jockstrap in with the rest of my laundry to test it out. It was washed in a normal load with my whites and tumble dried. Overall, it came out fine except that more of the threads appeared to be coming loose. I'm a bit concerned that the jock will start falling apart prematurely. However, there was no appreciable shrinkage and the material remained soft.
Packaging
The jockstrap comes in a minimal package consisting of a clear plastic bag secured with an adhesive flap. There is no information on the outside to even identify what the contents are. The packaging is not appropriate for gift giving and cannot be recycled, but it is somewhat eco-friendly given how minimal it is. A small tag showing a model wearing the jockstrap is attached to the waistband and can be seen through the packaging.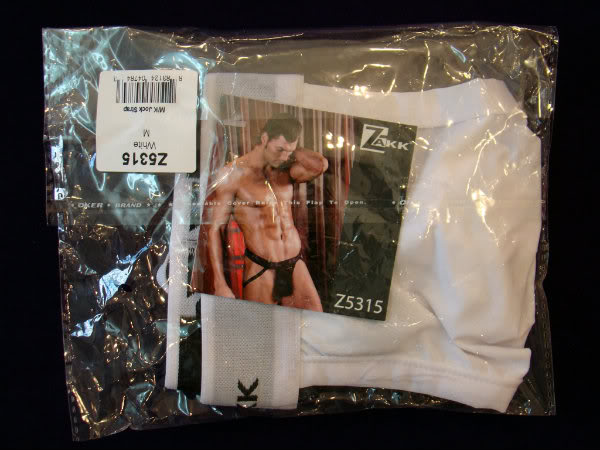 Follow-up commentary
7 months after original review
Since this jockstrap fit so poorly, I never bothered to wear it again after my initial review. However, I did attempt to wash it again to see how well it would stand up. Unfortunately, the stitching came completely undone to the point where the leg straps separated from the waist band, rendering the underwear completely unusable. If this is an item you are considering purchasing, I would definitely recommend you hand wash only.
This product was provided free of charge to the reviewer. This review is in compliance with the FTC guidelines.

Thank you for viewing
White jockstrap
– briefs review page!