Zakk in Black!
These briefs are exactly what I've come to expect when it comes to Coquette's male underwear. Well made and good quality but you can probably find something similar for less money elsewhere.
Published:
Pros:
Comfortable, Soft, Masculine, Well-made
Cons:
Expensive
These Black Cotton Briefs are the third or fourth items I now own from Coquette's 'Zakk' line. As with their others, notably the Naughty People Briefs that I previously reviewed, these are comfortable and well made. Unlike the Naughty People offering though, these are - as the name and pics suggest - all black other than the Zakk logo on the elasticated waistband. The plain colouring unsurprisingly makes these a sexier offering than the cartoon characters, since there's nothing to distract you or your lover from the underwear itself.
One of the things I'm liking about Coquette - or at least the men's underwear that I've tried - is that they seem to be faithful to the pics that are shown with the item. It's often the case that strategically-placed lighting or even Photoshopping (did I just say that out loud?) shows a product in a more favourable light, but here, what you see is definitely what you get. Actually that's not strictly 100% true here. See the pic at the top of the page of these briefs? Well while they DO look like that, it's misleading on two counts. First, it's EXACTLY the same picture as the one shown on another pair of shorts, the
Black Boxer Briefs
and secondly the fit isn't quite the same as in the picture. Now I may not have the body of an Abercrombie & Fitch model but I'm not totally out of shape either, generally fitting my 31-33" waist into a Medium when it comes to underwear like this and there's no way in the world these fit as snug as they do in the picture, nor are they as short. I'd be willing to put good money the ones on the model being a size too small, so if you're going for a super sexy, clingy underwear look I'd consider ordering a size below your regular one. That's not to say that these are sized wrong, they're really not. It's just that being a Medium and wearing a Medium means that these just look 'nice' (and admittedly sexy). So it's really up to you - buying your regular size will get you a perfectly wearable pair of shorts that are comfortable, pretty sexy and will make almost any man look sexy below the waist, but buying a smaller pair would also work for those guys who like to give a little show when their jeans slip to the floor.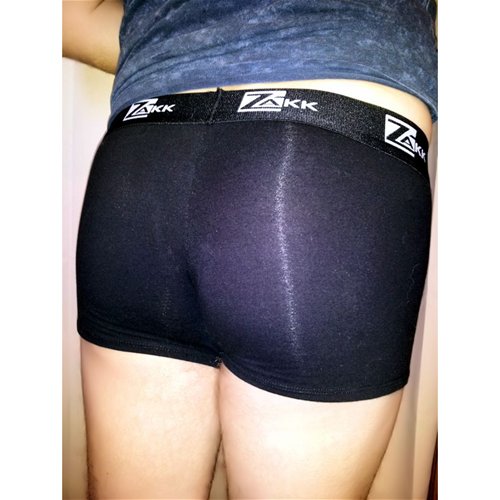 When I accepted this assignment, the briefs were listed as Cotton. I'm thinking that might have been a typo, since it was quickly changed to Cotton/Spandex. The almost indecipherable label says that these are made in China (isn't everything nowadays?) from a 50/50 blend of Cotton & Polyester, but it's blended so well that these feel more like soft cotton. Some blends have an artificial feel to them but that's definitely not the case here and easily make these one of the more comfortable pairs of underwear I own. Speaking of material and that label, I was just about able to make out that it said to hand wash the briefs. I'm glad I spotted that, since I'd just put them in the laundry basket this morning!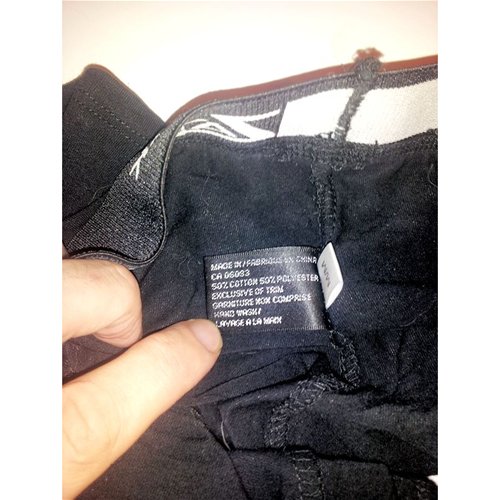 So with all of this praise, there has to be a bit of criticism, right? Actually yes, but it's not a huge one. It's just that once again, these are just too expensive for what they are. If I was in a store and saw a pair of $18 shorts on the shelf, I'd expect something above and beyond these. That's not to say that this isn't very nice underwear, it's just that once again Coquette have offered something that's really just 'nice' as opposed to 'wow'.
Experience
You know those EF 'Things That Go Vroom' shirts that everyone raves about? The ones that are ultra-comfortable and used to be freebies? Well I'm one of those people who wishes we could not only get them in all-black but have found myself wondering what it would feel like to wear underwear that's made of that material. If that describes you too, then you'll be pleased to know that these shorts are the nearest I've found to it. While they don't wick away moisture, they do keep you cool when it's hot and comfortable when it's cold.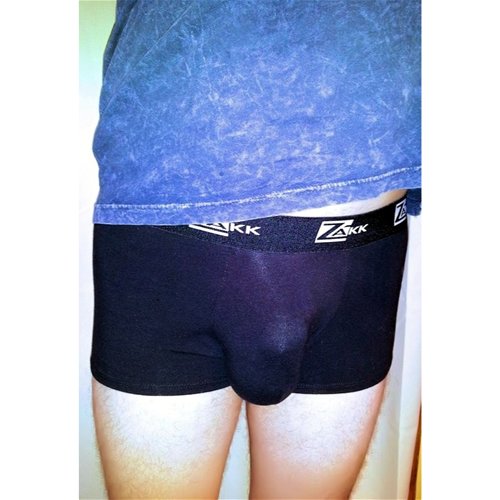 Another thing that I like about these is that they're at least as comfortable as my Naughty People trunks but are far more practical since I can wear these without worrying about the kids spotting them or figuring out that they might have come from an Adult site. I'm not really bothered by the Zakk logo going all the way around the waistband but wouldn't have complained if it had either been missing or just a single logo on the front.
Follow-up commentary
3 months after original review
These trunks are holding up well although they only get worn maybe once every 10 days or so. No fading, runs or stretching which is obviously a good thing. If they were half the price or less then I'd have maybe ordered a couple of pairs by now, but as it is I just can't justify spending $18 on these. Still, it's nice to see Eden carrying more in the way of sexy but not over-the-top male underwear and hope they carry more variety soon. To sum up, I'd say these are worth it if you've got some points to offset the expense or if you can catch them on one of EF's many sales.
This product was provided free of charge to the reviewer. This review is in compliance with the FTC guidelines.

Thank you for viewing
Black cotton boxer brief
– briefs review page!