A Delectable Mixture Of Erotic Tales And Exotic Locales
"Foreign Affairs" contains 21 very well-written tales of erotic encounters in (mostly) exotic settings. (A few of the stories take place in the US.) Although most of the stories are fairly vanilla and heterosexual, there are a few mild kinks and some homosexuality. If you are looking for some heavy BDSM or lots of gay/lesbian stories, you will probably be disappointed, but if all you want is a good selection of beautifully written erotic stories, you will probably enjoy this anthology.
Published:
Pros:
High quality of writing, informative descriptions of exotic settings, 21 stories
Cons:
Mostly vanilla heterosexual sex
When you combine erotic situations with exotic locations, you get incredible erotica (or should it be called "exotica"?). "Foreign Affairs" edited by Mitzi Szereto includes 21 stories of people who have sexual adventures while traveling far from home. One of my favorite things about "Foreign Affairs" is that you not only get to taste a variety of erotic situations, but you also imbibe a bit of each exotic culture as well, creating a satisfying meal of sex and sociology.
All of the stories in "Foreign Affairs" are very well written, some are extremely well written and quite literary in style. In fact, out of the various erotic anthologies that I have read so far, I would have to say that "Foreign Affairs" has the best overall quality of writing.
Despite the title, not all of the settings in the stories are exactly "foreign" to American readers since several stories take place in the good old US of A. "So Cold the Night" by Cheyenne Blue is set in Colorado. "One Day on 375" by Helena Settimana is set near Roswell, New Mexico. "Biloxi" by Gwen Masters is, of course, set in Mississippi, and "Whitewood" by A. F. Waddell is set in South Louisiana.
Happily, many of the stories take place in settings that are exotic to most American readers. From a seedy bathhouse in Brussels in the story, "Mer Boy" by Gerard Wozek, to the rarefied atmosphere of the wealthy elite in Dubai in the story,"The Odalisque" by the editor Mitzi Szereto, to the – distant in time as well as space – shores of the Black Sea in 1970's Romania in "Remembering Andrei" by Debra Hyde.
However, in some cases, the word "foreign" applies not only to the external settings, but to internal experiences as well. In "Through the Looking Glass" by Grevel Lindop, although the lead character travels to Rome, the more important journey is the one she takes as she explores previously unknown territories of her mind and body. A few other characters in this anthology also take journeys within their own psyches while traveling abroad.
Some of the stories, such as"Vietnamese Art" by Christine Bellerose, and "At the Falls" by Opal Palmer Adisa, use foreign words, phrases, idiom and patois in their writing. It is occasionally difficult to understand what is being said in these stories, but the exotic effect created by the use of this unfamiliar language more than balances out the effort required to understand its meaning.
Many of the stories portray rather vanilla heterosexual encounters, though "All in a Day's Work" by Rachelle Claret, involves a bit of role-playing and dominance, and several stories involve exhibitionism/voyeurism, including "Broken Windows" by Carole Rosenthal and "Sightseeing in the Holy Land" by Tabitha Flyte. There were also a few gay,"Twelve Days in a Week" by Des Ariel; lesbian, "Ukiyo" by Donna George Storey; and bi, "Vows" by Lisabet Sarai, stories included.
Other stories included in the anthology are: "Peking Duck" by Linda Jaivin; "The Sex Critic" by Diane LeBow; "More Moments of Sheer Joy" by Jai Clare; "Three Days on Santorini" by Sage Vivant; and "Continental Breakfast" by Holly Farris.
The book begins with a brief introduction by Mitzi Szereto, who explains how she has sought out stories that combine erotic writing, travelogue and literature to include in this anthology. There are too many stories to try and summarize them all here, but you can read a brief summary of each story on the
"Foreign Affairs – Story Summaries"
post on my blog. The book concludes with several pages that give brief biographies of the various authors and a somewhat longer biography of the book's editor Mitzi Szereto.
Mitzi Szereto is not only an editor, but also an author under both the names Mitzi Szereto and M. S. Valentine. She has held erotic writing workshops in both Europe and the UK, and gives university lectures on creative writing. Her work as an editor garnered her an American Society of Authors and Writers' Meritorious Achievement Award.
The physical book is a very nice, high quality trade paperback. It measures 9" tall, 6" wide and 3/4" thick. The slick cover has the title "Foreign Affairs" in large print with the subtitle,"Erotic Travel Tales" in smaller print below. The picture on the cover features the back of a slender woman wearing nothing but a green sarong tied around her hips. Behind her is a serene tropical beach. The back of the book has a similar tropical beach scene and the standard blurb describing the book. The book is not entirely discreet, but it is not blatantly sexual.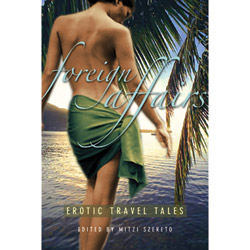 Experience
I found most, but not all, of these stories to be both intellectually stimulating and sexually arousing. I enjoyed learning about the different countries and cultures depicted in the stories that were set in foreign lands. And as far as the sex goes, although some might find vanilla boring, I found that the high quality of writing transformed what might have been an otherwise bland encounter into something quite tasty. Though I wouldn't have minded a bit more spice here and there.

Overall, I thoroughly enjoyed "Foreign Affairs". Of the several books of erotica that I have read, it is definitely my favorite. Although there were a few stories that I didn't particularly like, the combination of literary prowess and knowledge of foreign cultures displayed by most of these authors made reading this book exceedingly pleasurable.
Follow-up commentary
3 months after original review
Even after reading quite a few more erotic anthologies, I still consider "Foreign Affairs" one of the best. The writing is some of the highest quality that I have come across in erotic fiction (or any genre fiction), and the stories still excite my mind as well as my libido.
This product was provided free of charge to the reviewer. This review is in compliance with the FTC guidelines.

Thank you for viewing
Foreign Affairs
– erotic fiction review page!