Anal Pleasure & Health: An Owner's Manual
It has been said and said again, but this is one of those books that everyone should own at least one copy of. Really! Are you a fisting fiend? Or maybe you're terrified to death of even accidentally touching your booty in the shower? This book is honestly perfect for both audiences and everything in between and beyond. Just about everyone can learn something from Morin, whether you enjoy anal pleasure or not.
Published:
Pros:
Speaks to variety of genders/orientations, emphasizes safer sex, communication, full consent
Cons:
A bit text-heavy, small section dedicated to addressing common anal/rectal health issues
Whether you have a library full of books for your sexual edification or this is your very first one,
Anal Pleasure & Health
is equally appropriate. While this is by no means a complete or exhaustive index for all of your butt-related questions and concerns, it's an absolutely indispensable reference for many of them. It covers a broad range of topics from some of the more self-evident anal FAQs to some of the more subtle truths about anal play and general anal health. This book will not answer every single question, but it will answer many, and it does so without patronizing the reader, dumbing down the content, or overwhelming its audience with lots of Latin words for that various sphincters.
In this review, I'm not going to go chapter by chapter and break down each section. Partially because I find that tedious and boring both for me and most likely for you, but also because I think
everyone
should make it a point to own (or at least borrow) this book and experience it for themselves. So, instead of putting the whole thing and blast and go spoiler-crazy, I'm going to highlight a few of the things that I liked about this book, and a couple that I liked less.
First and foremost, I was won over almost entirely at the very start of the book because of this teeny tiny little section that stood out so much for me: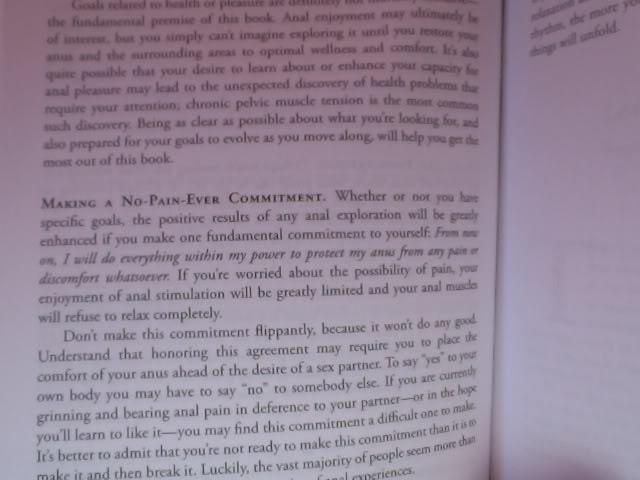 If you can't quite make that out, the author here is telling us that we more or less
must
make a commitment to respect our bodies and our safety, or we may as well just close the book right there and move on. He asks we make a "no pain commitment" and that, very simply, entails never tolerating any pain our journey to experience anal pleasure. He says that many people are happy to make that commitment, but some are in relationships where they do not feel comfortable asserting their "no" and making that commitment. Many endure pain during anal sex for the benefit of their partner. I think it's so incredibly important not only that the author is discussing sexual autonomy and setting clear sexual boundaries, but that he does so realistically.
It's easy to agree that, in theory, we should always communicate our boundaries clearly and defend them ardently. However, when you're in a relationship, sometimes it can be difficult to say "no" to your partner if you feel you'll be making them unhappy. Surely we can agree that things shouldn't be this way, but we need to be honest with ourselves and acknowledge that sometimes they are. I respect this author tremendously for representing a realistic picture of the difficulty of establishing full, uncompromised, enthusiastic consent and creating, communicating and navigating sexual boundaries. He doesn't pretend to know how to solve these problems definitively for each and every person, or for our entire culture. He simply states that he feels making a commitment to not enduring pain is critical to anal pleasure and health, and that if you aren't ready to make that commitment, his advice and expertise will only help so much.
The other thing I absolutely
love
about this book is that the author has an incredible method of helping anal enthusiasts - both experienced veterans and budding newbies - learn to, well, get to know their body, particularly the anus, rectum and pelvis. I'm not just talking charts and diagrams, although there are some of those. I'm talking about how our guide to all things anal, Jack Morin, encourages us to actually personify our anus if that is helpful in us getting to feel comfortable with it. Why does this matter? Because relaxation is absolutely key to enjoying anal sex. If you're not relaxed, your muscles tense up, and no where is this constriction more apparent than in the rectal muscles and the anus. What happens when you aren't relaxed and you attempt anal sex? At best it's uncomfortable, and at worst it is physically harmful (resulting in fissures, microtears, etc.)
Morin provides useful positions to explore in, useful tools (mirror, flashlight) and a variety of exercises that can help you overcome shame, fear, guilt, disgust or other negative feelings you may have surrounding this part of your body. Because let's be honest; these feelings are not uncommon! The first time I engaged with anal play, even though I was excited and curious, I had at least a hundred reservations. This included suspicions that I was unclean, that I looked unattractive from a certain angle, etc. There is no better way to dispel these anxieties than to explore and resolve each of them personally, hands-on.
Experience
And once you get comfortable with yourself and your body, everything else that comes after in the book will become far more useful. Morin rightly puts the no-pain commitment and the self-exploration guides front and center so readers - especially newbies or long-time enthusiasts that have been unhappy with their approach so far - can get the most out of the rest of the text. The rest of the book examines the power dynamics, social stigmas and taboos associated with anal pleasure and deconstructs these subjects in an approachable, readable manner. It also discusses how to avoid pain and injury, how to practice safer anal sex, positions for achieving maximum pleasure, and a lot of tips for how to communicate your wants and needs with your partner.

The only issue I really had with this text was that appendixed to the very end of the book is "Health Problems Involved The Anus and Rectum". I appreciate that this section was included at all, but I didn't care for the way it was awkwardly Frankenstein-ed to the end of the book. Granted, there was some discussion of these topics peppered organically throughout the book, but the bulk of this information exists in this appendix. I found many of the subjects were not sufficiently discussed considering that the title of this text is Anal Pleasure & Health, after all. The health should have been a bit more of a prominent subject, in my opinion. I especially regret that some very common anal ailments like hemorrhoids and fissures were mentioned so briefly when so many readers likely deal with or have dealt with one of these in the past.

Otherwise, I really love this book. I genuinely cannot think of a single reason why this shouldn't be in the homes of each and every individual. Even if you have no interest in engaging in any kind of pleasure-oriented anal activity, this is just a great resource for those that have a butt! It provides some great lessons in anatomy and self-care, and that makes it invaluable for me.
This product was provided free of charge to the reviewer. This review is in compliance with the FTC guidelines.

Thank you for viewing
Anal Pleasure & Health
– guides to a better sex review page!