Get your degree in BDSM today!
This book could basically be a home-study course in BDSM. Really. It have EVERYTHING you need to know about BDSM. Philosophy, gear, technique, etiquette, anatomy, safety, everything. It's all here. The authors are true experts on everything included in the book and manage to keep it witty, humorous and entertaining through the whole thing. If you're a kinkster and you don't have this book you're crazy. I'd give it 7,342 stars if I could.
Published:
Pros:
Super educational, witty, wonderful diagrams, covers philosophy and technique, thorough
Cons:
Has that 1995 looking cover
Molly Devon and Philip Miller are a phenomenal team in this amazing book. Most books on kink and BDSM are told from a single perspective. Usually you'll have a Dom/Domme laying everything out for you, or you have a third party who doesn't claim affiliation and presents an objective view. This book, on the other hand, presents everything from a dual perspective. Philip takes the role of Dom, and Molly the sub. With everything written this way you have a incredibly comprehensive look at BDSM from both sides. Philip presents you with the Dom's experience and tailors his information to other Doms, while Molly talks about what it's like to be on the receiving end of everything and puts you inside the mind of a true sub. I fully appreciated this as a switch. It showed the romance and magic of the whole experience instead of one-sided or objective accounts. Plus, they do it in a hilariously witty and entertaining way.

These two are amazing writers and educators. I found myself totally wrapped up in their personal stories and bits of fiction. Reading through the informative parts of the book gives you complete confidence that both of them are true experts in what they do. They present everything as it is and give so much insight into the magic of BDSM. Not a single thing gets missed or looked over.

They lay it out very early in the book that they use the pronoun 'he' to denote the Dom and 'she' to denote the sub. This is not because of gender roles. They clarify that this is because it is how their relationship works and that it would make sense with their personal input on things.
This is the definitive textbook of BDSM. If you ever had to take a class in it, this book is probably what they'd hand you. It covers EVERYTHING! You have the philosophy behind BDSM, the history, mental techniques and practices, technical information regarding gear, how to use it, safety information, communities and relationships, and even how to make your own gear. I don't think there's anything this book is missing. Now let's go chapter by chapter:

Chapter 1: Gee, Toto, I Don't Think We Are in Kansas Anymore
In the beginning of this chapter we meet the authors and they explain a little bit of their personal history. They introduce to us what BDSM is and isn't. They break open some of the myths. Explain that some people are just naturally into it, but there's really nothing weird about them at all. It's just a simple personal preference. Then they define common terms used in BDSM: scenes, players, Mistress, Dom, sub, slave, switch, etc. It's a good overview and introduction to everything BDSM.

Chapter 2: Sexual Magic, Why We Do Do That Voodoo
Here we get into the mental side of BDSM. We're presented with a short piece of erotica that may seem quite vanilla at first, but the authors point out the themes of mental BDSM that are used in it which actually make the scene much less than vanilla. This chapter covers topics such as trust and communication, the mind as an erogenous zone, anticipation, conditioning, visualization, sensory relocation, and several other techniques that don't require whips or handcuffs.

Chapter 3: The Politics of Very Strange Bedfellows, Sensible S/M Relationships and Dangerous Liaisons.
This chapter is for those who are just starting to step into the scene. It covers how to find play partners, how to communicate with them, where to meet people, and has suggestions for safety and etiquette when dipping your toes into the ocean of kinky fun.

Chapter 4:
I'm really glad they dedicated a while chapter to negotiation and communication in relationships, as it is something that's vital to any S/M relationship. Here we're taken through compatibility between partners, what the "ideal" Dominant and submissive are, levels of power exchange, how these can be incorporated into your lifestyle (just in the bedroom to 24/7), how to negotiate and communicate about your needs, wishes, and limits, safe words, and red flags in relationships. The best part of this chapter is that it features a negotiation questionnaire worksheet that you can copy and print out. It lists preferred roles, fetishes, and activities and gives you a chance to rate each. Before you even think of picking up that crop you should fill out one of these with your partner. It's probably the most useful thing ever.

Chapter 5: Straight Facts and Bent Phalluses, Sexual Attitudes.
This is a WONDERFUL chapter. It challenges the reader to reject all of these preconceived notions about how sex should be. Don't worry about penis size, breast size, performance, stamina, multiple orgasms or any of that that signifies "good" sex or a "good" partner. It's all about living in the moment and enjoying what you're doing instead of living up to the "ideal" sexual experience. I personally think that everyone needs to read this no matter what their interests are. People would probably be a lot happier with their sex lives, you know?

Chapter 6: Non-Government Sanctioned Sex and Torture
This is where we get into the good stuff. First we start of with clips and clamps. The different types of clamps as well as how to use them and what they do are covered. Next we get into temperature play, then electro play. After this is knife play, but this is a rather brief section where they advocate safe play that doesn't break the skin. Anal comes next with a brief overview of anal stimulation and then some notes on anal sex and penetration with objects, enemas, and anal training. Dildos and fisting vaginally are the next up. Then we have consensual forced sex, and the "smoke and mirrors" of props.

Chapter 7: Get Them By the Balls; Their Hearts and Minds Will Follow, Bondage Theory
I love that this is "bondage theory" and that it gets its own chapter. This is about what goes on behind the cuffs and chains. Here we're introduced to safe bondage techniques, what to consider when using bondage as part of a scene, and how to begin to incorporate it into your play.

Chapter 8: Of Humane Bondage Techniques
The previous chapter gets put to use here. This chapter is full of techniques for efficient and safe bondage and they cover a whole bunch of stuff here. Rope comes first with an introduction to rope types, how to finish the ends of the rope, useful knots, and some rope bondage techniques. We get some hints and tips on rope usage as well as some alternatives. Next we get into the real gear. Wrist and ankle cuffs, harnesses, collars, blindfolds, and gags get their own little sections. Then we get hoods and sensory deprivation pieces, specialty items, and how to attach everything to everything else. Hooray for gear!

Chapter 9: Philip's Philisophy of Phlogging Phun, The Corporal Dimension.
Again, this is more of a philosophy chapter than a technical one. Philip takes us through the philosophy of flogging and impact play, presents some incredibly important rules to consider when engaging in impact play.

Chapter 10: When the Inner Child Deserves a Spanking, Philip's (and Phriend's) Phurther Pheelings on Phlogging
This is probably the most technical of all of the chapters. We get lengthy anatomy lessons on where and how to hit. Philip goes over all of the different types of flogging tools in a very in depth manner, from canes to paddles to crops and the like. He teaches us about "cat-anatomy" and the different parts of certain types of equipment. Then we get a ton of wonderful notes on techniques and how to properly wield your chosen device.

Chapter 11: It's Only Pain, Dear, and It's Only Yours
This chapter is quite short and it's on the pain side of S/M and how something that normally hurts can feel really, really good if you're in the right state of mind.

Chapter 12: Making the Upper Cheeks Red, Embarrassment, Humiliation, and Mind fuck.
Here's another mental chapter. It covers verbal abuse, humiliation, public play, dressing, sexual denial, and emotional growth through BDSM. It's a great introduction and overview to all of these great aspects of BDSM that aren't limited to private spaces.

Chapter 13: Furninshing Your Dungeon
Oooh, the fun part. Well yes, it's the interior decorating S/M style chapter. There are a lot of wonderful ideas for furniture and gear in here, but also how to build them! That's right, make your own crosses, cuffs, and floggers. We learn where to find goodies, how to work with leather, and how to travel with these dangerous objects. This is the perfect closing to such a great book because it leaves you with a long list of super awesome activities to embark upon.
The rest of the book contains a little of this and that;
Glossary (Told you it was a textbook)
Appendix A: Support Groups and Organizations
Appendix B: Stores, Suppliers, and Artisans
Appendix C: Computer Bulletin Boards (probably outdated as this was published in 1995)
Appendix D: S/M and Fetish Magazines (likely that it's the same case here)
Appendix E: Recommended Reading
Appendix F: NLA Statement on Domestic Violence
Now, the cover does have that whole circa 1995 look about it, as do some of the black and white photos, but the rest of the book is quite nice. Here are some photos for your viewing pleasure: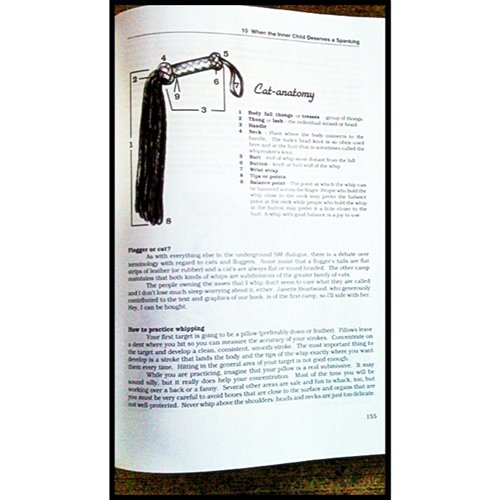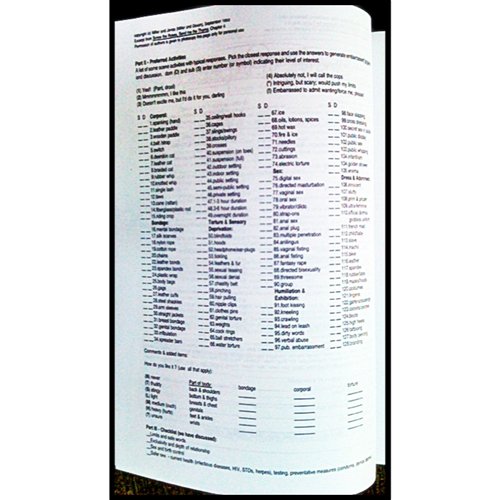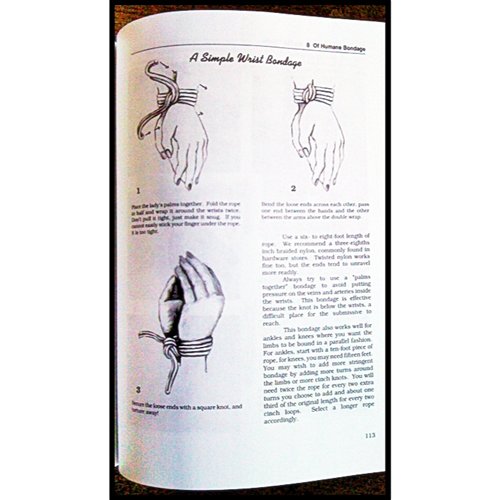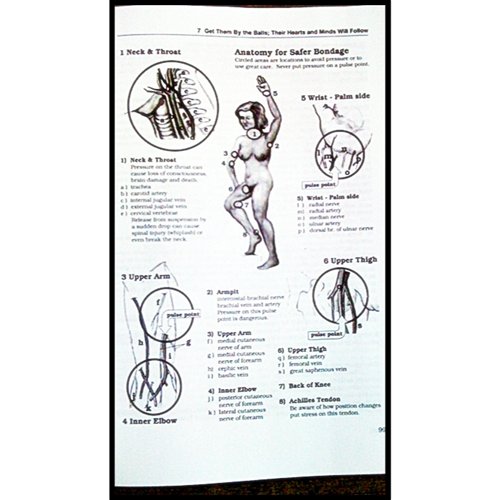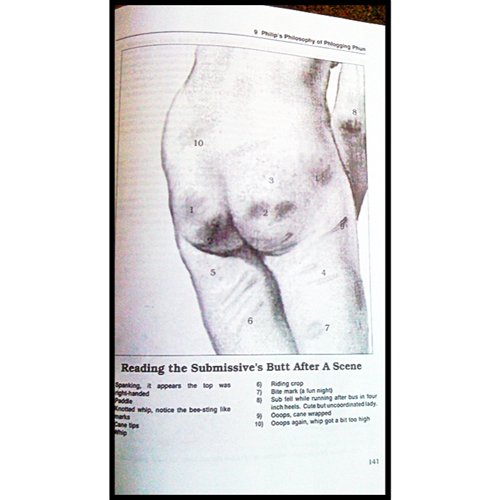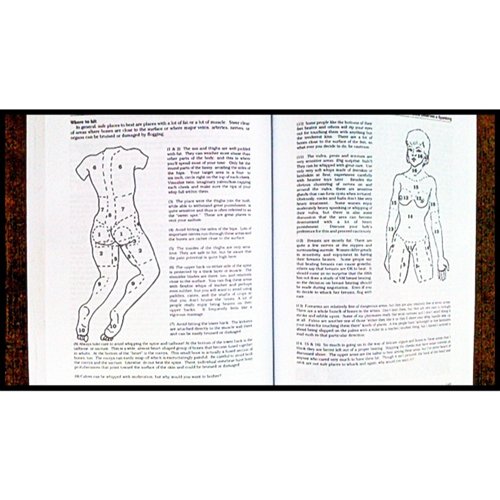 Follow-up commentary
53 months after original review
I lost my copy of this book and I'm so upset about it that I plan on purchasing another copy soon. It's one of the best BDSM manuals I've come across for everyone whether they're just curious or an expert. It would also be great if they published an updated edition that doesn't still have that 1996 look to it.
This content is the opinion of the submitting contributor and is not endorsed by EdenFantasys.com

Thank you for viewing
Screw The Roses, Send Me the Thorns
– bdsm toy review page!