Love, love, LOVE "Big, Big Love"!
'Big, Big Love' by Hanne Blank is a new and informative look at sexuality and all it's many splendored complexities through the eyes of a plus-sized person. The book contains lots of useful information for both fat people and their fat-loving partners, and has a compassionate and educational approach which does not make the reader uncomfortable, but instead fosters greater acceptance and love for their body. I recommend this book for all plus-size folks and their partners.
Published:
Pros:
- Very informative
- Contains important and relevant info
- Entertaining read
Cons:
- I wish I had read this book before now!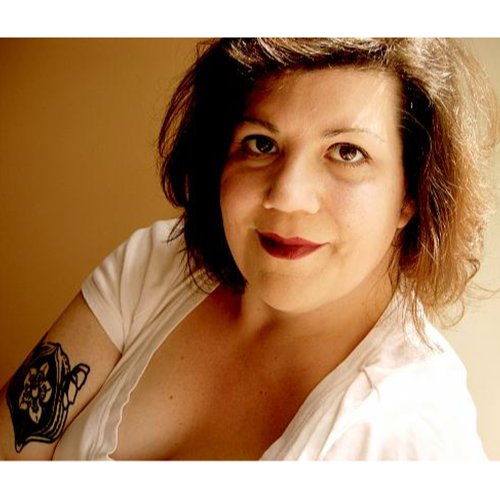 Hanne Blank is a well known and respected author, historian, editor, public speaker, and activist for many issues, including (nut not limited to) fat acceptance, feminism, bisexuality, and general sexual education. She is the former co-editor of scarletletters.com, a sex positive erotica site, and has written for many well known publications like Bitch, Lilith, and Penthouse. She is celebrated for her holistic approach to sexuality which includes topics such as body positivity, queer sexuality, and women's health. She is an author who has much experience and wisdom to share with her audience, and seems very enthusiastic to do so.
The book Big, Big Love is an excellent read for plus size babes and their lovers! Blank uses original research as well as experience to put together an informative and open-minded book for all to read and share. Whether you're a big person or not, there are facts and bits of wisdom for everyone. Blank's open approach caters to a wide compass of personal backgrounds and experiences. There are six chapters. Each chapter in the book is broken up into essays over specific topics. Each chapter progresses logically and smoothly into the next.

The book begins with an overview of what it means to be a curvy body in an overwhelmingly thin-obsessed world. Blank covers a variety of must-know topics, such as health, happiness, hygiene, self-image, weight changes, dieting, body shape, and confidence. Her tone is non-judgmental and compassionate as she explains that all bodies are not only different, but also deserving of healthy, happy love. This really sets the reader up to trust her judgment and advice, as she write with a voice of experience and acceptance.

The next chapter reviews important terms that will be used throughout the book. These terms include sexual orientations, gender identities, and sexual identities with reference to their relevance to plus-sized sexuality.

The third chapter is on psychological and emotional health for fat and chubby people. This chapter is full of valuable information, as many big people experience nearly constant abuse and/or shame for their bodies which affects them in a multitude of ways. This chapter covers everything from bullying and abuse from others, to fat-shame and negative self-image, to sexual objectification and fetishization, to self-love and acceptance. This chapter is really designed to lead the reader to a more enlightened and positive attitude towards fat and body positivity.

The fourth chapter is a special chapter set aside especially for fat admirers. A fat admirer is anyone who loves or has the desire to be with a fat or chubby partner. This is an interesting and very useful chapter since it is quintessentially an open letter from Blank herself, from the perspective of a fat woman, to potential lovers on issues they and their partners will face. She discusses everything from coming out as a fat admirer, to "how not to be an a**hole," to being a compassionate lover and ally.

The fifth chapter covers pretty much all your sexual health and healthcare needs as a big person. This chapter covers so much info, it would take forever to write it all out. Some unique and important info it covers includes prevent sex injuries, healthcare provider info for fat people, fertility, pregnancy, gynecological visits, PCOS, lipedema and lymphedema, gynecomastia, and other fat-related health issues.

The final chapter is the spiciest chapter, as it goes over the physical INs and OUTs of plus-sized sex lives. This chapter educates on various sexual lifestyles, such as BDSM and fetishism, porn, erotica, toys, penetrative sex, oral sex, consent, masturbation, and positions.

After the six main chapters, there is a very helpful resource guide. The resources included are:
- General sex education and information
- Special issue sex ed and info
- Fat acceptance and size acceptance
- Health and wellness
- Hygiene aids
- Movement and injury prevention
- Social and dating resources
- Size-positive imagery, erotica, and pornography
- Sex toys and accessories
- Fat-friendly sex toys and accessories vendors
- Lingerie and clothing
The layout is simple and organized. The information in this book is easy to locate and the chapters follow a logical order. The design on the front is tasteful, yet still interesting and relevant to the topic. It is paperback, so be mindful of the amount of wear and tear your copy will be subjected to.
This product was provided free of charge to the reviewer. This review is in compliance with the FTC guidelines.

Thank you for viewing
Big, big love
– book review page!