Not quite what I expected but not a disappointment either!
For the most part, I would say that this is a book that is worthy of buying if you like gay erotica that is. Sure some of the stories are predictable, but some of them will make you grin and chuckle thinking you'd be just as cheeky as some of the characters. Some of the stories will make you think, a story might make you cringe then sigh with relief (some people can just be mean and take advantage you know!) and hopefully for some people out there, they will turn you on.
Published:
Pros:
Beautiful looking book, wonderful to hold a book and read
Cons:
Most stories are predictable, in my opinion not wank worthy
I enjoy writing erotica. At least in my mind it is erotica.

I was always under the impression that "erotica" were more racy stories with more descriptive sex in them than the Harlequin Romance novels my mom used to read and I would sneak away to read.

My version of erotica has always been; a longer story with lots of character development and then? Lots of descriptive sex. So kind of porn meets Harlequin Romance; only with much stronger leading women.

And this is what I was expecting when I picked up "Best Gay Erotica 2012". I was hoping for more descriptive man on man action. And if that is something you are looking for, this is not really going to be your cup of tea. But once you get your head around the idea of what their version of "erotica" is, it's actually not so bad. But I did not find a story that turned my crank or made me wet or made me think, "wow... I so wish I was there!"

Published by Cleis Press and edited by Richard LaBronte with selected and introduced by Larry Duplechan. Larry Duplechan was the man who got to pick the stories that went into the anthology and he did so on a two tiered scale. Your simple out of ten for the story itself for how well it stood as a story and a one to five "boners" or as he said, "How good is this story as wank fodder?". I kind of liked that phrase so I had to add into my review.

The stories are between four and twenty-ish pages long.

One of the things I did quite like about this book of erotica, is that each of these stories are stories. Sure some of them are pretty predictable, but I did find myself chuckling from time to time. The level of reading is quite easy, pretty much your local newspaper level of reading so not a challenging read at all. Unfortunately, these were not my cup of tea stories so as for their level of enjoyment in an erotic manner, that I cannot tell you.

So let's go through the stories, and hopefully I'll not give away too much:
1. Commerce: A Not Very Cautionary Tale- the beginning of the story begins with a quote that I think sums up the story, "You don't feel like a man till you leave some money on the bed." Warren Miller
2. Delivering the Goods: a story that basically said that to more you wank as a teenager the longer your cock will get. Is this actually true?
3. Training Tyler: straight guy and gay guy are roommates. Straight guy complains about his blue balls, gay guy is hopeful, things happen. This story made me chuckle a few times. And this one almost had me enjoying it... but it was just a little too fast paced for my taste.
4. Your Jock- really I did not get the whole thing of the egg thing in here. I mean... why would people want to crack eggs over a person then have sex with them?
5. Before the Plane: short story recap? Man goes from man to man sucking cock while it feels like he is talking to himself. I mean talking to the reader. Or writing a journal. On coke.
6. Sunday in the Park: The whole erotic portion of the story was just lost on me. But you know. For the ending it was really worth getting the book. The author of this short story made me think about how people remember different details and situations of a joint experience. It just reminded me and hit home the thought I always have about history and each experience. There are three sides to ever story, yours, mine and the truth. So as I said for me, this story was worth the buy because it reminded me of how I think of things.
7. The Robin Club: a more romantic tale of friends that grew up together and had a club house. The loss of innocence story.
8. Bryce Canyon: a story about a common problem for many. One partner is more into exploring and experiences, and the other is more comfortable with just the same thing all the time.
9. Foreigners in Sitges: Sometimes all you want is company, and sometimes company is all you will get.
10. Translations: a man on the train forgets his ticket, meets menacing ticket man. Meets menacing ticket man later at bar, he's really nice! And the story goes from there.
11. Three Boys and a Boat-or Possibly Five: this story made me chuckle a couple times too. Three friends then one becomes a solo act meets two men on a boat.
Experience
12. For Jordan: a second person narrative and some of the lines had me thinking funny thoughts, "videotaped for posterity. a testimony of my absolute surrender to your manlove."
13. Once Upon a Time: what started off as a fairy tale romance took a wrong turn of a relationship getting old. Kind of a reverse rape-submission-master thingie going on to kindled a boring bed.
14. Touched: a rockers comic.
Each of these stories were written by a different author.
The book itself when you see it here on the product page looks dark and not that impressive. But to hold the book in your hands it is really quite luxurious. A bit bigger than your average pocket book, while it cannot fit into your pocket, it can fit easily into most purses. I took my copy a time or two to the park to read while sun tanning.
This book is not really discreet as it does have the works in big and bright colouring "Best Gay Erotica" on the cover and along the spine. So be careful if you are reading in public. And not to mention the partially nude model on the cover and back as well.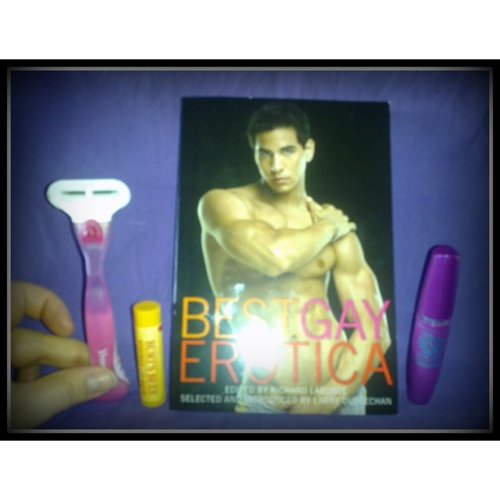 I am giving this book four stars out of five, because I did like the stories in the book, I just didn't get aroused at all while reading it.
Follow-up commentary
9 months after original review
I ended up putting this book into recycling as none of the stories were all that memorable to read again, and I couldn't find anyone around here who would be interested in the book.
This product was provided free of charge to the reviewer. This review is in compliance with the FTC guidelines.

Thank you for viewing
Best gay erotica 2012
– book review page!