Oral Sex She'll Want to Forget
This might be helpful if you are already a skilled practitioner of cunnilingus and want a few erotic scenarios but to be honest there is little here you couldn't find online or think up yourself.
Published:
Pros:
Full colour photos, role-play ideas
Cons:
Too photo heavy, advises illegal acts and has many incorrect 'sex facts'
Having read two other books on the subject of Cunnilingus ("She Comes First" by Ian Kerner and "The Lowdown On Going Down" by Marcy Michaels) I have to say that this book had some high expectations to meet. My first impression was that the book was larger than I had expected. The front cover image shows a woman's legs from the back with the title of the book in between them. The back has a couple of quotes from other authors praising the book as well as a very brief summary of what the book covers. Inside the cover there is a little information about the author as well as more praise from another fellow author.
-Overview-
The contents page is 8 major sections with many sub-headings as well as introductions and appendices.
It reads as follows:
Introduction
Anatomy Lesson
1 – "Cunnilingus Event Headliners"
2 – "Increase Orgasmic Intensity With Sensual Indulgences Plus Cunnilingus"
3 – "Cunnilingus And The Single Lover"
4 – "Cunnilingus On The Sexual Edge"
5 – "Your Cunnilingus Fantasies Come True"
6 – "Special Skills Cunnilingus For An even Deeper Connection"
7 – "Spice Things Up With Cunnilingus Quickes"
8 – "Games People Play.....Without Their Panties"
Appendix I – A Woman's Form
Appendix II - Resources
About the author
Acknowledgements
Each of the sections listed has a number of chapters in them varying in length from one to four pages. Each section covers a different aspect of cunnilingus and different erotic role-plays. After opening the book I was pleasantly surprised to see that it is entirely in colour with many photographs. In general instructional books of this kind are usually full of black and white diagrams so it is a nice change of pace to see some colour. The book is 159 pages long and almost A4 in size but at a rough count there are 71 full page photos or diagrams with little or no text on them; so in actuality the book has only 80 pages of reading. Not exactly heavy reading but I pressed on to hopefully gleam some useful information.
-Synopsis-
As I mentioned above the book is split into eight major sections, each with a different theme/focus related to oral sex. I will cover a small selection from across the entire book.
The introduction says that unlike other "How To" manuals on the subject this book sets up whole scenarios around the act to make it more of an event equivalent to intercourse rather than basic instructions on the act itself.
The anatomy section consists of three pages of text and a full page diagram of the female anatomy. The diagram if I am honest is quite lacking, it is a pulled back view showing a drawing that needlessly incorporates legs and breasts when it is only trying to show the various parts of the vulva. Because it is a pulled back view the detailing is lost thus defeating the purpose really. Not bad for a novice to get an idea but not very well detailed.
The eight sections deal mostly with setting up various role playing scenarios as opposed to technique. Some of them aren't bad. The author talks about using ice cubes, incorporating sex toys and she describes a scene in which you blindfold your partner and read erotica to stimulate her senses.
Conversely some of the situations she describes are somewhat dubious. She encourages having a public cunnilingus session on a train by timing your movements with passengers getting on and off. While I understand the whole idea behind public play and the risk factor, this is illegal and if caught you could face prosecution, not to mention that it hugely contradicts earlier in the book when the author describes cunnilingus as something special to be enjoyed and treated as a gift. I can't imagine I could even begin to enjoy myself while trying to keep an eye on other passengers like the book says, more than anything I just feel it's irresponsible for a book to recommend such public sexual acts.
One other idea that isn't necessarily illegal but both my partner and I agree is in poor taste is the idea of "paying your partner for sex". The basic premise is that your partner gets everything she needs by selling herself to you. You book into a fancy hotel and shower her with luxurious gifts and actual money. It makes a point of saying that a percentage of college going women have admitted to taking money for sex as if to convince you that prostitution is something desirable. It might be a personal preference but we both thought it sounded degrading rather than romantic.
Experience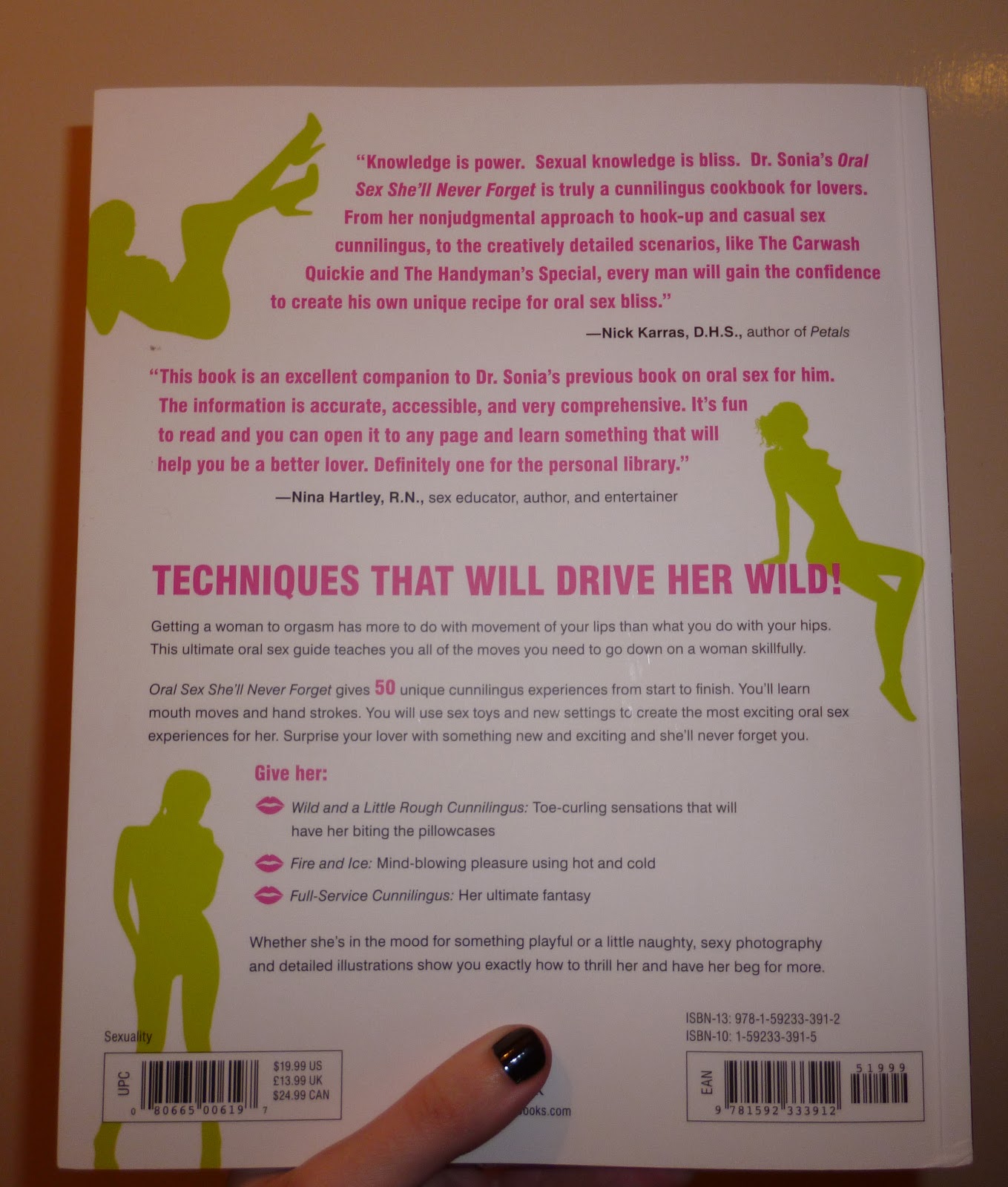 -"Sexpert Advice"-
There are numerous quotes in the book entitled 'sexpert says' or 'sex facts' and to be honest they range from a couple of useful hints to some questionable quotes and some laughable and downright incorrect facts.
A few of the useful hints I found in the book are as follows.
*Use sugar free breath mints if you use mints during oral sex as sugar can cause a yeast infection.
*Don't blow air into the vagina as it is extremely dangerous and can be fatal.
*Don't just suddenly surprise your partner with anal play while going down on her.
There are however some less helpful quotes like these:
"Most women have gotten the message that our vulvas don't smell or taste good. Men have trouble understanding that because they believe the pussy is perfect."
- That is a direct quote from the book. Now I am luckily with a man who loves the smell of a woman but there are men out there who don't like it. This piece of information is strangely misleading and as with many of the "sex fact" statements this makes a broad sweeping statement about what one of the genders likes as a unanimous whole. While I agree that women often get this message, I don't believe that it is something we always imagine by ourselves or get from feminine hygiene ads, I'm sure many women have at one time had an unwilling partner because actually some men do have a sensitivity to or even a disliking of womens natural scents too.
Other less than helpful hints include a random tip on how to measure your flaccid penis, how much the average tongue weighs and the author goes on to say that any thoughtful male partner (this book is in no way geared towards lesbians) will keep a vibrator in his pocket at all times along with his wallet and keys. Because that couldn't possibly end badly!
- In Summary-
Overall I am disappointed with this book. There are numerous pictures that are not helpful in the least and will repeat themselves with minor changes across three whole pages. Add to this some of the scenarios that are illegal or in poor taste. The advice throughout the book is largely useless information which makes huge sweeping statements with little or no references cited. While it looked promising to begin with, it quickly fell flat after just a few pages. If you are looking for a great, informative book on the subject then check out the two titles I mentioned in the introduction. It also only ever refers to male partners and completely ignores any possibility of women going down on each other. There is far more dubious advice to mention than I could even cover in a review, put in short there is little I can recommend about this book.
This product was provided free of charge to the reviewer. This review is in compliance with the FTC guidelines.

Thank you for viewing
Oral sex she'll never forget
– book review page!