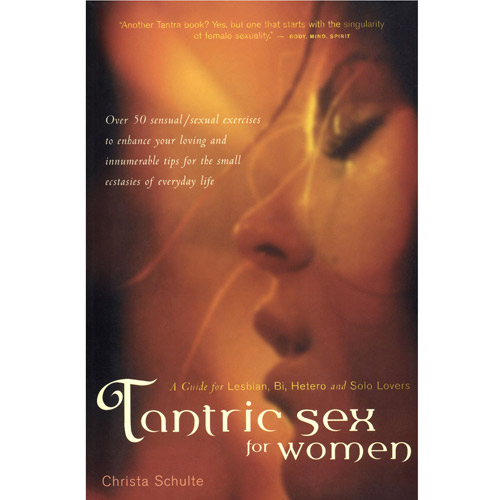 Tantric Sex for Women
Book discontinued
by Entrenue
Tantric Sex for Women review
Save your time and money and get a different book or DVD on tantra, even if it is geared toward male/female hetero couples and partnerships, and adapt as necessary. It'll have better, more realistic, and actually possible advice.
Published:
Pros
A book on tantra aimed specifically for queer women.
Cons
Not well-written, unfortunately it is too silly to take seriously.
I really wanted to like this book. A
tantra book|Tantric Sex for Women
aimed toward women, specifically queer women? Great!
I do have a bit of background in some tantric practices, and I've been eager to learn more. But ultimately, I couldn't stand all the flowery language of this book specifically, which made it impossible to take the exercises seriously.
I know, I know - some tantra literature does this - refers to the girl parts as roses or flowers or sacred vessels or whatnot, but sometimes it's possible to do this in ways that are not actually ridiculous. This book, sadly, did not succeed at that.
Three-quarters of the book - nearly 200 of the 265 pages - are full of these exercises, "games" to attempt with a partner or solo. Seems like a great idea, yeah? But then I started reading through them: many of them are very time consuming and elaborate, though that's not an automatic veto - it was the step-by-step instructions I would never attempt to get a partner to explore with me. It'd be silly and embarrassing to explain how her yoni was a rosette and I was to massage her petals. Ugh! No way we could get through it with a straight - haha - face.
The parts that were not the exercises were actually a little bit interesting. There was a part in the beginning about the different
types of orgasms|Reviews: The Multi-Orgasmic Woman
, and I was curious enough to Google that concept and play around for a few hours on the internet (ahem, "researching"). But though this book gave me some ideas about what I might want to learn more about, I didn't actually learn anything useful from this book itself.
There have got to be better tantra resources out there. Skip this one, and find one that actually has practical, realistic, and relevant information, with exercises and ideas that don't make me cringe.
This product was provided free of charge to the reviewer. This review is in compliance with the FTC guidelines.
Thank you for viewing
Tantric Sex for Women
– book discontinued review page!